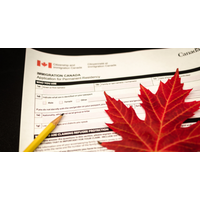 TIAO is aware that the minimum cut-off scores to qualify for permanent residence through Express Entry have been unusually high as of July. This has affected the permanent residence outcomes of many applicants, including those currently working in the tourism industry.
This change is due to a few factors:
Immigration, Refugees and Citizenship Canada (IRCC) ranks Express Entry candidates using a points-based system. About every two weeks, IRCC invites the highest-ranking candidates in the applicant pool to apply for permanent residence during rounds of invitations.
On July 6, IRCC held its first all-program draw (for all programs in Express Entry) since December 2020. Simultaneously, to address the backlog of permanent residence applications during the pandemic, IRCC issued a lower-than-normal number of invitations to apply. Normally, IRCC invites between 3,000 and 5,000 applicants to apply for permanent residence during each draw. For the July draws, they invited 1,500 and then 1,750 applicants.
As a result, the minimum cut-off score was much higher than usual, with the backlog of applications creating a more competitive applicant pool. For the July 6 draw, where 1,500 invitations to apply were issued, the minimum cut-off score was 557 – a very high score. For the July 20 draw, where 1,750 invitations to apply were issued, the minimum score was 542. There was no federal change to points required for permanent residence; the cut-off score is dependent on the number of invitations IRCC issues and the strength of the applicant pool per draw.
While many applicants have been negatively impacted by these developments, TIAO expects this to be a short-term issue and for the situation to improve. IRCC's Express Entry immigration targets will be increasing in 2023 and they are currently working on clearing the application backlog, with the number of invitations to apply steadily increasing—which will lower the minimum cut-off score. Reflective of this, for the August 3 draw, IRCC issued 2,000 invitations to apply and the cut-off score was 533 – a tangible improvement from July figures.
---