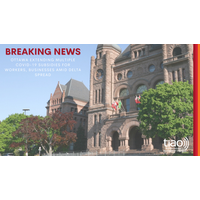 The Government of Canada has just announced that they are proposing to extend the Canada Emergency Wage Subsidy (CEWS), the Canada Emergency Rent Subsidy (CERS), and Lockdown supports until October 23, 2021, which were originally set to expire in September 2021. They are also increasing the wage and rent subsidy rates between August 29 and September 25, 2021. These programs have supported millions of workers and continue to adapt as the pandemic evolves.
The government is also proposing technical changes and clarifications to increase flexibility and certainty for organizations using these programs and the Canada Recovery Hiring Program.
Eligible employers would still also be able to apply for the new Canada Recovery Hiring Program instead of the wage subsidy if they so choose. The hiring program provides alternative support for businesses affected by the pandemic and helps them hire workers, and increase workers' hours or wages, as the economy reopens. The hiring program is available from June 6, 2021 until November 20, 2021, allowing employers to shift from the Canada Emergency Wage Subsidy to this new support, at a pace that works for them.
For more information and details on the specific support measures, please visit Extending Business Support Measures Through the Pandemic - Canada.ca
---