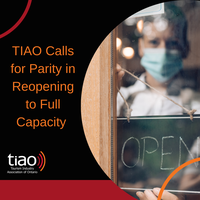 In a letter to Premier Ford, TIAO called on the provincial government to ensure that all tourism and hospitality sectors are given a fair and equal chance to reopen at full capacity. Given the previous announcement lifting capacity limits and restrictions for select sectors, TIAO emphasized the importance of parity in reopening and recovery across the tourism industry: in order to give all tourism and hospitality businesses a fair shot at recovery, there must be a level playing field.
Given that many tourism businesses have enacted their own voluntary workplace vaccination policies and proof of vaccination policies for patrons, and tourism businesses have gone to extraordinary lengths to follow the highest level of health and safety protocols, TIAO recommended that all businesses be allowed to open at 100 percent capacity if they have enacted their own proof of vaccination requirements for patrons.
Read the letter here.
---