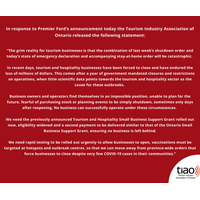 TORONTO – Today, the Ontario government announced that they will be implementing a provincial state of emergency and a province-wide stay-at-home order, effective April 8, 2021 at 12:0 1AM for four weeks.
In response to Premier Ford's announcement, TIAO will be focusing its efforts on pushing for the expedited roll out of the promised tourism and hospitality support programs announced in the last budget.
TIAO's VP of Government Affairs & Policy, Chris Bloore says,
"The grim reality for tourism businesses is that the combination of last week's shutdown order and today's state of emergency declaration and accompanying stay-at-home order will be catastrophic. In recent days, tourism and hospitality businesses have been forced to close and have endured the loss of millions of dollars. This comes after a year of government mandated closures and restrictions on operations, when little scientific data points towards the tourism and hospitality sector as the cause for these outbreaks.
Business owners and operators find themselves in an impossible position, unable to plan for the future, fearful of purchasing stock or planning events to be simply shutdown, sometimes only days after reopening. No business can successfully operate under these circumstances…
He continues,
We need the previously announced Tourism and Hospitality Small Business Support Grant rolled out now, eligibility widened and a second payment to be delivered similar to that of the Ontario Small Business Support Grant, ensuring no business is left behind.
We need rapid testing to be rolled out urgently to allow businesses to open, vaccinations must be targeted at hotspots and outbreak centres, so that we can move away from province-wide orders that force businesses to close despite very few COVID-19 cases in their communities."
<END>
ABOUT TOURISM INDUSTRY ASSOCIATION OF ONTARIO (TIAO)
TIAO is recognized as the umbrella advocacy organization for leading associations, destination marketing organizations, regional tourism organizations, educators and businesses serving Ontario's diverse tourism industry. Collectively representing 200,000 businesses and 400,000 employees, TIAO provides a strong and unified voice for the sector and is committed contributing to evidenced-based policy and providing strategic insight on how to create favourable public policy that allows the tourism industry to flourish. Find out more at tiaontario.ca
Media Contact:
Jessica Halliday
Communications & Media Relations Manager
Tourism Industry Association of Ontario
---