Your weekly digest from TIAO, updating you on the latest industry news, advocacy issues and upcoming events.
Does this email not look right? Try viewing this email in a browser.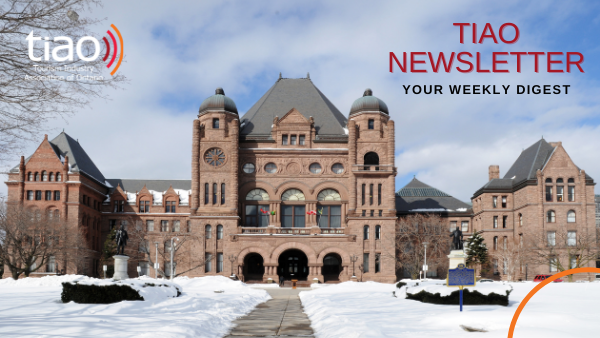 Follow us on our social media channels for news, industry briefs and information with a focus on validity and relevance to our industry. 
---
WRITE TO YOUR LOCAL MP
FOR CEBA AND RRRF RELIEF 
As the pandemic continues to result in restrictions and closures throughout Ontario and Canada, tourism and hospitality businesses are struggling to survive as revenue losses, job losses, layoffs, increasing debt, and uncertainty to reopening are putting businesses at risk of financial insolvency and permanent closure. These factors affect debt repayment and financial solvency capacities, especially for the hardest-hit businesses.  
Debt relief remains a top priority for many tourism businesses and one we have continued to advocate for both provincially and federally. As such, TIAO is recommending to increase both the Canada Emergency Business Account (CEBA) and the Regional Relief and Recovery Fund (RRRF) maximum loan forgiveness amount by up to $10,000 if the balance of the loan is repaid by the end of the 0% interest-free grace period; and extending the interest-free repayment period for CEBA loans and RRRF loans from their current end date of December 31, 2023 to December 31, 2024.  This will help reduce the financial burden many businesses and organizations are currently facing. 
On January 12, the federal government announced that the repayment deadline to qualify for partial loan forgiveness for both the CEBA and RRRF loans is being extended from December 31, 2022, to December 31, 2023.  But, since the start of the pandemic, about 7 in 10 Ontario tourism businesses have taken on debt that will take at least 2-3 years to resolve; this month, almost half of the province's tourism businesses reported a pessimistic outlook for the future of their business and that of the tourism industry. As such, while this extension will provide some relief, it will not be enough. 
TIAO is asking you to write to your local MP and urge them to consider our recommendations. You can access the form letter here. Please address the letter to your local MP: You can find who your MP is here by typing in your postal code. For more information, and to access images you can use in your own social media campaign, please click here.
The need for debt relief is even more urgent with the Omicron COVID-19 variant. As the province rebuilds its economy and Ontarians return to a new normal, Ontario tourism must not be left behind. Reopening does not mean recovery. 
---
ONTARIO ANNOUNCES NEW COVID-19 SMALL BUSINESS RELIEF GRANT

FOR BUSINESSES REQUIRED TO CLOSE DUE TO OMICRON

The Ontario government announced a new Ontario COVID-19 Small Business Relief Grant for small businesses that have been subject to closure under the modified Step Two of the Roadmap to Reopen. The program will provide a $10,000 grant to eligible businesses.  

Eligible small businesses include: 
Restaurants and bars; 

Facilities for indoor sports and recreational fitness activities (including fitness centres and gyms); 

Performing arts and cinemas; 

Museums, galleries, aquariums, zoos, science centres, landmarks, historic sites, botanical gardens and similar attractions; 

Meeting or event spaces; 

Tour and guide services; 

Conference centres and convention centres; 

Driving instruction for individuals; and 

Before- and after- school programs. 
Eligible businesses that qualified for the Ontario Small Business Support Grant and that are subject to closure under modified Step Two of the Roadmap to Reopen will be pre-screened to verify eligibility and will not need to apply to the new program. Newly established and newly eligible small businesses will need to apply once the application portal opens in the coming weeks. Qualifying small businesses can expect the grant payment in February 2022.  
The Ontario government is also providing electricity-rate relief for 21-days starting on January 18, 2022 at 12:01am. Electricity prices will be set 24hrs a day at the current off-peak rate of 8.2 cents per kilowatt-hour, which is less than half the cost of the current on-peak rate. The off-peak rate will apply automatically. 
Online applications for the previously-announced Ontario Business Costs Rebate Program will open on January 18. This program will provide eligible businesses that are required to close or reduce capacity with rebate payments for up to 100% of the property tax and energy costs they incur while subject to public health measures. 
The provincial government is also providing up to $7.5 billion in cash flow relief through a 6-month interest- and penalty-free period starting January 1, 2022 for businesses to make payments for most provincially administered taxes. 
For the official news release, please visit here. 
To access the Technical Briefing, please visit here. 
Related:
---
NEW TIAO SURVEY

ON THE CURRENT CHALLENGES FACING ONTARIO'S TOURISM BUSINESSES IN 2022 

In the coming weeks, TIAO will be meeting with a variety of government ministers, opposition critics, MPPs and MPs to detail the very latest information regarding the state of the tourism industry in Ontario. 

To be blunt, we know that the stakes for our industry have never been higher: Two years into the pandemic, saddled with increasing levels of debts, increased fixed costs and non-existent revenues, our industry has had period of reopening—but never recovery. That's why we remain relentless in our pursuit for continued economic supports and to fix programs that don't meet the needs of our industry. 

As we head into those meetings, it is vital that we are able to substantiate our recommendations with empirical information that helps us fill the gaps of support. If you could take just a few moments to fill in the following survey, you'll be helping us make a stronger case when we meet face to face. 

Please click here to fill out the survey. 
---
TIAO ADVOCATES FOR COVID-19 SMALL BUSINESS RELIEF GRANT

AND ADDITIONAL FINANCIAL SUPPORTS FOR THE TOURISM AND HOSPITALITY INDUSTRY 

TIAO has worked with our partners tirelessly to advocate for measures which help keep our tourism and hospitality businesses open. The rapid spread of the Omicron variant coupled with the recent closures of and restrictions on indoor settings affect a large number of our sectors and threaten to slow down recovery for the over 200,000 tourism and hospitality operators across Ontario.  

On January 6, 2022, TIAO and the Ontario Restaurant, Hotel and Motel Association (ORHMA) sent a joint letter to the Hon. Peter Bethlenfalvy, Ontario's Minister of Finance, to advocate for additional financial supports for the tourism and hospitality industry given the immediate and longer-term financial impact of the Omicron wave. We advocated for an extension of the Ontario Small Business Support Grant for businesses whose revenues are directly and/or indirectly impacted by current public health restrictions. This recommendation fed directly into the province's new COVID-19 Small Business Relief Grant, which will provide support for a number of our sectors forced to close indoor settings, such as restaurants, live entertainment venues, meeting and event spaces, tour and guide services, and museums and similar attractions.  

Reiterating our message in our letter, we continue to emphasize the need to support businesses left off the eligibility list, such as cottages, cabins, and bed-and-breakfast establishments that will not be able to benefit from the Ontario Staycation Tax Credit while closed. 

Read the rest of our recommendations in our letter here.

TIAO will continue working with our partners to advocate for government supports which alleviate immediate financial pressure and support the recovery and rebuild of our industry
---
TIAO ADVOCATES FOR 2022 WAIVER OF CROWN RESOURCE FEES

FOR ONTARIO'S RESOURCE-BASED TOURISM OPERATORS 

Over the past several months, TIAO has worked with NOTO to help provide immediate relief for resource-based tourism businesses by advocating for the waiver of crown resource fees for 2022. With the recent capacity restrictions and closures resulting from the rapid spread of the Omicron variant, the need for financial relief is paramount for resource-based tourism businesses, segments of which have been disproportionately unable to access COVID-19 relief and have been severely impacted by border closures and border entry protocols.  

In support of NOTO's advocacy on this issue and in support of the province's 1,600 resource-based tourism operators located primarily in Northern Ontario, TIAO sent a letter to the Hon. Greg Rickford, Minister of Northern Development, Mines, Natural Resources and Forestry to again consider waiving 2022 crown resource fees. The waiver will provide over $1 million in immediate financial relief for operators struggling to generate revenue and pay off debts for the past two years. TIAO will continue working with our partners to advocate for supports which contribute to the recovery of Northern and rural tourism operators in Ontario.  

Read the letter here.
---
CANADA

SUMMER JOBS  

CSJ is a program under the Youth Employment and Skills Strategy, which aims to provide flexible and holistic services to help all young Canadians develop the skills and gain paid work experience to successfully transition into the labour market. 

The program responds to national and local priorities to improve access to the labour market who face unique barriers. Wage subsidies are also available to employers from not-for-profit organizations, the public sector, and private sector organizations with 50 or fewer full-time employees, to create quality summer work experiences for young people aged 15 to 30 years. 

The Government of Canada aims to ensure that all CSJ funded job opportunities take place in a safe, inclusive, and healthy work environment free from harassment and discrimination. 

The Government has committed to create 100,000 CSJ jobs for youth in 2022 to help ensure that the program remains responsive to the employment needs of youth and employers. For 2022, CSJ is returning to its regular parameters and will offer quality jobs over the summer months. The jobs will need to end by September 3, 2022. Jobs will need to be full time with a minimum of 30 hours a week and a duration of at least 6 weeks. 

For information for employers and potential employees, please visit here.  
---
SPREADSHEET ERROR

MAY HAVE AFFECTED YOUR ELIGIBILITY FOR THE TOURISM AND HOSPITALITY RECOVERY PROGRAM (THRP) 

The federal government is advising that recent applicants for the Tourism and Hospitality Recovery Program (THRP) may have been affected by an error in the calculation spreadsheet for wage and hiring support, which erroneously showed they were ineligible for the THRP when they may have been eligible.  You may have been affected if:  
You were applying for period 22 (October 24 to November 20, 2021)  

You used a version of the spreadsheet for wage and hiring that was available between Tuesday December 21, 2021 and Friday December 24, 2021 

You indicated you are a qualifying tourism and hospitality entity and had both a current-month revenue drop and 12-month average revenue drop over 40%  

Step 5 in the spreadsheet showed a zero-dollar amount and gave the message that you were not eligible for the THRP  
What to do if you think you have been affected by this error:  
1) If you did not apply for period 22: Download the latest version of the spreadsheet (available here) and do your calculation again for period 22 to check if you are eligible to apply for the THRP – Wage  
2) If you did apply for the Hardest-Hit Business Recovery Program – Wage or Canada Recovery Hiring Program for period 22: Contact the Business Enquiries line at 1-800-959-5525 to make your THRP – Wage application  
The THRP supports businesses, charities, and non-profits who have been affected by the COVID-19 pandemic through wage and rent subsidies.  
The THRP is available to businesses and organizations in the tourism and hospitality industry with a 12-month average revenue drop (March 2020 to February 2021) of at least 40% and a claim-period revenue drop of at least 40%.  
REMINDER: From December 19, 2021 to February 12, 2022, businesses with a current-month revenue loss of 25% and who are affected by a capacity-limiting public health restriction of 50% or more are eligible to apply for THRP wage and rent subsidies. Check if you qualify here.  
---
FEBRUARY 7TH
A THREE FIRES COLLABORATIVE QUEST 
EMPLOYEE-TO-EMPLOYER MATCHING EVENT   
Are you looking for a job in the Ontario Tourism Industry? Do you identify as Indigenous? Or, are you an Ontario tourism business looking to hire new employees? If you answered yes to one of these questions, we want you to Save the Date! 
Now halfway through the program and after two successful events, we are hosting another Employee-to-Employer Matching Event. Taking place on Monday, February 7th, 2022, our virtual platform will allow video interviews to be scheduled between employers and potential employees. If you haven't already applied for the program, there is still time! 
Special Shout Out: Are you a tourism business located in London, Thunder Bay, Muskoka, or Kingston? We have potential employees in your region and are looking to match them with employers. Please reach out to Landon Logie at landon@tiaontario.ca.
For full program details and how to apply, please click here.
If you want to apply but have questions, please contact Landon at landon@tiaontario.ca. We can walk you through the application. 
---

BUILDING INCLUSIVE TOURISM
FEBRUARY 16: BETTER BUSINESS DISCOVERY PROCESS
Join us by registering each month for our webinar series on Building Inclusive Tourism.
On Wednesday, February 16, 2022, at 12 pm, we are presenting the Better Business Discovery Process
Session Information: Building better business through diversity, equity, and inclusion starts with each individual assessing the past, present and future to identify opportunities to improve, adapt and shift. This workshop will provide the steps to conduct a discovery within your own operations and businesses to identify current gaps. You will gain insights through hearing about other's experiences in the marketplace as we share best practice stories and examples of how adjusting your business to be more inclusive lead to better business success.
Featuring Guest Speakers: 
Niyoka McIntosh - Wellness Vacation Specialist

Shalene Dudley, CTA, WPICC, PMP - Lead Travel Concierge at Latitude Concierge Travels, Ltd.

Maria Ines - Director of Agent Experience & Loyalty, Independent by Flight Centre
Moderator: Maxine Gundermann - Market Sales Manager, Eastern Ontario, Celebrity Cruises, Inc.
Register now and let the learning begin, please click here.
---
INTERESTED IN ATTENDING OR HAVING YOUR EMPLOYEES ATTEND

A CUSTOM WORKSHOP DESIGNED FOR THE INDIGENOUS TOURISM INDUSTRY?

The Indigenous Tourism Series Workshop is the second of three fires part of A Three Fires Collaborative Quest. For this component, ITO and Ontario Tourism Education Corporation (OTEC) partnered to customize some of OTEC's most successful tourism courses to be delivered to frontline Indigenous tourism employees. There are three different trainings to chose from:
Service Excellence

Leading for Excellence

Coaching for Excellence
Each of these trainings can be hosted in-person or virtually and will be facilitated by one of ITO's Indigenous Business Advisors (IBA). Interested? Email IBA@indigenoustourismontario.ca!
---
ITO IS SEEKING PROPOSALS

FOR EITHER COMBINED OR INDIVIDUAL BUSINESS PLANS FOR VIRTUAL REALITY (VR) & AUGMENTED REALITY (AR) TECH PROJECTS

ITO, working with two distinct technology partners, is in the process of developing both VR and AR experiences and platforms. These platforms will offer users immersive, culturally authentic experiences that promote greater education toward Indigenous culture and a unique way to engage with and access Indigenous experiences. These projects will allow ITO and its partners the opportunity to promote Indigenous tourism businesses in an exciting and innovative manner. Most significantly, these projects will benefit Indigenous tourism operators with additional revenue streams, greater access to markets, and increased capacity. These projects achieve ITO's strategic goals of developing brand integrity, building capacity and increasing economic opportunities, and marketing and branding authentic products and services; ultimately providing valuable support for Indigenous communities and entrepreneurs.

Submit your proposal by February 15th, 11:59pm to Director of Operations, Leni Brem, via email at lbrem@indigenoustourismontario.ca.

View the RFO by clicking here.
---
MNIDOO MNISING/MANITOULIN ISLAND

CULINARY TOURISM STRATEGY INDUSTRY SURVEY

The Municipality of Central Manitoulin, in partnership with Destination Northern Ontario and Indigenous Tourism Ontario, has engaged the Culinary Tourism Alliance in developing a culinary tourism strategy for Mnidoo Mnising/Manitoulin Island from November 2021 to May 2022.

They are seeking to gather insight on Mnidoo Mnising/Manitoulin Island's current culinary tourism context, identify industry members interested in attending a culinary tourism workshop in late January/early February, and select up to six (6) businesses to receive dedicated support from the Culinary Tourism Alliance to develop new food & beverage experiences.

Please complete the 8-10 minute anonymous survey before end-of-day January 16th 2022. 

If you have any questions or concerns, please contact James Arteaga, Research and Engagement Coordinator at james@culinarytourismalliance.com. 

To access the survey please click here.

Related:
---
JOIN TIAO IN TAKING THE PLEDGE

- AND ENSURE THAT ONTARIO IS THE MOST COMMITTED PROVINCE TO

SUSTAINABLE TOURISM

Are you interested and committed to being more sustainable? Are you curious, but don't know where to start. Start your 2022 by taking the pledge.

The Sustainable Tourism 2030 Pledge is a commitment to improve the sustainability performance of your tourism business or destination between now and 2030... but this is more than a pledge.

Launched in June 2021, the Sustainable Tourism 2030 Pledge is a global movement of individuals, businesses, and organizations within the tourism and hospitality industry that believe tourism has a tremendous opportunity to become a force for good and change the world. We believe that improving the social, cultural, environmental, and economic performance of our industry in support of the UN Sustainable Development Goals and UN 2030 Agenda for Sustainable Development is not a trend or a cause, but is essential to the long term health and well-being of this important sector of the global economy. The Sustainable Tourism 2030 Pledge is built upon the GreenStep Sustainable Tourism criteria, which is aligned with, and in the case of the business criteria, has achieved "Recognized" status, with the Global Sustainable Tourism Council. We have set a goal of achieving this. 

Take the pledge here: https://www.sustainabletourism2030.com/pledge/
---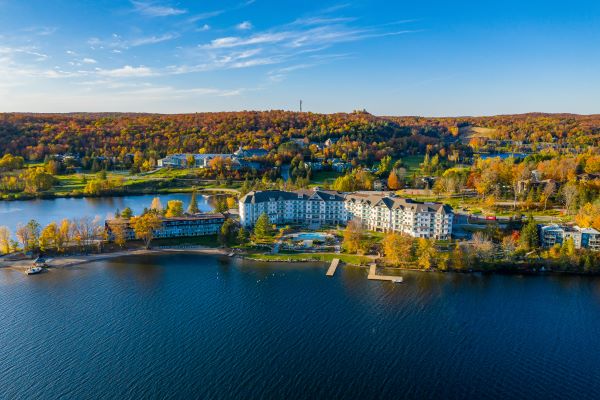 ONLY 2 WEEKS LEFT
TO TAKE ADVANTAGE OF EARLY BIRD RATES FOR THE 2022 ONTARIO TOURISM SUMMIT
Get ready to connect, network, and learn in Muskoka on October 25 and 26, 2022.
Early-Bird Registration closes January 28th!!!
Register now at Tourism Industry Association of Ontario | Early Bird Tickets: 2022 Ontario Tourism Summit (tiaontario.ca) See you at Deerhurst Resort for #OTS22
---

TOURISM & HOSPITALITY EMERGENCY RECOVERY

(THER)

The tourism and hospitality sector is struggling to recruit talent. Ski operators, winter resorts, restaurants and hotels are worried about turning away guests because they don't have enough staff. According to our most recent Labour Force Survey report, total employment in Canada has recovered to pre-pandemic levels, but employment within the tourism sector remains significantly suppressed. Tourism and Hospitality Emergency Recovery, led by OTEC, is working with partners across Canada to drive recruitment and support sector recovery. Learn more at LetsGetReady.ca

Le secteur du tourisme et de l'hôtellerie a de la difficulté à recruter des talents. Les exploitants de stations de ski, les stations d'hiver, les restaurants et les hôtels craignent de refuser des clients parce qu'ils manquent de personnel. Selon le dernier Rapport de l'Enquete sur la population active, l'emploi global au Canada a retrouvé son niveau d'avant la pandémie, mais l'emploi dans le secteur du tourisme reste considérablement réduit. Le Plan de relance pour le secteur du tourisme et de l'hôtellerie, dirigé par l'OTEC, collabore avec des partenaires partout au Canada afin de stimuler le recrutement et soutenir la reprise du secteur. Pour en savoir plus, visitez le site onseprepare.ca.
---
STAKEHOLDER
CALL MINUTES
Thank you to everyone who joined this week's call. We continue to hold weekly industry stakeholder conference call meetings in order to disseminate information that we have received, address member concerns and share information on our industry consultations and share the latest news from government and our partners.  This week's stakeholders calls provided a weekly industry update. You can read the notes from this week here.
---
SAFE TRAVELS STAMP

 

ADMINISTERED BY TIAO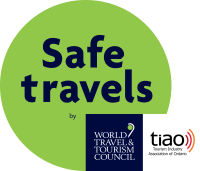 TIAO has been chosen by the World Travel and Tourism Council (WTTC) to administer the Safe Travels Stamp in Canada. The Safe Travels Stamp is an international symbol designed to allow travellers to recognize governments and companies around the world, which have adopted health and hygiene standardized protocols  – so consumers can experience 'Safe Travels'.
As we are being asked to limit our travel, recognize that the Safe Travels Stamp contributes to comfort with consumer sentiment both from travelers to your area and for your local community. This recognition can lend itself to peace of mind.
Our application process has moved to an online system and you can access it here. Almost 2000 businesses have been approved. See list of successful applicants here.
---
DO YOU HAVE

 YOUR TIAO PROUD MEMBER LOGO?

We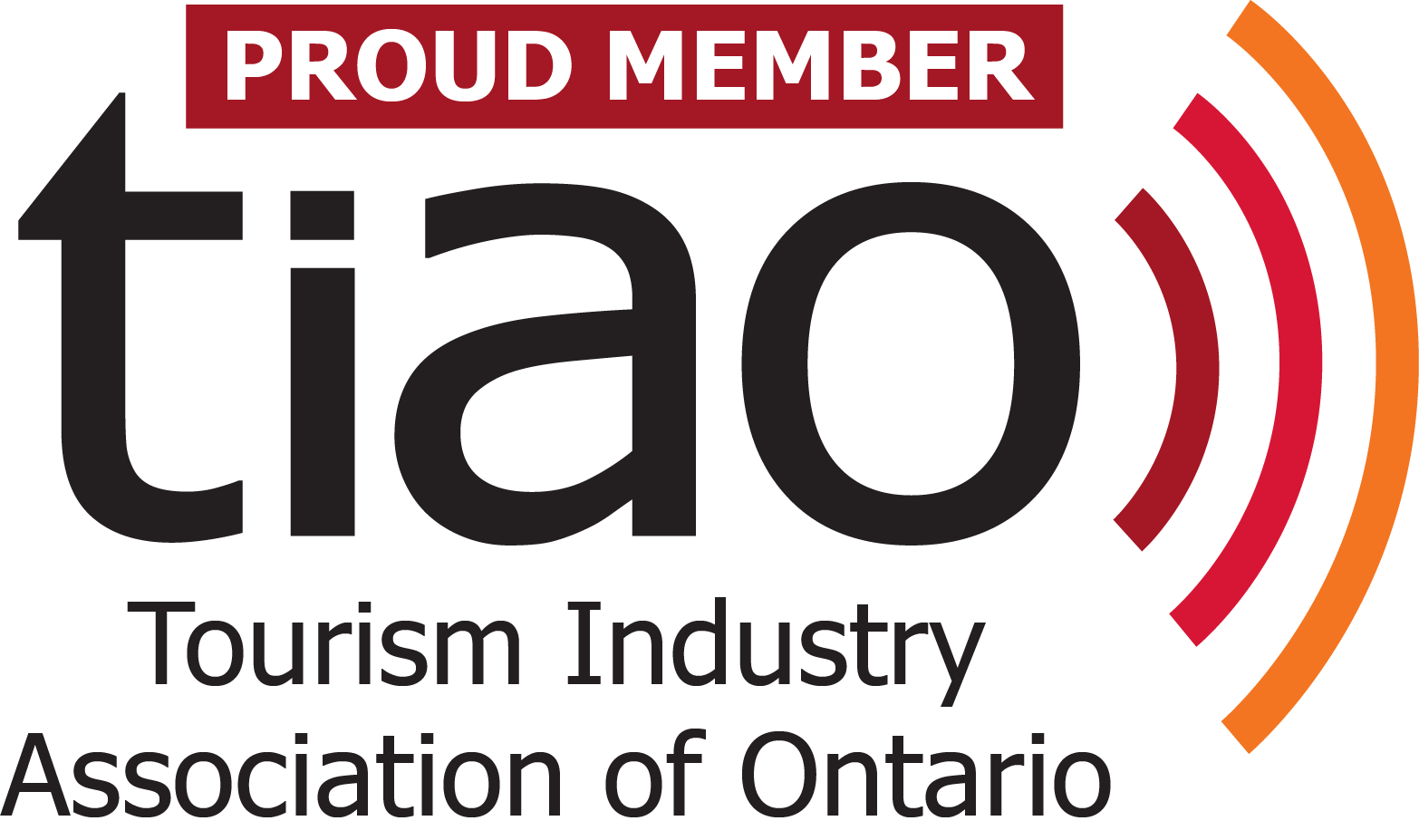 value our members and are proud to show you off, which is why we have a special TIAO "Proud Member" logo for your use. If you are a member and don't have the updated version, please reach out here.
MEMBERSHIP IN 2022

– IS IT COMPLIMENTARY?

In 2020, thanks to a grant provided by the Ministry of Heritage, Sport, Tourism and Culture Industry, we had the opportunity to be able to extend complimentary membership for one year.  TIAO then chose to extend this again in 2021 recognizing the continued struggle.  We need to move forward and rebuild but we know that Re-opening does not mean recovery. 

In yet another transition year - we need to charge for membership - but we are keeping our rates level and asking the RTOs, DMOs, Sector Associations, Government, Tourism Industry Suppliers and Educators to pay - as we work with you to cascade up and down the information so that we can continue to collaborate and work together to deliver the voice to industry.

We are offering complimentary membership to tourism operators IF the tourism operator is a member of their local DMO and/or Sector Association.  We recognize that tourism operators are still challenged. By aligning with the DMOs/Sector Associations we are allowing tourism operators to not have to choose IF they can only afford one membership - we want them to work with those that can market and bring them business.  

For those tourism operators that are able to and want to contribute to green shoots to support TIAO's advocacy efforts, this is greatly appreciated.

We look forward to hearing from you, having more input, strengthening our industry's voices and making sure tourism is represented.
Contact us for 2022 membership by emailing us directly at

membership@tiaontario.ca
If you are a tourism operator that would like to contribute more than your membership dollars to TIAO to support our advocacy efforts, you can do so in one of two methods:
Sponsorship of an existing action - Tourism Issues Forum, Policy Speaker Series, AGM, and/or Ontario Tourism Summit

Become a

Green shoots

sponsor 🌱 - For those members that can afford to pay more than their membership, we will recognize the value of their existing membership through sponsorship (Green shoots sponsor) and use this value of their membership to continue the research and vital actions to rebuild and represent the industry's voice to government in Ontario.
How does this work if I want to become a member of TIAO?
Welcome, we are glad to extend this to the industry. We ask that you reach out to us directly at: membership@tiaontario.ca We will set up your membership. We will also extend to you the option as we do to our existing members.
Membership within TIAO for a period of one year from date of signing.

Opportunity to sponsor an existing action - Tourism Issues Forum, Policy Speaker Series, AGM, and/or Ontario Tourism Summit AND/OR become a

Green shoots

sponsor 🌱 - For those members that can afford to pay more than their membership, we will recognize the value of their existing membership through sponsorship (Green shoots sponsor) and use this value of their membership to continue the research and vital actions to rebuild and represent the industry's voice to government in Ontario.

Why Green shoots? 
Green shoots is a term used to describe signs of economic recovery or positive data during an economic downturn. The term green shoots is a reference to plant growth and recovery and has been used during down economies to describe signs of similar growth.
Welcome to the Tourism Industry Association of Ontario. 
We are your association, and we are here for you!
---
GOVERNMENT RELEASES
-----------------------------------------------------------------------------------
Ontario Invests in COVID-19 Test Kits Made in Thorold
Economic Development, Job Creation and Trade
The Ontario government is supporting a more than $13 million investment by Norgen Biotek to scale up production of its COVID-19 saliva-based test kit, with $1 million in support through the Ontario Together Fund.

Ontario Investing in Indigenous Supportive Housing
Municipal Affairs and Housing
The Ontario government is investing $10 million in new annual funding to provide Indigenous-led, culturally appropriate long-term housing solutions and support services to Indigenous people experiencing or at risk of homelessness.
Ontario Launching School-based Vaccine Clinics as Students Return to In-person Learning
Education
With elementary and high school students returning to in-person learning on January 17, Stephen Lecce, Minister of Education, was joined by Dr. Kieran Moore, Ontario's Chief Medical Officer of Health to announce the launch of school-based vaccine clinics for youth and staff, along with a significant deployment of rapid antigen tests. These new measures build on the province providing millions of high-quality masks for staff and students and thousands more HEPA filtration units.

Ontario Continues to Add Hospital Beds and Build Up Health Workforce
Health
The Ontario government is continuing to accelerate its efforts to add hospital beds and build up the province's health care workforce to ensure patients can continue to access the health care they need when they need it.
Ontario Invests in New Disinfectant Wipes Production Facility in Barrie
Economic Development, Job Creation and Trade
The Ontario government is supporting a nearly $10 million investment by Empack Spraytech Inc. in a new disinfectant wipe production facility in Barrie, with more than $1.2 million in support through the Ontario Together Fund.
Ontario Providing Supports for Small Businesses, Workers and Families
Finance 
The Ontario government is providing targeted relief for businesses and people impacted by the current public health measures aimed at blunting the spread of the Omicron variant. As part of this plan, the government is introducing a $10,000 grant for eligible businesses that are subject to closures under the modified Step Two of the Roadmap to Reopen and is providing additional electricity-rate relief for businesses, as well as workers and families spending more time at home.
Ontario Adding More Vaccine Clinics for Education and Child Care Staff
Education
Stephen Lecce, Minister of Education, and Solicitor General Sylvia Jones announced additional vaccine clinics in the Greater Toronto and Hamilton Area (GTHA) that will provide accelerated access to COVID-19 booster shots for education and child care staff. With these additional locations, the Ontario government is enhancing access to vaccination to better protect children, staff, and families as Ontario responds to the Omicron variant.
---
INDUSTRY NEWS
-----------------------------------------------------------------------------------
MMBC Survey - What's Important To You?
MMBC
The MMBC is asking members of the business events community to help prioritize the key issues that MMBC will communicate to elected officials and decision makers at all levels of government over the next several months. Please take a few minutes to express your views by answering 5 quick questions. The link above will take you straight to the survey. 

TICO to Waive Registrant Fees for Third Year
TICO 
As the COVID-19 pandemic continues to surge through our community and worldwide, there is an ongoing, significant financial impact to Ontario's travel agencies and wholesalers. To assist the industry through this hardship, the Ontario government will provide funding to the Travel Industry Council of Ontario (TICO), allowing TICO to waive registrant fees for a third year. 
Sport Events Congress 2022 – Postponed
Sport Tourism Canada
Sport Tourism Canada (STC) and Edmonton Events have made the difficult decision to postpone Sport Events Congress 2022 (SEC22) scheduled for March 22-23-24 in Edmonton.  The decision was made in consideration of the recent spike in the spread of COVID-19 in Canada and out of concern for the health and safety of all stakeholders involved.
Support Local Tourism Businesses and Retailers
Ottawa Valley Tourist Association
In light of the recent announcement that the province of Ontario has moved into a modified Step 2 of the Roadmap to Reopen, the Ottawa Valley Tourist Association (OVTA) is asking for support on behalf of local businesses.
Frontenac County invites public input on Destination Development Plan
Kingstonist
Members of the Frontenac County Economic Development Team invite all members of the public to support and participate in the next phase of their tourism sector development initiative by attending one of two virtual town hall meetings later this month.
Florenceville-Bristol branding itself as exciting tourism, business destination
Toronto Star 
A new social media presence, including new Facebook and Instagram pages, is the latest step in Florenceville-Bristol's comprehensive efforts to brand itself as an exciting destination for tourists and entrepreneurs.
Indigenous tourism officials now predicting quicker recovery from pandemic
Toronto Star 
A lengthy recovery from the pandemic, lasting perhaps as long as a decade, is no longer being predicted for the Indigenous tourism industry in Canada. Keith Henry, the president and CEO of the Indigenous Tourism Association of Canada (ITAC), had said this past September that research had indicated it would take until 2028 for the tourism industry to fully rebound across the country.
Community comes together to bid farewell to local tourism leader
The Niagara Independent 
Frigid temperatures and biting winds couldn't stop hundreds of family members, friends, acquaintances, colleagues, and former employees from lining up along Clifton Hill Monday afternoon to honour local tourism leader Charlie Burland.
I Am A Snowmaker - Vote Boler Mountain!
Ski Area Management / Ontario Snow Resorts Association  
Boler Mountain in London, Ontario is the only Canadian entrant in the SAM "I am a Snowmaker Contest" this year. Please vote for the great team at Canada's most southern ski area as they are truly deserving of this recognition. Please click on the link in the title above to vote now ... and vote often! 
2022 Ontario Winter Games Postponed Until 2023
County of Renfrew 
The 2022 Ontario Winter Games to be hosted by the County of Renfrew has been postponed. The announcement, by County Warden Debbie Robinson, was made amidst the growing concern of the impact the Omicron variant is having on the health and safety of Ontario residents.
Related:
Scotties organizers in Thunder Bay looking at hosting again in 2024
Northern Ontario Business
With all signs pointing toward Curling Canada enacting a bubble, similar to the 2021 event in Calgary, when the Scotties arrives in Thunder Bay later this month, local organizers say they've been told they'll have first right of refusal for the 2024 event.
Rideau Lakes touts attractions on social media
Toronto Star 
The Township of Rideau Lakes has announced new tourism and community outreach social media pages, called "Experience Rideau Lakes," to continue to engage with the local community.
Canada resists pressure to drop vaccine mandate for cross-border truckers
CTV News  
Prime Minister Justin Trudeau is pushing ahead with a vaccine mandate for international truckers despite increasing pressure from critics who say it will exacerbate driver shortages and drive up the price of goods imported from the United States.
Related:
Tourism Cochrane supports events
Northern News  
Snowmobilers from across the province will be heading to Cochrane to participate in a unique challenge of skill and endurance.
Radisson Hotel Group announces partnership with Ecovadis
Stay Magazine
As part of its pathway to a net-zero carbon future by 2050, Radisson Hotel Group has partnered with Ecovadis—a provider of business sustainability ratings.
Travel industry coalition pushes for new testing requirements after U.K. changes pre-departure rules
CTV News  
The head of a Canadian travel and tourism coalition is calling for a change in the country's COVID-19 testing requirements following a recently announced policy shift in the United Kingdom.
Nearly 5,000 layoffs at Cineplex after Ontario closes movie theatres
Maple Ridge News
Cineplex Inc. says it has temporarily laid off nearly 5,000 part-time employees because of mandated closures of its Ontario movie theatres to tackle the surge of the Omicron variant.
Canadian hotel performance recovery continued slowly in November: STR Report
Stay Magazine 
Canada's hotel industry reported slightly lower performance levels from the month prior, but indexed comparisons with 2019 were better, according to STR's November 2021 data.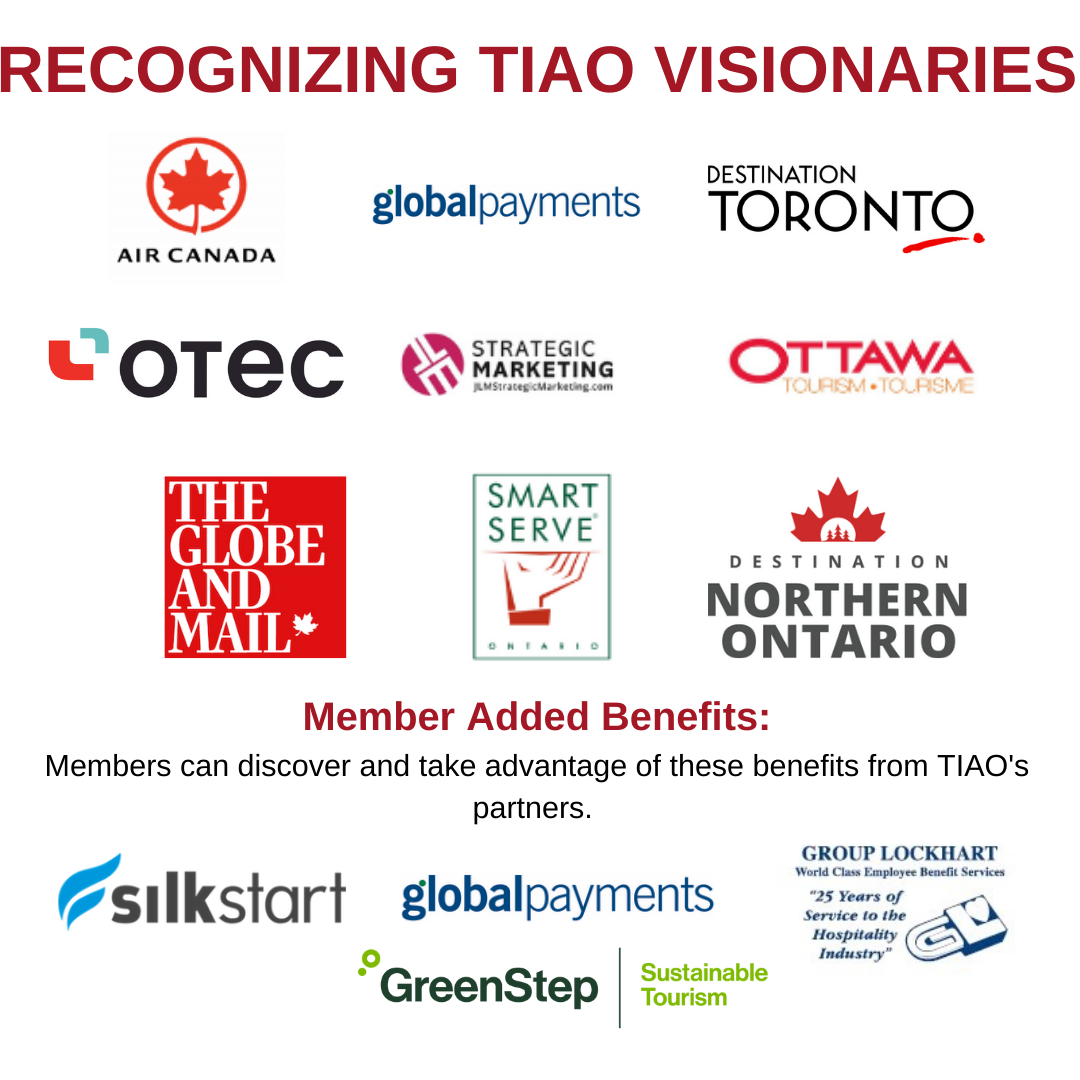 Copyright © 2021

Tourism Industry Association of Ontario

, All rights reserved.
 

This email was sent by:
Tourism Industry Association of Ontario
439 University Avenue, Suite 1400
Toronto, Ontario, M5G 1Y8

 

You have received this email because you are a member or existing contact of Tourism Industry Association of Ontario, a membership organization powered by SilkStart. update notification preferences unsubscribe from this list