On the Friday before thanksgiving, Minister of Immigration, Refugees and Citizenship, Sean Fraser, made a key and welcome announcement on the government's intention to relax rules on the number of hours international students would be permitted to work off-campus. As many of you are aware, the previous maximum of twenty hours off-campus was preventing many students from being able to take up opportunities to work further hours and continued to hamper business' ability to fill labour gaps.
TIAO was delighted to see this commonsense change being announced and thank our partners - especially TIAC - for their hard work in ensuring this key recommendation was delivered. This recommendation has been a key ask for the tourism industry. Moreover, Ontario and Canada as a whole are fortunate to have a significant number of students wanting to study and then work within our industry. They're not just prospective employees, but people who will add to the fabric of our industry, communities and our province. I hope this is the start of further commonsense changes to immigration policies that level the playing field in helping those who want to work within our industry to be able to do so. Encouragingly, we know that Minister Monte McNaughton is keen to revisit the Ontario Immigrant Nominee Program with the Federal government, that could further help our ability to attract international workers.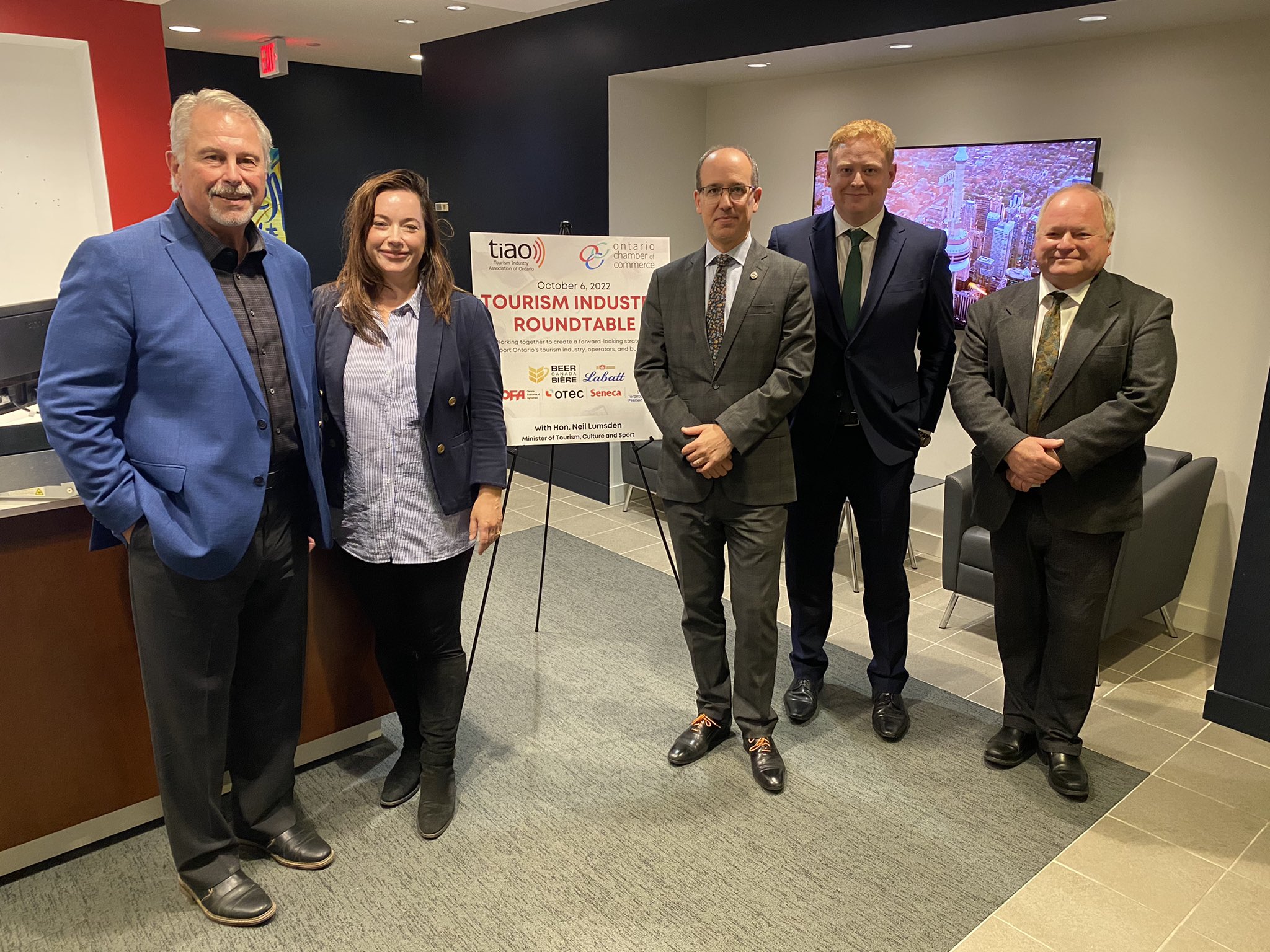 Last week, TIAO hosted a hybrid Tourism roundtable with the Ontario Chamber of Commerce (OCC) with Minister for Tourism, Culture and Sport, Neil Lumsden. With over 60 tourism leaders in attendance, we had a productive discussion regarding the state of the tourism industry in Ontario. The discussion included exchanges on labour challenges, the housing crisis, debt, immigration and regulatory barriers to growth, opportunities for investment, concern over the return of business events and travel and the importance of our gateway cities. Participants shared the latest information from their own sectors and regions but also industry led solutions that if recreated on a larger scale could help answer some of these key challenges identified.
The contents of the discussion and the ideas shared will become a central part of TIAO's and the OCC's State of the Tourism Industry Report, a blueprint of ideas that we believe are key to the tourism industry in Ontario, realizing its true potential as a key economic driver. Key recommendations of the report will be presented at the Ontario Tourism Summit in Muskoka and the full report released soon after. I would like to thank all participants for their time and articulate contributions to the discussion. We could have filled the room ten times over, but the discussion was optimistic and collaborative and Minister Lumsden made it clear in his remarks that the government is keen to hear solutions to the challenges that we face and work with us to deliver them.
Next week I will be joining colleagues in meeting Federal Members of Parliament, Senators and key bureaucrats as part of the TIAC Hill Days. This is an important set of lobby days organized by TIAC to ensure that all federal political representatives and civil servants are fully aware of the challenges facing the tourism industry and the opportunities that are there for the taking with the right investment and strategies. As we start to exit the pandemic there has never been a more important time for us to be speaking with federal representatives to ensure that they're fully aware of the challenges of debt, the labour crisis and other obstacles to travel that will continue to hamper our recovery if not rectified. Whist I will be part of a broader team representing the entire tourism industry, I will of course ensure that Ontario, and the challenges particular to our province, are well represented.
Many of you have been in contact with me regarding progress on the consultation that featured on the Ontario Regulatory Registry on the proposed amendment to O. Reg 565: Public Pools. As you know, TIAO put forward our own set of commonsense changes to rectify the situation that has arisen regarding hot tubs and thank those TIAO members that took up our call for action to get your consultation responses in. TIAO has been informed that consultation responses have been collated and reviewed and we expect an update from government on proposed changes in the near future. TIAO continues to press for a speedy resolution to this issue so that businesses can take bookings with confidence. We will of course update members as soon as we hear anything.
Finally, we're now hurtling towards the Ontario Tourism Summit in Muskoka on October 25-26. There are very limited tickets available for you to join us in what promises to be a compelling summit, so if you haven't got your ticket yet, please don't delay!
As ever, this is just a snapshot of the work that the TIAO team are currently undertaking. If there is an issue that you would like to raise with the team, please don't hesitate to get in contact with us.
Best Wishes,








Chris Bloore
President & CEO