A THREE FIRES COLLABORATIVE QUEST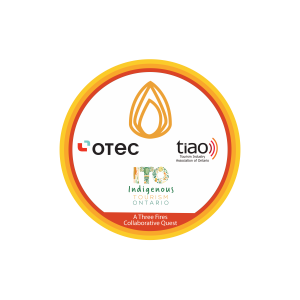 The Tourism Industry Association of Ontario (TIAO), in collaboration with Indigenous Tourism Ontario (ITO) and Ontario Tourism Education Corporation (OTEC), is accepting applications for A Three Fires Collaborative Quest Program - a program designed to fill critical gaps within the industry and encourage recovery and growth of the province's tourism workforce by bringing awareness of opportunities to potential Indigenous employees. 
The Program
The program, A Three Fires Collaborative Quest, will be executed in three phases - each managed by one of the three aforementioned partners respectively.  
Fire One: 
Indigenous tourism businesses will receive one-on-one coaching and support from ITO's Indigenous Business Advisory (IBA) Program to assist in getting them market ready for the reopening. The structured content delivered to participants of the IBA Program will address all areas of a tourism operation required for business sustainability and success and will follow market-ready standards established specifically for the Indigenous tourism industry. 
Fire Two:  
The second fire will be managed by OTEC who will design and execute workshops to provide customized frontline training for 100+ Indigenous tourism employees as well as those identified through the IBA.
Fire Three: 
The third fire, executed by TIAO, is designed to bridge the gap between the other two fires by helping Indigenous tourism employees connect with employers, and conversely, tourism businesses (both Indigenous and non-Indigenous) connect with employees.
Eligibility
Employee Participation 
To be eligible for the program as a potential employee, you must be Indigenous. After being accepted into the program, you will have the opportunity to participate in frontline training workshops facilitated by OTEC. These workshops are suitable for potential employees whether you are just starting in the tourism industry, or if you have experience but are seeking a new position within the industry.
Indigenous Tourism Series Workshops
The Indigenous Tourism Workshops provide customized frontline training for Indigenous tourism employees as well as those identified through an Indigenous Business Advisor (IBA). Workshops can be hosted in-person, virtually, or self-taught through OTEC's online learning platform. 
The Indigenous Tourism Series Workshop includes three different trainings:
Service Excellence
Leading for Excellence
Coaching for Excellence
An overview, target audience, and learning outcomes on each of the trainings can be found here.
If you are interested in having yourself, your employees, or a group certified, please contact info@indigenoustourismontario.ca 
If you are interested in the self taught virtual trainings, please follow the instructions here.
---
Employer Participation  
Please note: A Three Fires Collaborative Quest is designed to build capacity in the tourism workforce for the 2023 season. Employees will be applying for positions for April 1st, 2023 to March 31st, 2024.   
To apply for the program as an employer, you must be a tourism business in Ontario, and you must be willing to support your new employee's training and development in collaboration with the program.  
An additional benefit, is upon completion of the program, you will be eligible to receive a wage subsidy of up to 30%, with a maximum of $5,000 per employee hired.   
To apply, click  here.
Program Benefits
Provides immediate financial support in the form of wage subsidies to enable operators to hire Indigenous employees.  
Provides training opportunities for frontline, supervisory and ownership positions through interactive workshops and coaching sessions.  
Provides Indigenous operators with direct support from Indigenous Business Advisors focusing on ITO's Four Pillars.
You are eligible to receive a wage subsidy of 30%, to a maximum of $5,000 per employee hired.