TIAO continues to keep the pressure on advocating for debt relief to ensure the recovery, growth, and sustainability of Ontario's tourism industry after last month's release of the TIAC/Nanos research findings. These results renew the case for government intervention. TIAO will be an active member of a new Coalition being formed with likeminded national organizations in the visitor economy and small business sectors to push the messaging and recommendations forward.
As of this week, TIAO has been advocating for debt relief for tourism businesses for the past 23 months. Last year, TIAO launched a campaign for debt relief, calling on the federal government to extend the zero-interest repayment deadline and to increase the maximum amount of partial loan forgiveness for CEBA and RRRF loans. These recommendations were featured in our blueprint for tourism recovery and growth, outlined in our Federal Tourism Growth Strategy submission, provincial and federal budget submissions, and in our joint 2022 State of the Ontario Tourism Industry Report with the Ontario Chamber of Commerce. We know that debt has been consistently cited as hampering the recovery of our member tourism businesses and will continue to prioritize this advocacy file, communicating and reiterating the need with MPs before the return of Parliament in September.
The TIAO team started off the week by attending the release of the new Federal Tourism Growth Strategy in Niagara Falls. The Honourable Randy Boissonnault, Minister of Tourism and Associate Minister of Finance unveiled the new strategy entitled: Canada 365: Welcoming the World. Every Day.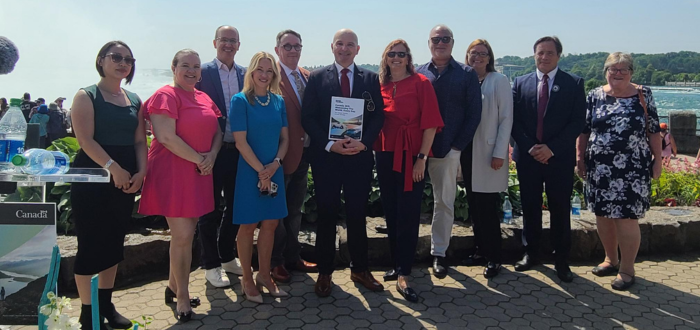 This strategy is released after almost 12 months of consultations - roundtables and online submissions garnered input from some 400 tourism stakeholders and follows the 2019 plan called Creating Middle Class Jobs: A Federal Tourism Growth Strategy, which identified that the Canadian tourism sector was not reaching its potential. The newly announced strategy uses 2019 as a foundation and incorporates lessons from the past three years of the pandemic.
TIAO is encouraged to see that the main themes throughout this document are in line with our priorities. We recognize all of our members that contributed by providing feedback and input in the consultation period. If you have any questions or comments on the strategy, please reach out to me at msimmons@tiaontario.ca. We would love to hear your thoughts.
TIAO also attended the Greater Niagara Chamber of Commerce's Spotlight event. Hosted by Niagara College Canada at their Benchmark Restaurant, the event was a great opportunity to discuss the Federal Tourism Growth Strategy with Minister Boissonnault and to reconnect with TIAO members in the Niagara region.
On Wednesday, TIAO presented its advocacy priorities and vision for the future of tourism in Ontario to the federal Conservative Tourism Caucus Advisory Committee – thank you to co-Chairs MP Tony Baldinelli and MP Blake Richards for inviting us.
In addition, this week, the Ministry of Labour, Immigration, Training and Skills Development announced a new licensing system for temporary help agencies and recruiters. As of January 1, 2024, temporary help agencies and recruiters will need a license to operate in the province and will need to provide $25,000 in the form of an irrevocable letter of credit that can be used to repay owed wages to employees. Offenders could face up to a $50,000 penalty based on repeat violations – the highest amount in Canada.
TIAO has advocated for the regulation of temporary help agencies and recruiters to protect some of the most essential workers in the tourism and hospitality industry and to ensure that businesses can make informed decisions when choosing recruitment partners. TIAO congratulates Minister McNaughton on this critical step forward in elevating the standard of recruitment practices in Ontario.
TIAO would also like to congratulate Neil Pakey and Nieuport Aviaton on the announcement last week that US Customs and Border Protection Preclearance operations will be coming to Billy Bishop Airport. TIAO has been a vocal supporter of this investment and the role it will play in driving favourable economic outcomes that would benefit both Toronto and Ontario.
Lastly, please register to join us for TIAO's most important advocacy event of the year! Exclusive to TIAO Members, Tourism Day at Queen's Park, happening on Tuesday, September 26th (8-5PM), is TIAO's annual lobby day event at the provincial legislature. One of the association's most highly rated events and membership benefits, TD@QP allows tourism industry leaders and stakeholders valuable face time with MPPs, Ministers and other government officials and staff. Read more and register below.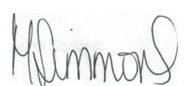 Madison Simmons
Vice President, Public Affairs