FINALISTS ANNOUNCED
Winners Revealed at OTS18, Oct. 24 @ Caesars Windsor
2018 Finalists
Tourism Innovator of the Year
Bay of Quinte Regional Marketing Board
Tourism Excellence North (TEN)
Waterloo Central Railway
 
 
 
Tourism Event of the Year
Karnival on the Kam (Fort William Historical Park)
Ontario 150 Tour (Water's Edge Festivals and Events)
Pumpkinferno (St. Lawrence Parks Commission)
THE POLAR EXPRESS™ Train Ride (Waterloo Central Railway)
Winter Festival of Lights 
 
Tourism Champion of the Year
Garry McColman
Gord Brown
Mark Baker
 
 
 
Tourism Employer of the Year
Scandinave Spa Blue Mountain
Temple Bay Lodge
Tourism Toronto
 
 
 
Sustainable Tourism Award
Cowbell Brewing Company
Haliburton Forest and Wildlife Reserve
Windmill Lake Wake and Eco Park
 
 
 
Accessible Tourism Award
Cowbell Brewing Company
Royal Ontario Museum
St. Lawrence Parks Commission
 
 
 
Indigenous Tourism Award
Point Grondine Park
Wikwemikong Tourism
 
 
 
2018 LIFETIME ACHIEVEMENT AWARD WINNER
J.J. Hilsinger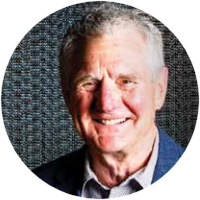 J.J. Hilsinger has been an outspoken figure in Sault Ste. Marie's business and tourism community for decades. An active supporter of the city's growth since the 1950s, J.J.'s name has come to represent entrepreneurship and community spirit.
After opening Sault Ste. Marie's first KFC franchise—which eventually expanded to additional businesses—J.J. built the Water Tower Inn in 1974. Still a family-run business, the Inn is known as a welcoming community meeting place in addition to a haven for visitors.
Over the course of his expansive career, J.J. has promoted Sault Ste. Marie as a destination for both visitors and business development. He spearheaded investment at Searchmont Resort, in addition to groups such as Hospitality and Travel Sault Ste. Marie (HATS) and the city's economic advisory council in the '80s. J.J.'s resumé also boasts a long list of philanthropic work and other community contributions.
The Tourism Industry Association of Ontario (TIAO) is proud to announce J.J. as the 2018 recipient of the Tourism Industry Awards of Excellence's Lifetime Achievement Award. His commitment to hospitality and community engagement embodies the spirit of Ontario's tourism industry, and this accolade is undoubtedly deserved.
We'll be celebrating J.J.'s accomplishments together as an industry at Caesars Windsor on Tuesday, October 23 at a special Lifetime Achievement Award Lunch on day one of the 2018 Ontario Tourism Summit**
**Please note that if you are already registered for the full Ontario Tourism Summit, you DO NOT need to purchase tickets for the Lifetime Achievement Award Lunch
Tourism Innovator of the Year
Recognizes an organization or individual that created a new innovative product, policy or service to promote and enhance tourism in their local community, region or the province of Ontario.
 
Tourism Event of the Year
Presented to a festival or event that exemplifies industry best practices in all aspects of its operation. Entries are open to many different types of events: cultural, historical, musical, arts, sporting, culinary, literary, amusement, general interest, etc.
 
Tourism Champion of the Year
Given to an individual who embodies the spirit of tourism in Ontario. This person should be directly involved with the industry (as an employee, business owner, volunteer, advocate, etc.) and be able to give evidence of their contributions.
 
Tourism Employer of the Year
Recognizes an organization that has developed an admirable reputation as a great place to work, and that has established itself as an upstanding example of Ontario's tourism industry.
 
Sustainable Tourism Award
Recognizes an organization, individual or initiative that has made a viable and maintainable contribution to the practice and promotion of sustainable tourism in Ontario.
 
Accessible Tourism Award
Acknowledges an organization that operates an outstanding accessible hospitality and tourism business that complies with Ontario Accessibility standards and is recognized by employees and customers as a leader in providing an inclusive experience for all visitors. Areas of interest include the provision of accessible service, employment, built environment and accessible information and communications.
 
NEW! Indigenous Tourism Award
Recognizes an organization, individual or experience that has demonstrated a commitment to the development and promotion of authentic, cultural Indigenous experiences for visitors to Ontario.
Lifetime Achievement Award
Recognizes individuals who have made significant contributions to the development and promotion of Ontario's tourism industry, and established a visible, long-term record of accomplishment that merits special attention.