Event Details
The Ontario Tourism Summit is the premier provincial, industry-wide business conference for members of Ontario's tourism industry to learn the latest trends, share new ideas and best practices, network with colleagues, and recognize industry leaders at the Ontario Tourism Awards of Excellence. OTS17 will be held November 6th and 7th at the Scotiabank Convention Centre in Niagara Falls.

Discounted rates available until Oct. 6 or until room block sells out
---
Planning your travel to and from the Summit? Try

FlyGTA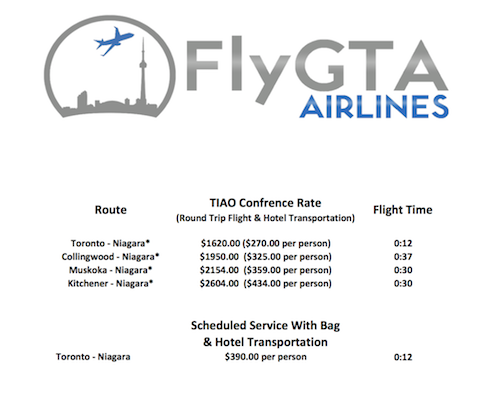 Terms:
All prices subject to HST

All quoted prices are pre-paid 100%
* Private plane is based on up to 6 passengers and includes luggage
** Ground transportation to and from hotel provided
** Add Niagara Falls flyby for an additional $250.00
** All terms and conditions are on our website
** Prices are subject to change without notice
---
Note About Lifetime Achievement Award Lunch & Gala Dinner Tickets:
Attendance at these events are included in a full registration to the Ontario Tourism Summit. If you are attending both days of the Summit, you DO NOT need to additionally purchase tickets to the Lifetime Achievement Award Lunch or the Ontario Tourism Awards of Excellence Gala Dinner. Tickets to these events are available to those who will be attending them exclusively.
---
Terms and Conditions for OTS17 Registrations:
Tickets are non-refundable.

Registrations cannot be shared amongst individuals.

Substitutions are accepted.

Payments must be made by credit card. If you/your organization does not have a credit card, please contact us.

By registering for the Ontario Tourism Summit, you are consenting to receive TIAO Updates. You may unsubscribe at any time from within any email received by TIAO.
Day 1 – Monday, Nov. 6

7:00am

REGISTRATION OPENS

8:00-9:00am

NETWORKING BREAKFAST

9:00-9:15am

Welcome & Opening Remarks

Mayor Jim Diodati

9:15-10:15am

Balancing Tourism Growth & Local Expectations in Iceland

Ólöf Ýrr Atladóttir (Director, Icelandic Tourist Board)

How do you keep your citizens happy when five times the size of the population visit your country each year? How do you protect your natural resources when they are becoming the key attraction to 2.3 million annual visitors? These are some of the challenges facing Iceland as its tourism economy has skyrocketed in the past few years. Director General Ólöf Ýrr Atladóttir of the Icelandic Tourism Board will share her insights into managing these challenges and opportunities of Iceland's new tourism economy, and discuss whether they are of a local nature – or common challenges that call for global responses and cooperation.

10:15-11:00am

One Stitch at a Time: An Indigenous Tourism Partnership

Waneek Horn-Miller (Director, Storyboot Project, Manitobah Mukluks);
Stephanie Pangowish (Instructor, Manitobah Mukluks Storyboot School at the Bata Shoe Museum);
Sheila Knox (Acting Director, Operations, Bata Shoe Museum)

Learn how collaboration between the Bata Shoe Museum, Aboriginal-owned Manitobah Mukluks and the TreadRight Foundation led to a semi-permanent Manitobah Mukluks Storyboot School at the Bata Shoe Museum, where Indigenous youth learn the traditional art of mukluk and moccasin-making. The unexpected result? Indigenous and non-Indigenous adults clamouring to participate, contributing to cultural understanding and reconciliation, one stitch at a time.

11:00-11:30am

NETWORKING BREAK

11:30am-12:15pm

Concurrent Sessions


1. How to Pitch Your Destination to New Media

Marc Smith (Chief Adventurer, 30 Day Adventures)

Is your new release falling on deaf ears? Not getting the story pickup you want or believe your destination deserves? Learn what gets Marc's attention as a digital storyteller, and how you can successfully pitch your destination as the next trip worth taking. Epic failures and soaring success stories will be shared. One Ontario destination will be highlighted as a case study of how to pitch your destination to new media.

2. Inclusive Tourism Begins With Us

John Draper (Founder, Together We Rock!)

Tourism destinations, products and services that are accessible to and inclusive of travellers of all abilities create a competitive edge. To capitalize on the large and growing market of travellers with disabilities, the tourism industry will need to embrace a more customized approach. The business case for inclusive tourism is compelling. Making it happen begins with each of us.


3. Cheers: Elevating Product Through Tourism

Moderator: David Adames (Chief Operating Officer, Niagara Parks Commission);
Whitney Rorison (Hospitality Manager, Dillon's Distillery);
Danielle Giroux (VP Marketing, Thornbury Village Cider House) ;
Robin Ridesic (Founder & CEO, The Exchange Brewery);
Angela Marotta & Melissa Paolicelli-Marotta (Two Sisters Vineyards)

Itineraries for beer, wine and cider tours are exploding across Ontario, and breweries, wineries, cideries and distilleries are all tapping in. Operators are effectively leveraging tourism audiences to increase brand awareness and grow their business, while simultaneously helping to build an identity for their respective destinations. Learn how they transform local products into tourist treasure.

4. Sharing Economy: Alternative Applications

Moderator: Gordon Orr (CEO, Tourism Windsor Essex Pelee Island);
Clark Hoskin (Manager, Tourism & Economic Development, Norfolk County);
Grant Brigden (Founder, Rover);
Jason Reynar (Chief Administrative Officer, Town of Innisfil)

In a short time, the sharing economy has moved beyond simply home or ride sharing. Sharing models are being explored to fill gaps in the local economy, provide services previously unavailable, and connect people and business in new, innovative ways. Delving into these alternative applications, panelists will discuss how the sharing economy can be harnessed for different goals and outcomes.

12:15-1:15pm

LIFETIME ACHIEVEMENT AWARD LUNCH

1:15-2:00pm

Secrets of Success

Moderator: Greg Berti (Vice President, International Sales, Government & Industry Relations, Andrew Peller Limited);
Michele Harris (Executive Director, Headwaters Tourism);
Glen Shackleton (Owner/Founder, Haunted Walks)

What does it take to be an Ontario Tourism Awards of Excellence winner? You're about to find out. Explore the paths that led two past winners to their claim to fame at last year's Ontario Tourism Summit, and what's changed for them since being officially declared a winner.

2:00-2:45pm

Elevating Tourism in Ontario with a Bold New Strategy
Lisa LaVecchia - President & CEO, Ontario Tourism Marketing Partnership Corporation (OTMPC)

OTMPC is about to embark on a new three-year strategic plan. Lisa will be providing a 'sneak peek' into the new bold and modern strategy that OTMPC will officially release in early 2018. As identified in the Strategic Framework for Tourism in Ontario – Growing Tourism Together, alignment will be a key part of the new strategic plan. Collaborating with industry, to lead the marketing of Ontario as a travel destination nationally and internationally, is essential to generating increased visitation and tourism expenditures. The presentation will include details on how the organization will evolve to become more dynamic and results driven to further deliver on making Ontario a preferred global destination.

2:45-3:15pm

NETWORKING BREAK

3:15-4:00pm

Profitable Partnerships

Moderator: Del Rollo (Senior Director, Industry Relations & Estates, Arterra Wines Canada)
Andrew Weir (Executive Vice President & Chief Marketing Officer, Tourism Toronto)
Rebecca Lamb (Destination Development & Marketing Coordinator, The Corporation of the County of Prince Edward)

They say, 'two is better than one'. This is especially true when it comes to tourism marketing; when partners come together to reach a larger audience, everyone benefits. How do you develop a successful tourism marketing partnership in Ontario? What does a profitable partnership look like? Two sets of tourism marketing team-ups will share their stories.

4:00-5:00pm

It's Greener in Costa Rica

Roberto C. Dormond Cantú (Ambassador for Costa Rica in Canada)

Costa Rica is thriving thanks to its natural resources, attracting nearly three million international visitors in 2016—an increase of 10 per cent from the previous year. Realizing the importance of its biodiversity, Costa Rica is working towards being one of the world's first carbon neutral countries. But how can this be done while encouraging an increase in visitation? Sustainable tourism is the answer.

5:00-5:15pm

Wrap-up

6:00-8:00pm

Welcome Reception

Presented by Niagara Falls Tourism & Niagara Parks Commission
Day 2 – Tuesday, Nov. 7

7:30-8:30am

Breakfast of Champions

First Time Attendee Breakfast with TIAO Board of Directors

8:30-8:45am

Opening Remarks

8:45-9:15am

Driving the Data

Sarah Martin (Vice President, Public Sector, MasterCard Advisors)

Tourists are relying on a multitude of online tools to plan their journeys. With travellers visiting an average of 38 travel sites leading up to a trip, reaching them can be difficult. Capturing timely, accurate, and meaningful marketing data on visitors is a major challenge. Mastercard will share some data insights into who Ontario's key visitors are, and where they're spending their money during their stay. By providing a 360° view of the traveller's experience, Mastercard aims to help tourism providers improve marketing investments to attract their most valuable traveller segments. This approach often leads to more and repeat visits, greater revenue, and higher ROI within limited budget constraints.

9:15-10:00am

Driving Local Engagement

Moderator: Kathrine Christensen (Executive Director, 1000 Islands Accommodation Partners);
Bryan Plumstead (Manager of Tourism, Grey County Tourism);
John Winston (General Manager, Tourism London);
Steve Ball (Co-Chair, Ottawa 2017)

Tourism drives the economy. But how do you educate local communities on this to ensure a province-wide understanding of the benefits that tourism brings? Hear from counties that are working alongside their communities to grow local tourism for economic prosperity, including challenges such as combating the NIMBY phenomenon.

10:00-10:30am

The Honourable Eleanor McMahon

Minister of Tourism, Culture and Sport

10:30-10:45am

NETWORKING BREAK

10:45-11:30am

Concurrent Sessions

1. Leveraging Your Natural Assets

Moderator: Jennifer Mason (President, JLM Strategic Marketing);
Jennie Elmslie (Co-Owner, Free Spirit Tours);
Jennifer Whitely (Executive Director, Ontario's Lake Country);
Meg Balsillie (Founder, Farm Dog Cycles)

Ontario is full of serene lakes, breathtaking nature and beautiful landscapes; each community boasts its own natural beauty, and its own unique collection of natural tourism assets. The question is: how do you build tourism around those assets? Three tour operators will discuss how they're leveraging their surroundings to get visitors outside, while simultaneously growing a sustainable tourism business.

2. Kingston Tourism Success Stories

Moderator: Jim Byers (Travel Writer, JimByersTravel.com);
Hugh Mackenzie (General Manager, Kingston Destination Group);
Heather Ford (Owner, Kingston Food Tours);
Geoff Waycik (Manager, Historic Sites, St. Lawrence Parks Commission)

Calling all urbanites, history lovers and foodies — Kingston is the place to be. With a critical mass of attractions such as the Kingston Penitentiary, Kingston Food Tours, iconic trolleys, 1000 Islands Cruises and Winter's Lumina Borealis, Kingston is quickly becoming a trending destination in Ontario. Hear from these successful attractions on how, collaboratively, they're turning Kingston from a day-trip destination to one worth extended stays.

3. Planting the Seed, Nurturing the Brand and Harvesting the Experience: Destinations Invested in Growing Food Tourism

Moderator: Rebecca Mackenzie (President & CEO, Culinary Tourism Alliance);
Pat Forrest (Senior Coordinator Partnerships and Initiatives, Tourism Northern Ontario);
Philly Markowitz (Economic Development Officer, Grey County);
Kelly Jessup (Marketing Communications Lead, Peterborough & the Kawarthas Tourism)

Learn the ins and outs of developing taste of place. From hosting 7 Forums on Food Tourism across Northern Ontario, to developing the sold out Underwater Dining @ Lock 21 event, to building the Saints and Sinners Trail—tourism experts will provide insights into fundamentals of food tourism development.

4. It's Your Shift — Sexual Violence & Intervention Hospitality Training

Victoria Behune (President & CEO, Ontario Tourism Education Corporation);
Fatima Finnegan (‎‎Director of Corporate Marketing & Business Development, Ontario Restaurant, Hotel & Motel Association)

Developed in partnership by ORHMA, OTEC and THRC, the It's Your Shift online training program and manager's toolkit are being made available to industry on a complimentary basis this fall. This interactive presentation will include background information and videos on the issue of sexual violence and harassment in hospitality related businesses, the impact on those employed in the sector, and the repercussions to businesses that are not paying attention to this issue and Bill 132. Designed to introduce and highlight the components of It's Your Shift, the session will provide owners, operators and managers with the next steps to access the online training program.

11:30am-1:00pm

Lunch with Mini-Masterclass Tasting of Local Wine

Magdalena Kaiser (Director of Public Relations, Marketing & Tourism, Wine Marketing Association of Ontario)

Discover Wine Country Ontario: Learn why international critics are calling Ontario one of the most exciting wine regions in the world. Get ready for a fun and interactive mini-masterclass wine tasting and come taste and experience local Riesling, Chardonnay, Cabernet Franc and Icewine. Fall in love with the wines that are on your doorstep and unearth what makes Ontario's wine growing region unique. Discover the magic that is Ontario VQA wine.

1:00-1:30pm

Selling Canada: Growing Markets, New Approaches

David Robinson (Vice President, Strategy & Stakeholder Relations, Destination Canada)

It's shaping up to be another record-breaking year for international tourism, but there's no time to rest; Destination Canada is building on past success and preparing for the future. Listen to insider information from our national tourism marketing body that will set the stage for afternoon session topics. Special attention will be paid to two specific tourism markets— Chinese travellers and millennials— as well as how Canada can leverage its cultural heritage to welcome visitors from around the world.

1:30-2:15pm

Mosaic Magic: Cultural Tourism in Ontario

Moderator: Darlene Upton (Executive Director, Ontario and Waterways, Parks Canada);
Nancy Lang (Researcher & Co-Producer, Painted Land: In Search of the Group of Seven);
Karen Carter (Executive Director, Myseum of Toronto);
Isabelle de Bruyn (Project Manager, Tourism, RDÉE Ontario);
Janis Monture (Cultural Tourism Director, Six Nations Tourism)

People travel for many reasons, one of them being to experience different cultures. In Canada, we often refer to ourselves as a mosaic rather than a melting pot, due to the inclusion and celebration of all cultures that make us one. In Ontario, we celebrate and recognize our cultural assets in many ways—but how do we drive tourism around these assets and our celebrations of them? Learn how Ontario's unique culture can be leveraged to attract visitors, and teach them about who we are and where we come from.

2:15-3:00pm

Ready for the Chinese Travel Market

Moderator: Grace Sammut (Executive Director, Resorts of Ontario)
Jason Gonsalves (Senior Advisor, Strategy & Business Development, OTT Financial Group)
Lesley Boughen (Tourism & Guest Experience Manager, Yorkdale Shopping Centre)
Scott Davidson (Site Manager, Norman Bethune House/Parks Canada)

China is quickly becoming one of our most important inbound tourism markets, with arrivals to Canada at an all-time high of 610,130 in 2016 (up 24 per cent from 2015). Important for tourism businesses to consider about tourists from China—as compared to other segments—is the way these travellers spend abroad. Learn from the experts about how to entice Chinese visitors to bring their dollars to your community, understanding differences in how they spend their money.

3:00-3:30pm

NETWORKING BREAK

3:30-4:30pm

Innovation & Technology in Tourism: Targeting the Millennial Traveller

Moderator: Kristy Adams (Program Coordinator/Professor, Hospitality Management - Hotel & Restaurant Program, Humber College)
Jenni Berg (National Business Development Executive, Contiki Holidays)
Shakir Tayabali (Vice President Integrations, Global Payments Canada)
Stan Ivankovic (Consultant, Finance & Insurance, Environics Analytics)

Canada's millennial population is one of the country's fastest growing age demographics, considering newcomers to the country typically fall within the 18-35 age range. Understanding this generation is the first step in capturing their attention, but how do you set yourself apart from all the noise millennials are confronted with every day? Learn from those who have been successful in capitalizing on the evolving needs of this experience-focused, cost-conscious and socially-responsible cohort.

4:30-4:45pm

Wrap-Up

5:00-6:00pm

Finalist Reception

By invitation only

6:00-7:00pm

Ontario Tourism Awards of Excellence Gala Reception

7:00-10:00pm

Ontario Tourism Awards of Excellence Gala Dinner

10:00pm-1:00am

Club Ontario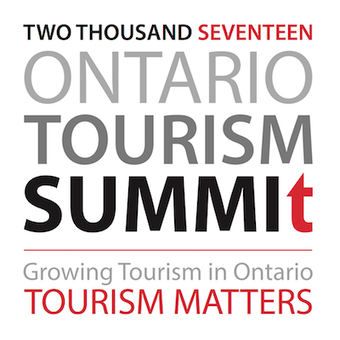 6815 Stanley Ave, Niagara Falls, ON L2G 3Y9, Canada