April 13: Best Practices of Integrating DEI Principles at the DMO Level
Session Information: This webinar features best practices of integrating DEI principles at the DMO level. The session will begin with a presentation from Greg DeShields, Executive Director of Tourism Diversity Matters, after which Rebecca Godfrey will moderate a discussion with Explore Edmonton on the status of their journey to build a more inclusive tourism industry.
Guest Speakers:
Greg DeShields, Executive Director of Tourism Diversity Matters
Paul Hawes -

VP, Destination Development and Marketing, Explore Edmonton

Kristen Foster, CMP - Senior Event Manager, Edmonton Convention Centre
Moderator: Rebecca Godfrey - Senior Strategic Consultant at Destination Think!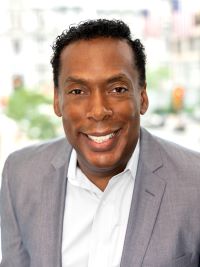 Greg DeShields, Executive Director of Tourism Diversity Matters
Qualified Tourism/Hospitality and Academic Professional Certified Hospitality Educator (CHE) proficient in developing and implementing plans, strategies, and initiatives specifically designed to raise destinations image for diverse, multicultural travel.
Experienced Certified Diversity Executive (CDE) with demonstrated cultural competence. Prepared to strategically position an organization to remove systemic barriers to inclusion, lead culture change, and transform the brand.
Graduate of Johnson & Wales University Providence, Rhode Island, with an A.S. Degree in Hotel & Restaurant Management; and B.S. Degree in Hospitality Management. Professional Development Leadership Graduate: Institute for Diversity Certification, Urban League of Philadelphia, Leadership Forum, Leadership Philadelphia, and Greater Philadelphia Leadership Exchange.
Awards and Honors: 2021 Event Industry Council: Social Impact Award", 2020 Skål USA Chapter of the Year, 2020 Philadelphia Tribune Most Influential African American Leaders, 2020 Meetings Today Trendsetter (Diversity, Equity, Inclusion, and Education), 2020 Funtime Magazine, Philadelphia Icon Award
Professional Affiliations: Past President Skål Philadelphia Chapter, board member: AchieveNEXT Global, Blacks in Travel and Tourism, Boy Scouts of American Cradle of Liberty, Center City District, Center City Proprietors Association, COMHAR Inc., Greater Philadelphia Hispanic, African American, Asian-American, and LGBT Chamber of Commerce, and Philadelphia Award.
Professional Certifications: Society of Diversity – Certified Diversity Executive (CDE), American Hotel & Lodging Association, Educational Institute – Certified Hospitality Educator (CHE), and Asian American Hotel Owners Association – Certified Hotel Owner CHO)
Greg is a longtime Tourism and Hospitality professional, native Philadelphian with a passion for his work, and is dedicated to giving back to the next generation of hospitality leaders.
Frequent presenter, specific Diversity, Equity, and Inclusion Fundamentals: Assessment, Planning, Strategies, and Implementation to reinforce the need for organizations to lead inclusion from the top.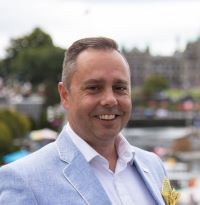 Paul Hawes - VP, Destination Development and Marketing, Explore Edmonton
Paul leads the destination strategy and global marketing teams at Explore Edmonton Corp. in the role of VP, Destination Development and Marketing. Despite his almost 25 years in Canada, he is very much a Brit and cannot shake the accent. His early Canada days started in Banff where he worked in the hotel sector, and of course, like many, for Canadian Pacific that became Fairmont Hotels. Paul has spent much of his career working in the world of destination marketing and development, having worked forthe Provincial DMO, Travel Alberta, then onto the national marketing operations at Canadian Tourism Commission, now Destination Canada. Paul jumped ship to an international role with Destination NSW (New South Wales), one of the world's highest funded DMOs, where he headed their European operations. Canada came calling once again and brought him home in 2017. Travel has been a big part of Paul's life, reaching many far-flung corners of the globe for work and pleasure – and has used these travels to learn about local culture, people and lifestyles. The pandemic has put a halt on big, overseas travel, and he has focused on traveling in BC and Alberta over the past couple of years, reminding himself of the beauty that surrounds us. As an openly gay leader in the tourism space, he is humbled to be the executive sponsor of Explore Edmonton's EDI Council. There is a great deal of work to be done, but some incredible initiatives that have already been started. When asked recently about his organisation's EDI work, he said 'it's not a matter of going through the motions, it's the absolute right thing to do – we all have a responsibility to work, live and flourish in an environment that fosters equality, diversity and inclusion.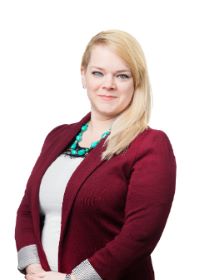 Kristen Foster, CMP - Senior Event Manager, Edmonton Convention Centre
Kristen has been in the hospitality industry for almost 15 years, culminating experiences in operations, leadership and now event management. Over the years, one theme has continued through all of her experiences; if you find yourself representing the hospitality industry, you must be hospitable and treat every interaction as if you are welcoming someone into your home.
Kristen started her experience in hotels, working with diverse teams in Banquet Operations and moving into the catering team as Event Manager. She then moved to the Edmonton Convention Centre where she holds the role as Senior Event Manager, as well as the Chair of the EDI Council for Explore Edmonton Corporation. In all of her roles, she has a passion for allyship and advocacy and challenges the status quo in the hospitality industry. She believes that in order to become a true destination/organization of choice, you must actively create space for every person to feel safe, welcome and able to be their whole self, whether they represent the local community or are being welcomed to their home.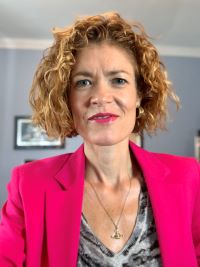 Rebecca Godfrey - Senior Strategic Consultant at Destination Think!
Rebecca has over 25 years of working with and 15 years of directly advising the tourism and hospitality industries, specializing in strategic planning, feasibility work, and business case development. As a Senior Strategic Consultant with Destination Think!, Rebecca works with DMOs across the world to develop actionable strategies to grow tourism and improve overall destination management. She is passionate about steering positive and permanent change through a more inclusive tourism industry.