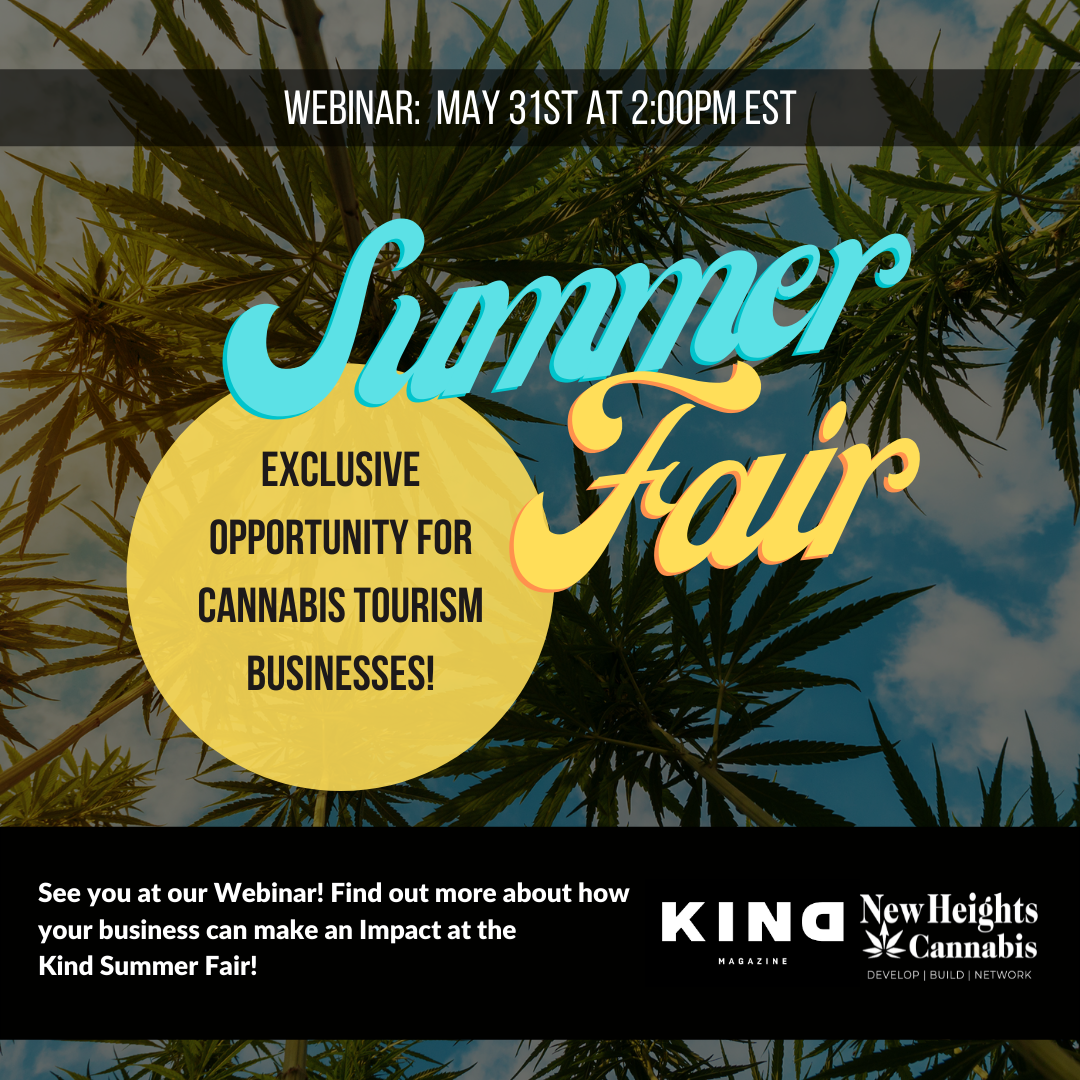 Session Information:
The Kind Summer Fair is coming to Toronto in 2022! Join the Cannabis Tourism Zone with your tourism experience. Access 10,000 consumers and engage with them directly to showcase your tourism experience!
Join the webinar on Tuesday, May 31st at 2:00PM and learn all about the fair and how you can get involved, and see the 2022 full year of programming and events
The Kind Summer Fair is expected to host over 10,000 attendees and will feature 50+ Cannabis Activations, including the exciting Cannabis Tourism Segment! With over 175,000 sq ft of event space, Carnival Games, Live Music and Onsite Consumption Areas, this event will be the ultimate Cannabis Tourism Experience that your business won't want to miss out on. Join the Cannabis Tourism Zone webinar to find out how you can get involved with New Heights and Kind Magazine at the 2022 Summer Fair!
---
Speakers:
Jennifer Mason
Founder, New Heights Cannabis

Jennifer is a dynamic and charismatic leader known to inspire teams to drive transformational business results. In 2019, Jennifer developed and hosted two inaugural events in the cannabis space including the first annual New Heights Cannabis Marketing Summit and New Heights Canna Tourism Summit in Toronto and Collingwood respectively. Both business conferences were designed to educate senior management in the development of cannabis products and properties. Jennifer's ability to create a positive dynamic with a diverse group of people and inspire teams means she's much in demand as a business strategist and an inspirational keynote speaker.
Nicole Wolff
Chief Experience Officer, KIND Media & Events


Nicole Wolff is a seasoned brand marketer with 11+ years of experience across sales and marketing in beverage alcohol and cannabis. Wolff spent 8 years at Molson Coors Canada, launching and scaling regional and global beer brands. She led high-stakes initiatives such as launching the Belgian (Blue) Moon brand in Canada, leading Coors Banquet's consumer-facing activation, One Horse Town and managing the Toronto Raptors partnership with Coors Light. Most recently, before leaving Molson Coors to join the cannabis industry, Nicole was leading the above-premium category in the face of significant category headwinds.
Wolff joined the Flowr Corporation in August 2019, spent 2 years there as their Director of Marketing and was responsible for developing and launching the company's leading recreational brand, Flowr. The work Nicole led while at Flowr has been recognized across North America including a bronze Clio Cannabis Award and a Gold Effie.
In 2021 she launched Flowr's Nothing to Hide campaign which was focusing on tearing down the stigmas associated with cannabis use. Nothing to Hide was the most recognized work at the 2021 Clio Awards with a total of 8 Clios including the prestigious Grand Clio honour.
Wolff joined KIND Media and Events in February 2022 to lead Marketing and Events in her role as Chief Experience Officer. In this role she has led the brand roll out of KIND Cannabis Week and heads up the strategy and execution for KIND Summer Fair, which will be the largest consumer facing cannabis festival in Canada.