Canada's #1 Latino-themed cultural celebration, the TD Salsa in Toronto Festival features a series of city-wide events throughout June and July that celebrate the Latino culture through music, dance, art and authentic cuisine. The festivities feature Latin dance and art exhibitions, concerts, salsa dance parties, and a cultural parade, all capped off with the main event, the annual TD Salsa on St. Clair Street Festival on Sat. July 9 & Sun. July 10.


The annual FREE TD Salsa on St. Clair Street Festival takes over midtown Toronto transforming a stretch of St. Clair Avenue West (from Winona Dr. to Christie St.) into Canada's biggest salsa party featuring an international calibre of Latin music, non-stop dancing in the streets, Latin foods and fun for the entire family!  What started as a local two-day event in 2005, has grown into a nationally recognized annual celebration that attracts hundreds of thousands of salsa lovers from near and far. 
The TD Salsa in Toronto Festival and TD Salsa on St. Clair Street Festival are produced by the Canadian Salsa Festivals Project, a federally incorporated Not-for-Profit organization. 
Go to salsaintoronto.com for more details.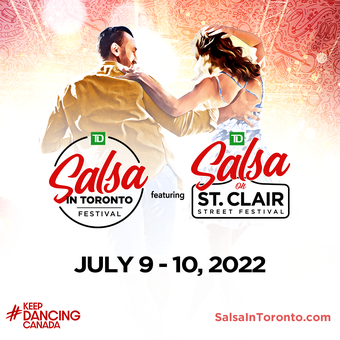 St. Clair Avenue West (from Winona Dr. to Christie St.)