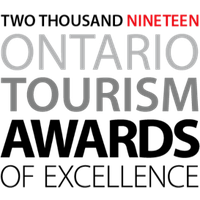 September 9, 2019, Toronto— The Tourism Industry Association of Ontario (TIAO) is proud to announce Guy Lamarche and Ian McMillan as the recipients of the 2019 Tourism Industry Award of Excellence's Lifetime Achievement Award. Their exceptional contributions to Ontario's tourism industry are vast, and although individually they have each done so much for the tourism industry, collectively they have been unstoppable.
The careers of Lamarche and McMillan have been linked since they first met in 1983 and ever since they have been collaborating to promote Northern Ontario as a destination of choice. After being the youngest person hired in Ontario in an executive capacity under the Ontario Travel Association Program, Lamarche has been taking the tourism industry by storm. Guy's strategic marketing plan and programs have not only led to an increased ridership on Northlander, Little Bear and Polar Bear Express, but his vision and success of a Kayak Festival in Timmins has been a template for others to use in the development of similar events around the region. In his current role as Manager of Tourism and Events with the City of Timmins, Guy has re-branded the City of Timmins as a must-see outdoor adventure destination, causing four new national brand hotels to open their doors in the city.
Over the course of his expansive career, McMillan has celebrated many successes and built strong economies in Northern Ontario. Bringing a passion to everything that he does, Ian continues to be a champion for Northern Ontario internationally and at his current role as International Marketing Specialist for Destination Northern Ontario. Whether it was promoting attractions like the Canadian Bushplane Heritage Museum or the Agawa Canyon Tour Train, helping to implement one of Ontario's earliest Destination Marketing Fees which led directly to major investments in sports tourism infrastructure, or continuing to press CN Rail to invest in the Tour Train and helping it become a Canadian Signature Experience, Ian has a verifiable history of success.
"We are delighted to announce Guy Lamarche and Ian McMillan as the recipients of this year's Lifetime Achievement Award," said Beth Potter, President and CEO of TIAO. "This award recognizes individuals who have made significant contributions to the development and promotion of Ontario's tourism industry, and established a visible, long-term record of accomplishment that merits special attention. This is the first time that two individuals will be sharing the stage to receive the award at the Ontario Tourism Summit, and this speaks to the power of partnerships which is an important theme at Summit every year."
Event Information
Lamarche and McMillan will be honoured on Tuesday, October 29th at a special Lifetime Achievement Award Lunch on day one of the 2019 Ontario Tourism Summit at Blue Mountain Village Inn & Conference Centre. Tickets can be purchased at www.ontariotourismsummit.com.*
*Please note that a full registration for the 2019 Ontario Tourism Summit includes tickets for the Lifetime Achievement Award Lunch. Tickets can also be purchased separately for the Award Lunch.
About the Tourism Industry Awards of Excellence
The Tourism Industry Awards of Excellence are presented to organizations, businesses and individuals that represent the quality of offerings that make Ontario a destination of choice—innovations, events, employers and the tourism champions who make it all possible.
About TIAO
The Tourism Industry Association of Ontario (TIAO) is recognized by government as the voice of tourism. TIAO works on behalf of its membership, collectively representing 188,000 businesses and 391,000 employees, to take on pressing policy issues that impact the Ontario tourism industry. TIAO propels the powerful and innovative Ontario tourism industry by connecting tourism leaders, innovators, government, and educators through events and conferences.
Contact:
Haddas Lederman
Tourism Industry Association of Ontario (TIAO)
(647) 691-4170
---