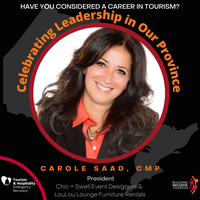 Join us in celebrating Carole Saad.
Carole was born and raised in Montreal and moved to Ottawa after completing a BA in Sociology and Education at Concordia University. She began her career as a concierge at the Fairmont Queen Elizabeth Hotel before moving to Ottawa and then joined the team at the Four Seasons Hotel (now the Sheraton Ottawa) and made life-long friends and connections.
After taking a break to spend time with her family, Carole returned to work part-time and was introduced to the world of events. Upon completion of the Event Management program at Algonquin College, Carole joined Meeting Professionals International and founded Chic + Swell Event Designers in 2009, and has planned corporate events across Canada, the US, and abroad. In 2013, Carole launched LouLou Lounge, a modern event furniture rental company to fill a niche in the market in Ottawa. Both companies are thriving as the team stays on top of trends and continually adding pieces to their extensive collections.
"My entrepreneurial dream came true in 2009 and in 2013 and I couldn't be happier that I took the risks because the rewards have been incredible. I credit a lot of my success to my colleague and best friend Cathy Montopoli for having been by my side from day one. Although we have planned and executed some pretty fabulous events, I think that I am most proud of the harmony of my team and the work/life balance we live by. It has always been important to me to empower my team to soar, support continuing education initiatives and laugh along the way. I can't fathom working any other way."
LouLou Lounge

Is there an Ontario tourism leader you think should be featured here? Let us know at feedback@tiaontario.ca.
Tourism & Hospitality Emergency Recovery
#OntarioNeedsTourism #haveyouconsideredacareerintourism #tourismcareers #tourismcounts
---