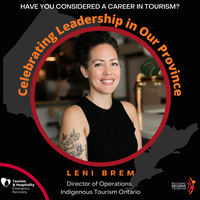 Join us in celebrating Leni Brem.
Leni is the Director of Operations for Indigenous Tourism Ontario, and also heads up her own company, Brem Consulting Inc. Leni has worked in tourism, hospitality, agri-food, and events across Ontario for over 20 years. Starting out as a server and bartender, Leni has worked in F&B at a major airport hotel, in catering at Air Canada Centre (now the Scotiabank Arena), as a Project Coordinator for the Royal Agricultural Winter Fair, and in many roles and places in between. Leni has always felt called to welcome guests and visitors - call it the hospitality gene!
In her current role, Leni is proud to work with a passionate and talented network of colleagues, partners and operators dedicated to ensuring authentic Indigenous tourism experiences have meaningful representation in Ontario's destination identity.
As part of her personal journey to listen and learn in all areas of life, Leni is committed to education on anti-racism and diversity, equity, inclusion and accessibility. While the journey continues, Leni seeks to put learning into practice by actively working to create a more equitable and inclusive tourism industry.
If you want to learn more about Indigenous Tourism Ontario, please visit their website.
If you want to learn more about Leni, please visit Brem Consulting.
Is there an Ontario tourism leader you think should be featured here? Let us know at feedback@tiaontario.ca.

Tourism & Hospitality Emergency Recovery
#haveyouconsideredacareerintourism #tourismcareers #tourismcounts
---