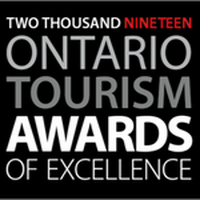 Ontario Tourism Awards of Excellence
WINNERS ANNOUNCED
Oct. 31, 2019, Blue Mountains—Congratulations to all recipients of the 2019 Ontario Tourism Awards of Excellence. The best of the best in Ontario tourism were celebrated at the annual Ontario Tourism Awards of Excellence Gala on Wednesday, Oct. 30 at the Blue Mountain Village Conference Centre. These awards recognize tourism industry successes by honouring individuals and businesses that have made significant contributions to Ontario's tourism industry.
Jointly presented by the Tourism Industry Association of Ontario (TIAO), the Culinary Tourism Alliance (CTA) and Attractions Ontario, the Ontario Tourism Awards of Excellence are divided into four respective categories:
The Tourism Industry Awards of Excellence are presented to organizations, businesses and individuals, that represent the quality of outstanding offerings that make Ontario a top destination of choice.
The Tourism Marketing and Travel Media Awards of Excellence recognize those who contribute to Ontario's tourism industry through impactful partnerships, marketing activities, and media relations.
The Culinary Tourism Awards of Excellence celebrate the passion of those dedicated to advancing food tourism in Ontario, and recognize those who work hard to tell the stories of the province's growers, producers, winemakers and brewers.
Ontario's Choice Awards calls upon tourists and locals to vote for their favourite attractions in eight different categories, with the overall top-voted nominee earning the distinction of Attraction of the Year.
Congratulations to the winners! Your dedication to outstanding service is what makes Ontario a place to discover for travellers. Thank you for your generous and diverse contributions to Ontario's tourism industry.
Tourism Marketing & Travel Media Awards of Excellence Winners
Tourism Marketing Campaign Award Under $50K - Meet the Makers Campaign (Kingston Accommodations Partners)

Tourism Marketing Campaign Award Over $50K - Where Can WE Take You (Tourism Windsor Essex Pelee Island)

Tourism Marketing Partnership Award - Grand River Paddling Marketing Campaign (Hamilton Halton Brant Regional Tourism Association)

Tourism Digital Marketing Award - 25 Things Campaign (Kingston Accommodation Partners)

Travel Media Award - Culinary Trails in Ontario's Southwest (Arienne Parzei)
Tourism Industry Awards of Excellence Winners
Tourism Innovator of the Year - OTEC

Tourism Event of the Year - Blumination (Blue Mountain Village Association)

Tourism Champion of the Year - Phil Casey

Tourism Employer of the Year - Elmhirst's Resort

Accessible Tourism Award - CN Tower & Cowbell Brewing Co.

Sustainable Tourism Award: Small Organization - Cowbell Brewing Co.

Sustainable Tourism Award: Large Organization - Oxford County - Tourism Oxford
Culinary Tourism Awards of Excellence Winners
Culinary Tourism Leadership Award - Radical Gardens

Culinary Tourism Experience Award - From Tree to Table (Ottercreek Woodworks)

Culinary Tourism Event of the Year - Big Cheese Days (The Oxford County Cheese Trail)
Ontario's Choice Award Winner
Attraction of the Year - Science North
---