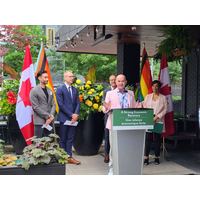 The Government of Canada is supporting LGBTQ2+ tourism in southern Ontario by investing nearly $487,000 in Canada's LGBT+ Chamber of Commerce to support inclusive tourism.
Through this non-repayable Tourism Relief Fund investment, the Chamber will deliver inclusion workshops to increase education in the tourism industry. It will also deliver the Destination Audit program, which helps tourism destinations assess their LGBTQ2+ travel or tourism strategies. This project will also provide Rainbow Registered accreditation for businesses across southern Ontario demonstrating LGBTQ2+ inclusive policies and practices that meet industry standards.
The Honourable Randy Boissonnault, Minister of Tourism and Associate Minister of Finance, made the announcement this morning, alongside the Honourable Marci Ien, Minister for Women and Gender Equality, and Youth and Member of Parliament for Toronto Centre.
To see the full news release, please visit here.
---