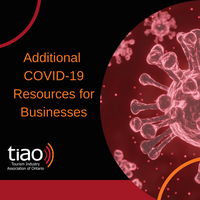 The Government of Ontario has recently shared additional COVID-19 resources for businesses.
Click here for an extensive Q&A document which covers a number of topics.
Click here for a full list of supports for businesses on Ontario's COVID-19 Help for Business site. This site is continually updated and will include:
The launch of a new app to make it easier and more convenient for businesses and organizations to read and verify proof of vaccination (i.e., that a digital vaccine receipt is valid);

Providing communication supports to businesses to inform the public of the new requirement.
Businesses and organization may also submit questions and feedback to the Ministry of Health by clicking here.
---