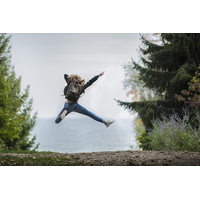 Although implementing technology, infrastructure and policies to improve your environmental performance are all good things, engaging the primary influencers of how effective these initiatives can be is the key to maximizing returns for the both the environment and the bottom line.
Here are the top four recommendations our Green Tourism expert advisors make for engaging your guests on your green journey.
1. Share Your Commitment
First and foremost, you need to let your guests know that the environment and sustainability is important to your business. Having policies and programs in place that improve your environmental performance are the first step, but to get the most out of them, you need both staff and guests to be engaged.
Ensure that you share your sustainability policy in public places, and that you remind guests of the green actions that you have taken at various points throughout their experience with you. Depending on the type of operation you have, this can be upon arrival, with signage, interpretation, etc. In a future post we will touch on ways to best communicate your green initiatives. If you are a Green Tourism member, be sure to include your Green Tourism sign, certificate and window decal in conspicuous places, and include the digital logo to help bring attention to your green commitment.
Many customers will be interested to find out more about actions you have undertaken as well as broader sustainability issues. Some may want detailed information, others just the basics. Either way there is a great opportunity to educate and inform them about sustainability. Consider developing a green customer file, prominently displayed, or a notice board dedicated to green matters you have undertaken. It's also worth thinking about a green bookshelf or library with reference materials for customers to borrow or peruse. This could include books about environmental issues, natural or cultural heritage, renewable energy, etc. – whatever makes sense for your operation.
2. Encourage Guest Green Actions
While some of the simple things guests can get involved with include what have now become commonplace programs, they are still worth mentioning. A few of the easy-starters include:
Recycling and composting options in common areas and rooms

Water conservation messaging in restrooms and kitchens

Water refill stations (an alternative to plastic water bottles)

Switch-off reminders for lights, televisions, etc.

Linen reuse programs

Vouchers in exchange for skipping housekeeping

Buy Local promotion
3. Develop a Responsible Visitor Charter
If you want to take encouraging guest green actions one step further, create and post in public places a "Responsible Visitor Charter." This is essentially a document that highlights your commitment to sustainability and shares a list of suggestions for how your guests can get involved with messages such as "buy local," "switch off," and "recycle," and other ways your guests can be responsible during their experience with you and in your community.
Download our Sample Responsible Visitor Charter and use it as is, or work with your team to customize it and make it your own.
4. Promote Guest Financial Contributions
There are several ways you can support your guests in becoming financially involved in supporting your own or other local sustainability-related projects. Visitor contribution programs can either encourage or require guests to make a contribution while they stay, with proceeds going to local green projects. One such example is Green Tourism's sister program, ecobase Certified, where guests make a standard contribution of approximately 1% of the cost of their experience or room night. These funds accumulate in an ecofund for participating businesses to then be used to invest in energy, waste and water conservation projects at their own business, that will also directly reduce carbon footprint and operating costs. Green Tourism Gold member, the Best Western Plus Kelowna Hotel and Suites, generated more than $100,000 in their ecofund within two years, and is installing a large solar PV array. Guests can also be linked to carbon offset programs that would enable them to offset the carbon emissions related to their travel.
Some businesses prefer to see guest contributions go to local conservation efforts. Green Tourism Gold member, Burrowing Owl Winery, donates 100% of their $3 per person tasting fee to the Burrowing Owl Conservation Society of British Columbia, which incredibly makes up the majority of the society's funding. Another Green Tourism Gold member, Eagle Wing Tours, has instituted a $2 per passenger fee with 100% of funds raised going to support important projects directly related to the sustainability of the southern resident killer whales.
Some tourism operators may encourage guests to personally contribute to local non-profits that are focused on environmental, social or cultural sustainability.
Next Steps
Don't make your guests check their values and green habits at the door when they visit you! Likewise, don't miss out on the opportunity to help educate those guests who may have different cultural norms. Giving your guests opportunities to learn and get involved can go a long way to creating enjoyable and memorable experiences.
If you'd like to learn more about about Green Tourism, contact Carol Greenwood at cgreenwood@tiaontario.ca.
View original article by Green Tourism Canada
---