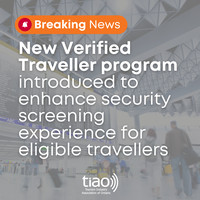 This week, the Honorable Omar Alghabra, Minister of Transport, announced that the Canadian Air Transport Security Authority (CATSA) will be launching a new Verified Traveller program for eligible travellers at select airports across Canada, replacing the current Trusted Traveller program.
TIAO is hopeful that the new Verified Traveller program will help us avoid the delays experienced at Canadian airports last summer. We are looking forward to a busy summer travel season.
By June 21, 2023, dedicated Verified Traveller screening lines will be available at select domestic and international checkpoints in the following airports:
Vancouver International Airport

Edmonton International Airport

Calgary International Airport

Winnipeg International Airport

Toronto-Pearson International Airport T1 and T3

Montreal-Trudeau International Airport
The new lines provide eligible travellers with select benefits at security screening checkpoints, such as keeping laptops, large electronics and compliant liquids and gels in their carry-on, and keeping their shoes, belt and light jacket on. Eligible travellers include:
Members of NEXUS and Global Entry;

Active members of the Canadian Armed Forces and US military, including reservists, with valid ID;

Canadian aircrew and airport workers with Restricted Area Identification Cards;

International aircrew (in uniform) with valid airline ID; and

Royal Canadian Mounted Police (RCMP) officers, Canadian police officers and constables with a badge and proper photo identification issued by their respective organizations.
As airports are gateways for tourists and travellers arriving to Canada, it is crucial to develop screening procedures that facilitate a seamless travel experience. The new Verified Traveller Program intends to offer a faster and more efficient screening experience for eligible travellers at select airports across Canada, supporting measures TIAO has recommended in The Future of Tourism: Ensuring Seamless Travel in our joint 2022 State of the Ontario Tourism Industry Report.
Click here for more information.
---