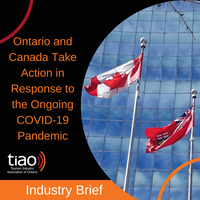 The discovery of the new Omicron variant has obviously caused concern throughout the global community. As a result, many governments, including our own Federal Government, have taken precautionary measures such a reintroducing on-arrival testing for air travellers on inbound flights from outside the United States, banned several countries from flying here and have stepped up quarantine procedures.
While we wait for the scientists to properly analyze the Omicron variant, including its potency and reaction to the vaccines, it's vital that any further government response is founded in science. After twenty-one months of closures, restrictions and uncertainty that have decimated the tourism and travel industry, we must ensure that we work to protect both the health of our province and also the health of our economy.
In Ontario some Public Health Units are responding to the uptake in case counts by re-implementing restrictions. The new COVID-19 variant, Omicron, is the 5th variant of concern and so far, four cases have been reported in Ontario with the variant. The federal government barred all foreign nations from 10 different countries from entering Canada in order to help stop the spread of the Omicron variant. The federal government is also reimposing COVID-19 testing for all air travellers from all countries except the United States.
Please read below to learn about the new restrictions in place within Ontario and how Canada is responding to the new variant.
Dec 1, 2021: ONTARIO – 780 cases and 6 new deaths
New COVID-19 Variant: Omicron
Four cases have been reported in Ontario (in the Ottawa area) and other cases are currently being investigated.

Ontario COVID-19 Genomic Network is continuing to actively monitor for all potential variants circulating in the province, including the Omicron variant, and is conducting genomic sequencing on 100% of eligible COVID-19 positive samples.

Ontario is expanding number of testing locations and making it more convenient to access publicly funded testing as we head into winter and more indoor gatherings

Ontario has already expanded eligibility for provincially-funded COVID-19 PCR testing at all testing centres to individuals who have returned from, or travelled in, the following locations between November 1st and December 6th, 2021: South Africa, Botswana, Lesotho, Eswatini, Mozambique, Namibia, and Zimbabwe. Asymptomatic family members and other household contacts of travellers are also eligible for testing.

The Omicron COVID variant is still unknown if it will be more transmissible or more severe than the other variants
Canadian Current Travel Restrictions
NEW RESTRICTIONS:
Announced on Nov 30th, the federal government is re-imposing a COVID-19 testing requirement for all travellers entering Canada (with the exception of those travelling from the United States). Anyone landing in Canada will need to be tested at the airport they arrive at despite vaccination status and will need to isolate until they receive their test results.
For short trips 72 hours or less by land and air, fully vaccinated travellers are exempt from providing a pre-entry molecular test
As of November 30th, travellers 12 and older will be required to show proof of vaccination to board a flight or train to travel both within and to depart Canada. A negative COVID-19 test is no longer a substitute for most people (some exceptions including valid medial exemptions and travel to remote communities only accessible by plane)
Canada – Federal Government Response to Omicron Variant
The federal government barred all foreign nationals who have travelled through South Africa, Namibia, Zimbabwe, Botswana, Lesotho, Eswatini, Mozambique, Nigeria, Malawi, and Egypt in the last 14 days from entering Canada.

Issued a travel advisor warning against all travel to the region for the foreseeable future
New Ontario PHU Restrictions
Due to the high COVID-19 case counts, several public health units have reintroduced restrictions:
Public Health Sudbury and Districts reinstated a work-from-home order and implemented more protective measures for schools and childcare settings including rapid antigen testing. Previously, on November 10, the PHU implemented the following restrictions:
Reinstatement of capacity limits and physical distancing requirements at premises that require proof of vaccination;

Businesses and organizations to ensure masking at organized public events held indoors and outdoors where participants are within 2 metres of individuals not part of their households; and

Anyone 12 years of age and older who actively participates in organized sports will be required to provide proof of vaccination unless a medical exemption applies.
A Section 22 class order has been issued in Kingston, Frontenac, and Lennox and Addington, implementing a restriction to indoor social gatherings in a private dwelling to 10 people.
Update: As of December 13, residents of the KFL&A region are prohibited from hosting or attending indoor or outdoor social gatherings or organized public events with more than five people.
The Southwestern Public Health Unit is adding new restrictions in Aylmer, Bayham, Blandford-Blenheim, Malahide, Norwich, South-West Oxford, Tillsonburg and West Elgin. The restrictions will begin December 2 and will be in place for 6 weeks, the measures in place are:
50% capacity in meeting and event spaces and patrons must be distanced or separated by a barrier

50% capacity in restaurants and bars and tables must be distanced or separated by a barrier

50% capacity in personal care services, such as hair salons

50% capacity in sports and recreation fitness facilities, indoor recreational facilities, and entertainment venues such as concert halls, theatres and cinemas

Gathering limits for weddings, funerals and religious services where proof of vaccination is required to enter to 50% capacity
Algoma Public Health Unit added new mandatory measures which came into effect on Monday, restricting the number of attendees at social gatherings and organized public events to a maximum of 10 people indoors and 25 people outdoors, and strengthen masking and physical distancing measures for businesses and suspends close contact extracurricular activities in schools for 28 days.
Booster – Third Dose Vaccine
Ontario is offering third doses of the vaccine to long-term care residents and staff; as of Nov 26, more than 88% of eligible residents have already received their third dose

Potential acceleration and more eligibility of third dose across Ontario
---