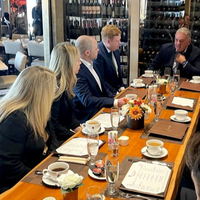 TIAO attended a roundtable between Australian and Canadian thought-leaders including Indeed, the Ontario Chamber of Commerce (OCC), the Ontario Tourism Education Corporation (OTEC), CareerFind, Restaurants Canada, the Ontario government, and Career Colleges Canada.
We met to share insights on shared labour challenges, innovative government policies, and workplace initiatives that could be shared and adopted to help more people fulfill their potential and get into good jobs.
TIAO spoke to our experience of working closely with employers to match needs, the need to have flexible tools to address unique barriers, and the significant opportunities available to bring new Canadians into the tourism workforce. It was a great conversation and one that is so important to help us address our labour crisis. There are innovative solutions and practices from all over the world that can help us to create the sustainable tourism workforce we need to unleash our economic potential.
---