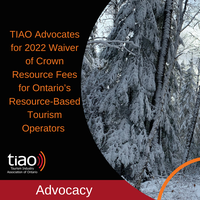 Over the past several months, TIAO has worked with NOTO to help provide immediate relief for resource-based tourism businesses by advocating for the waiver of crown resource fees for 2022. With the recent capacity restrictions and closures resulting from the rapid spread of the Omicron variant, the need for financial relief is paramount for resource-based tourism businesses, segments of which have been disproportionately unable to access COVID-19 relief and have been severely impacted by border closures and border entry protocols.
In support of NOTO's advocacy on this issue and in support of the province's 1,600 resource-based tourism operators located primarily in Northern Ontario, TIAO sent a letter to the Hon. Greg Rickford, Minister of Northern Development, Mines, Natural Resources and Forestry to again consider waiving 2022 crown resource fees. The waiver will provide over $1 million in immediate financial relief for operators struggling to generate revenue and pay off debts for the past two years. TIAO will continue working with our partners to advocate for supports which contribute to the recovery of Northern and rural tourism operators in Ontario.
Read the letter here.
---