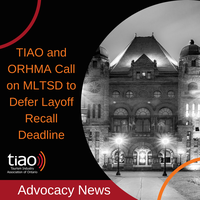 In a joint letter, TIAO and the Ontario Restaurant Hotel & Motel Association (ORHMA) have called on the Ministry of Labour, Training and Skills Development (MLTSD) to defer the layoff recall deadline until June 2022 for hard-hit tourism and hospitality sectors.
Currently, unpaid infectious disease emergency leave (IDEL) has been extended to December 31, 2021. This measure temporarily freezes layoffs to protect employees, allowing them to be reinstated, be free from penalty, and earn credits for length of employment and seniority; and protects businesses from the obligation to issue costly termination or severance pay after the end of the layoff period.
While we are appreciative of MLTSD's initial extension of unpaid IDEL to December 31, 2021, which has delayed the layoff recall deadline to April 1, 2022, this will no longer be enough for meeting and convention and food and beverage sectors. While recovery is underway, the pace of business in meetings and conventions and food and beverage is not yet sufficient to begin recalling laid off staff in these two sectors at the current timeline.
To protect jobs and the financial solvency of our operators, TIAO and ORHMA have recommended an additional three-month extension to unpaid IDEL, which would extend the layoff recall deadline to the end of June 2022.
TIAO will continue advocating with our partners to ensure that our operators across the province are able to recover and rebuild.
Read the letter here.
---