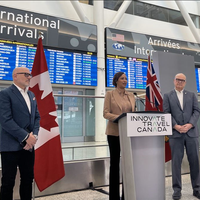 A group of Toronto-based organizations, business leaders, and city builders have established a coalition to advocate for enhancements to air travel through Toronto Pearson airport. This coalition - Innovate. Travel. Canada. - is joining forces to ensure that Toronto is a global beacon of air travel. The coalition's founding members include the Greater Toronto Airports Authority (Toronto Pearson Airport), Toronto Global, the Toronto Region Board of Trade, and Destination Toronto. TIAO's President and CEO, Christopher Bloore, has now also joined the coalition.
The coalition will advocate for long-term innovative and technology-based initiatives to help Pearson remain a world-class airport. Some of the coalition's initial objectives will include refreshing and modernizing Canada's trusted traveller program, digitizing Canada's border, and securing investment in aviation infrastructure to support growth, improve the travel experience, and aid decarbonization efforts.
At a press conference last week, hosted at Toronto Pearson, a group of ITC members, including Deborah Flint (President and CEO of GTAA), Rocco Rossi (President and CEO of Ontario Chamber of Commerce), and Scott Beck (President and CEO of Destination Toronto), announced the coalition's first policy objective – the rapid rollout of an expanded Canadian trusted-traveller program, and government's commitment to expedite digital solutions at borders to ensure seamless traffic through our airports. Secondary initiatives include enhanced digitization processes at the border and Canadian involvement in the Global Entry program.
Toronto Pearson is a critical component of Ontario's and Canada's tourism infrastructure, and TIAO will continue to play our role in calling for much needed investment and regulatory modernization. As the coalition's work progresses, we will ensure to keep all TIAO members informed of the latest developments.
---