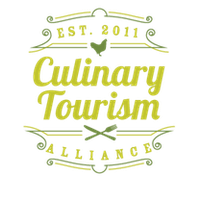 We're featuring a special TIAO Member each month to share with the #TourismFamily what they do, and how they connect with TIAO. Learn something new about your tourism industry colleagues, and the value of a TIAO Membership!
This month we chatted with Agatha Podgorski, Director of Community Engagement (over lunch at a Feast On® certified restaurant, no less!). President & CEO Rebecca Mackenzie contributed to the interview via email.
---
Please note that this interview has been edited for clarity.
Who are you and what do you do? Tell us about your organization and its role within Ontario's tourism industry.
Rebecca: "We are the pioneers of developing food tourism in Ontario. The CTA (formerly the Ontario Culinary Tourism Alliance), came to exist to implement the 2005-2015 Ontario Culinary Tourism Strategy, commissioned by the Ontario Ministry of Tourism, Culture and Sport.
"As experts in food tourism development, the CTA seeks to ensure that authentic food experiences become a significant economic driver for communities across Ontario, and a primary way for travellers to enrich their experience."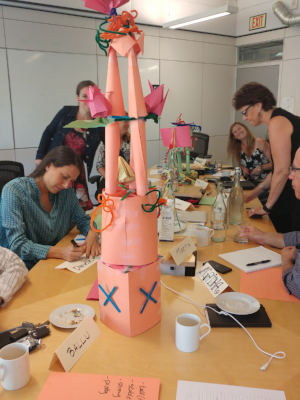 Agatha: "We essentially work on three main initiatives. [First,] we have a consulting arm that works globally to help destinations around the world at all scales undertake regionally specific, thoughtful and sustainable food tourism development. That can be the creation of an experience, an event or stakeholder engagement and education.
"The second pillar we have is Ontario Culinary, our membership-based program. [We] support destination marketing organizations, regional tourism organizations, sector and commodity organizations and post-secondary institutions with development of food tourism products, storytelling around food identity in the province, and connecting directly with the people and places that make our food scene here in Ontario so rich and diverse.
"[CTA's third main initiative is] a food service certification program called Feast On® . We provide authentication, tools and resources for businesses claiming that they work with local food to grow and flourish. More importantly, we look at their books, we open them up, and make sure that they're practicing what they preach, so that consumers can be sure they're eating Ontario food, if that's what they're after.
"We look at how much [participating businesses are] spending on Ontario grown food. If they're spending more than 25%, they get the certification. If they're not, we provide introductions and resources for them to up their procurement. Ultimately, we want everyone to be using more local food.
"We then build on that by introducing those people to the DMOs and RTOs who have the resources (both human and financial) to promote those experiences as the best and brightest in the province. It's one thing to support big brands who are importing and doing mass-produced foods, but if you're supporting restaurants with really unique experiences that are supporting local farmers, you're supporting more and more layers of Ontario's economy, and building capacity for places that might not necessarily have it otherwise."
How long have you been a TIAO Member and why did you join?
The CTA became a TIAO Member in 2012. From 2012-2015, TIAO and CTA partnered to deliver their respective annual conferences. The two organizations also used to share office space.
Rebecca: "We became a member because we value the work that TIAO does on behalf of the tourism industry--advocacy, industry education and the networking platform it provides."
Agatha: "We were working really hard to get in front of people in government that we needed to reach. We needed to make them realize that [culinary tourism and agritourism] needed to be a priority in a place like Ontario. Small business owners in food service and agriculture don't have the time to make those kinds of connections, and do that kind of [advocacy] work. We needed someone who had valuable relationships, who could push our agenda on our behalf, and support us as we grew this in the province."
How has being a member of TIAO provided value for your organization?
Agatha: "Originally, I think a big draw in why we wanted to get involved and work closer with [TIAO] was mentorship. We were executing a provincial strategy that was driven by destination marketing organizations who thought this was valuable, and needed guidance on how to get government more involved."
Rebecca: "It's kept us in the loop and connected. We've had opportunities to leverage our membership with TIAO to increase awareness of food tourism, and food tourism development across Ontario. [Additionally, TIAO has] given us platforms to celebrate food tourism excellence both at their annual Summit as well as key events including Tourism Day at Queen's Park."
Agatha: "The active, constant access to resources and news in the provincial tourism industry is [also] big for us.
"[TIAO] constantly having [its] ear to the ground, and knowing what's happening helps us build our strategy for the year, and figure out what are the priorities for our regions and our stakeholders."
What's your favourite thing about TIAO and why?
Rebecca: "How [the association stays] engaged, stays on top of all the current issues that the tourism industry is facing, brings solutions to us, and provides leadership."
Agatha: "The staff! Can we talk about how amazing and passionate the staff are? They go above and beyond, they're always a pleasure."
What are you working on right now?
Rebecca: "We're wrapping up food tourism strategies for the City of Kawarthas, City of Sudbury and Algoma Country, and we're starting to work on projects in Kingston and Temiskaming. Our consulting work is keeping us busy in Banff & Lake Louise, the province of New Brunswick and overseas in Scotland, too!
"We are constantly bringing new restaurants into the Feast On® certification program, and working to promote our Preferred Purveyors in the program too! We have Fishstock coming up May 14th at the University of Guelph in partnership with OceanWise, and Winestock on June 26th at George Brown College in partnership with VQA Wines of Ontario."
Thank you to the CTA for being TIAO's Member of the Month for April, and to Rebecca and Agatha for speaking with us! #TourismFamily
Ironically, neither Agatha nor Rebecca are included in the CTA team photo below :)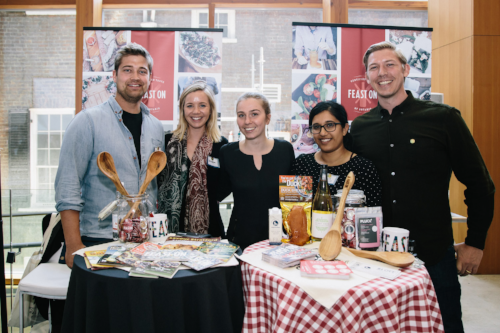 ---