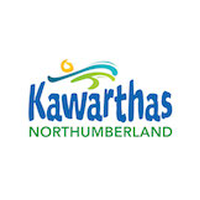 We're featuring a special TIAO Member each month to share with the #TourismFamily what they do, and how they connect with TIAO. Learn something new about your tourism industry colleagues, and the value of a TIAO Membership!
This month we spoke with Brenda Wood, Executive Director at RTO8 – Kawarthas Northumberland.
Please note that this interview has been edited for clarity.
---
Tell us about your organization and its role within Ontario's tourism industry.
"In 2009, the Ontario government completed the Tourism Competitiveness Study. As a result, the study recommended the creation of tourism regions led by one regional organization in each, to make Ontario's tourism industry stronger and more competitive. The role of the Regional Tourism Organization (RTO) is to develop strategic partnerships with product and service industry groups and strive to build capacity and collaboration to enhance and support regional efforts and increase tourism. Located just 90-minutes East of Toronto, the region that Kawarthas Northumberland represents is vast in geographical area and offers diverse land- and cityscapes, rich with travel opportunities. It encompasses Kawartha Lakes, The City and County of Peterborough, and Northumberland County."
"Regional tourism organizations are independent, not-for-profit organizations, led by the tourism sector that play an important role in supporting competitive and viable tourism regions. We operate through an investment from the Ministry of Heritage, Sport, Tourism and Culture Industries, and we have specific pillars that we operate within including: investment attraction, workforce development and training, marketing, product development and partnerships."
How long have you been a TIAO Member and why did you join?
RTO8 has been a member since 2014 and attributes its TIAO Membership to the opportunity to grow its partnerships and networks.
How has being a member of TIAO provided value for your organization?
"I think anyone within the tourism industry should be a TIAO Member. TIAO provides pertinent information on issues, trends and stats. They have a voice with government and support that Tourism Matters. They reach levels of government that I couldn't on my own. Their advocacy work has just been tremendous – they're fighting the fight. They look at topics important to the industry such as the Municipal Accommodation Tax. They are there with us helping to ensure that our investment from the ministry isn't reduced. TIAO also provides a great deal of opportunities throughout the year to learn and network at events like the Ontario Tourism Summit, Tourism Issues Forum, and Tourism Day at Queen's Park. It's just tenfold what Beth and her amazing team can do and that's why we support them in every way that we can."
What's your favourite thing about TIAO and why?
Brenda pointed to TIAO being the lead on advocacy initiatives as her favourite thing about TIAO.
If you had to give a piece of advice to another organization as to why they should get involved in advocacy initiatives, what would you recommend?
"If you're not involved – you don't have a say. If you sit back, do nothing and don't partner with TIAO and let them know what challenges your organization or region is facing, then you have had absolutely no input, no chance of making change, or having your voice heard. If you have TIAO advocating for you – you have a say and an opportunity to get your message across. If you're not going to get involved with TIAO and have them advocate on your behalf – then you shouldn't be sitting back complaining because this or that didn't get done. You need to have your voice heard and joining TIAO is the way to do it."
What are you working on right now?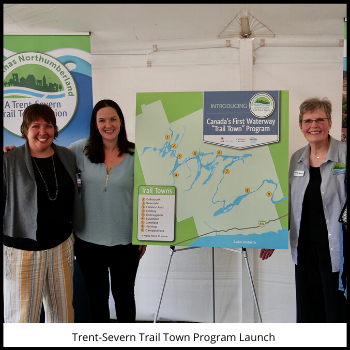 Canada's First Waterway Trail Town Program:
"Last August we launched Canada's first Waterway Trail Town Program. We have nine communities along the Trent-Severn Waterway National Historic Sight of Canada [80% of the waterway is within our region]. We took the basic concept of the Great Allegheny Passage [a land trail], which runs from Pittsburg to Cumberland, Maryland in the United States, and implemented it here on the waterway. The unique thing about the Trent-Severn Waterway is that it's not just for boaters and paddlers. We find a lot of people will hike along it, will cycle along it, drive up to it and enjoy the vistas, picnic along it, swim or fish in it. We want to extend the length of stay of visitors, entice them to explore further and spent more of their dollars in our region"
"The interesting thing with our Trent-Severn Trail Town program is that our businesses are reaching out and saying things like 'we really need an outfitter for paddle boards on the waterway or kayak rentals on the waterway.' These communities are looking to fill the gaps in services for visitors. They are encouraging new business development and pop-ups. This is a community development program that will offer visitors year-round experiences, not just during the time period that the waterway is open. We have businesses looking to extend their season and hours of operation to accommodate skating on the waterway, and winter festivals and events that would bring people to our Trail Town communities. There's a lot of preparation and we have nine volunteer committees instilling pride of place in their community, looking at ways to get visitors onto the water to experience the waterway and off the water and into their downtown core to shop, dine and overnight and they are celebrating the history of the waterway and how it has influenced their community."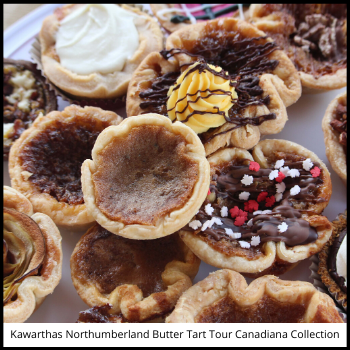 Taste of the Trent Severn Waterway:
This year marks 100 years of through navigation on the Trent-Severn Waterway. Activities throughout 2020 will commemorate the Waterway's establishment and reflect on its history and important role in connecting Lake Ontario to Georgian Bay. The "Taste of the Trent-Severn Waterway" program will involve food producers and culinary providers from across our region to showcase a product or experience they have created in celebration of the 100th year anniversary.
"The Taste of the Trent-Severn will showcase all that our region has to offer, such as our self-guided Butter Tart Tour, which has over 50 locations of which many are open year round. We will also be working with partners to create culinary products for the Taste of the Trent-Severn to support the 100th year anniversary celebration. Some of our Trail Town communities are going to have special events, including a regatta in Lakefield June 27th, festivals, culinary events, and pop-ups along the waterway with some famous chefs. There's a lot happening this year to celebrate the anniversary but also build on our Trent-Severn Trail Town program and build on the wonderful product offerings to showcase our region."
Edge of the Wedge:
"The Edge of the Wedge is a premier experiential travel training program in Canada that is set in the natural splendor of Gros Morne National Park, a UNESCO world heritage site located on the western coast of Newfoundland and Labrador. RTO8 is proud to have over 60 graduates, the largest number outside of Atlantic Canada. These graduates are focused on creating diverse consumer experiences that showcase the uniqueness of our region. Some successes have been Under Water Dining at Lock 21 where you can dine under the world's highest hydraulic lift lock under a chamber of 1,700 tons of water, the Shmurgle experience at Haute Goat and unique experiences at Westben Theatre and The Mane Intent to name a few. We will continue to focus on the development of experiential product for our region."
Thank you to Brenda for explaining RTO8's role in the Ontario tourism industry, for sharing support for TIAO, and for being our member of the month for February!
---