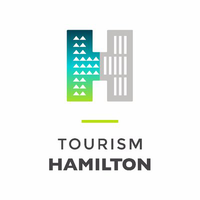 We're featuring a special TIAO Member each month to share with the #TourismFamily what they do, and how they connect with TIAO. Learn something new about your tourism industry colleagues, and the value of a TIAO Membership!
This month we talked to Sharon Murphy, Acting Manager of Tourism & Events at Tourism Hamilton.
---
Please note that this interview has been edited for clarity.
Who are you and what do you do? Tell us about your organization and its role within Ontario's tourism industry.
Tourism Hamilton acts as a destination marketing organization and is part of the City of Hamilton's Tourism and Culture division, which in turn supports the City's Economic Development Department.
"Tourism Hamilton [is operating under] a tourism strategy that was developed in 2015. Our mandate is primarily to bring visitors into the community, and to attract and retain meetings, conventions and sport events.
"We have a group sales unit for meetings, conventions and sport that pursue opportunities daily through outreach, tradeshows and prospecting previous and new potential customers to the city."
In recent years, Tourism Hamilton has worked to characterize itself as a premier location for meetings, events and other tourism activities.
"Hamilton is known as a music city, having hosted the 2015 Juno Awards (sixth time) and the 2018 Canadian Country Music Awards, [which will be coming back] in 2020 (for the 7th time). Hosting these events has elevated Hamilton in the association market and helped bring larger events into the community.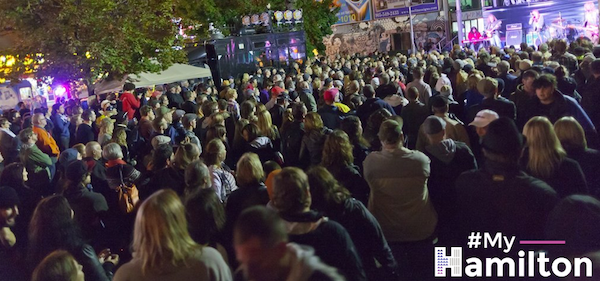 Hamilton's annual music festival Supercrawl brings about 200,000 visitors to the city.
Hamilton also has a strong track record when it comes to hosting sporting events.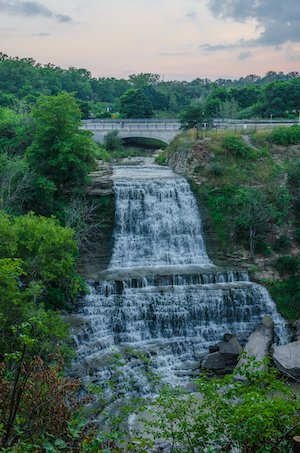 "This year we'll be hosting the Canadian Open for the sixth time, [and then again] in 2023 as part of a six-year partnership with Golf Canada."
But big opportunities are not without their challenges. Although the situation is improving, Tourism Hamilton grapples with accommodation capacity as the city's popularity as a destination grows.
"Last year Hamilton added 200 rooms. Another hotel property is slated to open this year, and another two are slated for 2020, which is wonderful."
Sharon pointed to investment and growth at Hamilton International Airport as an indicator of increased visitation to the city. She also discussed much-needed updates to the city's convention centre as another current challenge faced by Tourism Hamilton.
"We do a remarkable job at hosting events at the facility, but it needs some upgrades for us to attract and win larger conferences.
"[Meanwhile], Hamilton is also very-well known now in the culinary scene. There's probably a restaurant opening up in our city weekly—it's really taken off here with great results, both from a local perspective and with visitors."
Sharon spoke to Hamilton's waterfalls as another major draw for the city. Did you know Hamilton is the waterfall capital of the world?
Pictured right: Hamilton's Albion Falls
How long have you been a TIAO Member and why did you join?
Tourism Hamilton has been a TIAO Member since the association formed, and touts its TIAO Membership in many of its event bids.
"TIAO is fabulous for us, we're a very proud member. Much of the good work TIAO does can be used by DMOs, and Tourism Hamilton certainly tries to put it to use as much as possible."
What's your favourite thing about TIAO and why?
Sharon spoke to TIAO's various communications as Tourism Hamilton's favourite thing about the association.
How has being a member of TIAO provided value for your organization?
Sharon said TIAO's communications—specifically the TIAO Newsletter—are also the most valuable part of a TIAO Membership.
"TIAO is where I go to get a lot of my information from. The TIAO Newsletter talks about other destinations, which sometimes are my competitors, so for me that's very interesting. I like the policy [information], that comes out in the newsletter, and I also like TIAO's Member of the Month features. TIAO is very up-to-date."
Dundurn Castle, National Historic Site
What is one piece of advice you would give to an organization that wants to get involved in advocacy initiatives with TIAO?
"Make sure you've done your research and the information you have is the most up-to-date. Tourism is very important to a destination, arts and culture."
What are you working on right now?
"Tourism Hamilton is launching a new website [this spring]. We went through a rebranding in 2018—centred around [the city's] authenticity and character—to promote our tourism assets to the leisure market.
"We have a wonderful marketing team that has benefitted us greatly—everything we've done is in-house. We wanted to make sure on our new website that Hamilton's assets are front and centre for leisure travellers."
Tourism Hamilton's rebrand has already been met with success. Last year the organization won a national branding award from the Economic Developers Association of Canada, as well as the 2018 Ontario Tourism Awards of Excellence's Tourism Marketing Campaign Award Under $50K (presented at the Ontario Tourism Summit) for the #MyHamilton User Generated Campaign. Additionally, on Jan. 31 Tourism Hamilton was awarded with the 2018 EDCO Awards of Excellence for the 2018 CCMA Awards – Host City Initiatives. Hamilton's updated consumer-facing website is scheduled to launch June 1.
Thank you to Sharon for speaking with us about tourism developments in Hamilton, for sharing Tourism Hamilton's enthusiasm and support for TIAO, and for being our member of the month for February!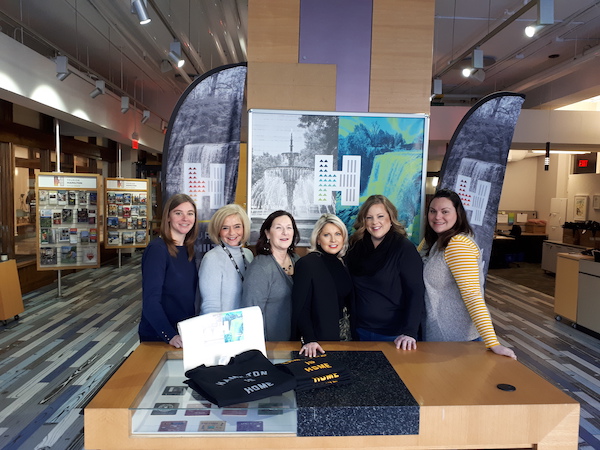 The Tourism Hamilton Team
---