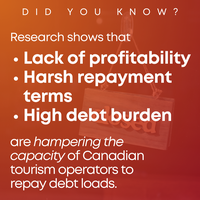 Lack of profitability, onerous repayment terms, and high debt burden are hampering the capacity of Canadian tourism operators to repay debt loads.
With the support of TIAO and other members of the Provincial and Territorial Tourism Industry Association (PTTIA), the Tourism Industry Association of Canada (TIAC) has released new survey research showing that;
🔵 55% of Canadian tourism businesses lack confidence that they can repay CEBA, RRRF, and HASCAP loans in the next 2 years.
🔵 45% of Canadian tourism businesses are at risk of closure within 3 years without government intervention into their mounting debt load.
🔵 Almost one-third of tourism businesses are now over $250,000 in outstanding debt.
Visit here to read the report, and see below to read the letter Tourism Industry Association of Ontario sent calling for debt relief to Deputy Prime Minister and Minister of Finance Chrystia Freeland on behalf of TIAO and more than 250 other national, provincial, and regional organizations.
---