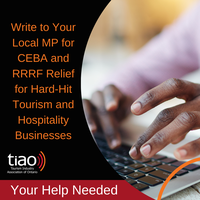 As the pandemic continues to result in restrictions and closures throughout Ontario and Canada, tourism and hospitality businesses are struggling to survive as revenue losses, job losses, layoffs, increasing debt, and uncertainty to reopening are putting businesses at risk of financial insolvency and permanent closure. These factors affect debt repayment and financial solvency capacities, especially for the hardest-hit businesses.
Debt relief remains a top priority for many tourism businesses and one we have continued to advocate for both provincially and federally. As such, TIAO is recommending to increase both the Canada Emergency Business Account (CEBA) and the Regional Relief and Recovery Fund (RRRF) maximum loan forgiveness amount by up to $10,000 if the balance of the loan is repaid by the end of the 0% interest-free grace period; and extending the interest-free repayment period for CEBA loans and RRRF loans from their current end date of December 31, 2023 to December 31, 2024. This will help reduce the financial burden many businesses and organizations are currently facing.
Since the start of the pandemic, about 7 in 10 Ontario tourism businesses have taken on debt that will take at least 2-3 years to resolve; this month, almost half of the province's tourism businesses reported a pessimistic outlook for the future of their business and that of the tourism industry. As such, while this extension will provide some relief, it will not be enough.
TIAO is asking you to write to your local MP and urge them to consider our recommendations. You can access the form letter here. Please address the letter to your local MP: You can find who your MP is here by typing in your postal code.
The need for debt relief is even more urgent with the Omicron COVID-19 variant. As the province rebuilds its economy and Ontarians return to a new normal, Ontario tourism must not be left behind. Reopening does not mean recovery.
---