Your weekly digest from TIAO, updating you on the latest industry news, advocacy issues and upcoming events.
Does this email not look right? Try viewing this email in a browser.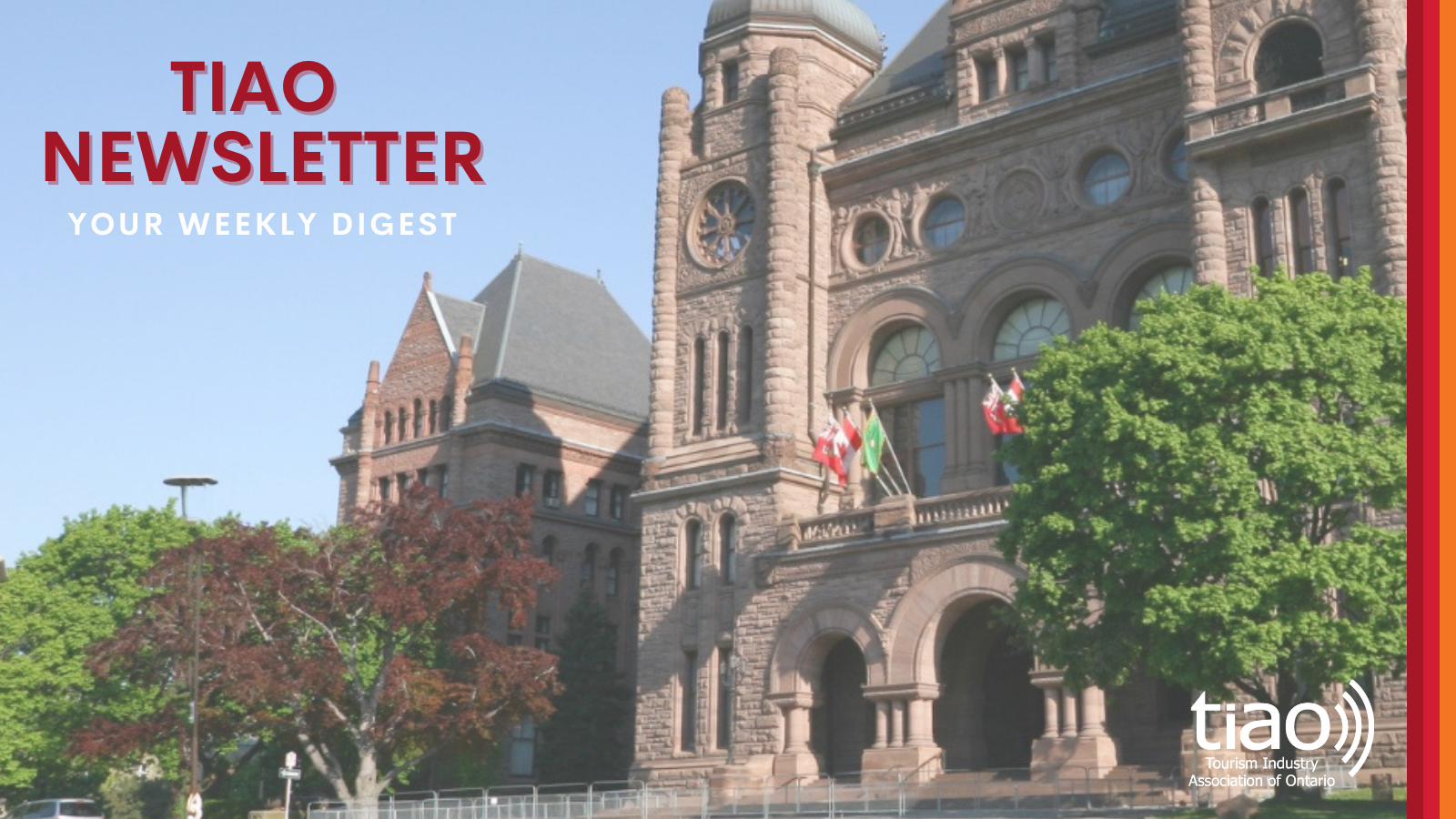 As the voice of the Ontario tourism industry, we recognize that in times of uncertainty there is a need for the industry to have access to clear and reliable information.
Our team is closely following the evolving COVID-19 situation and will link to pertinent articles on our website and social media channels, with a focus on validity and relevance to our industry. 
Email us with your Coronavirus/COVID-19 updates to feedback@tiaontario.ca 
Call us with your updates at 1-888-436-6441 (TOLL FREE)
---
FEATURED
-----------------------------------------------------------------------------------
ONTARIO INTRODUCES PAID SICK LEAVE
Monte McNaughton, Minister of Labour, Training and Skills Development introduced the legislation that requires employers to provide employees with up to $200 of pay for up to three days if they are missing work because of COVID-19. This program will be retroactive to April 19, 2021 and effective until September 25, 2021, the date the CRSB will expire.
By providing time-limited access to three paid leave days, the province is ensuring employees can pay their bills as they help stop the spread of the virus, including by getting tested, waiting for their results in isolation or going to get their vaccine. The province will partner with the Workplace Safety and Insurance Board to deliver the program and reimburse employers up to $200 per day for each employee.
This bill was passed this afternoon, see more details here.
See official release of Wednesday's announcement here.
TIAO AT NOMA

Today, at the NOMA conference, Chris Bloore, Vice President, Policy & Government Affairs provided an overview on the impact of COVID-19 on the tourism industry for the province and addressed issues faced inclusive of Resource-based tourism, TIAO's advocacy initiatives on behalf of the industry, and how working directly with Municipalities can aid in this effort.
Chris was joined by a panel of experts to share how through knowledge gathering, collaboration and communication, the industry is positioning itself to rebuild beyond the pandemic:
Laurie Marcil, Executive Director for NOTO

David MacLachlan, Executive Director - Destination Northern Ontario

Rick Layzell, Executive Director, Boating Ontario

Kevin Eshkawkogan, President & CEO, Indigenous Tourism Ontario

Isabelle deBruyn, Tourism Manager, SEO
STAKEHOLDER CALL

MINUTES

Thank you to everyone who joined this week's call.

We continue to hold weekly industry stakeholder conference call meetings in order to disseminate information that we have received, address member concerns and share information on our industry consultations and share the latest news from government and our partners. 

This week's industry stakeholder calls provided an industry update on Ontario Budget Passed, Grants Update, Flights from India, Dr. Tam update, Sick Pay Program.

You can read the notes from this week here.
DO YOU HAVE

 YOUR TIAO PROUD MEMBER LOGO?

We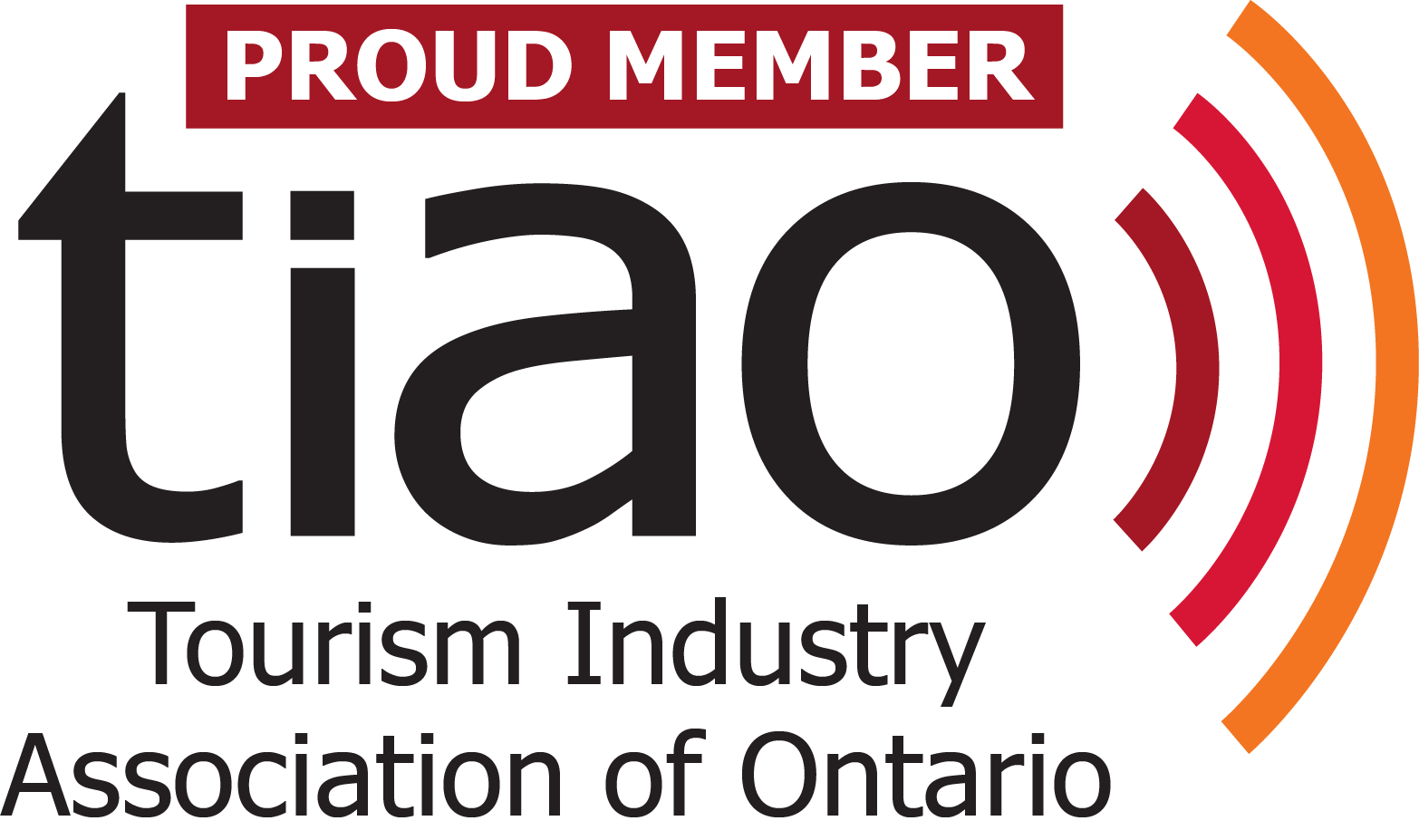 value our members and are proud to show you off, which is why we have a special TIAO "Proud Member" logo for your use.
If you are a member and don't have the updated version, please reach out here.
TIAO COMPLIMENTARY

 2021 MEMBERSHIP OFFER

When you look back at this same time last year, no one could foresee what a devastating impact the pandemic has had on our industry, on our colleagues, and our families.  Throughout this past year, we have worked together, and fought hard for the industry we believe in.  The collaboration of the tourism industry has been remarkable.

We asked for you to join us each Tuesday, so that we could share the latest information, and to hear your challenges, opportunities, and questions, so that we could provide answers.  You have offered to be on committees, you have attended workshops, and in the most difficult of times, you have shown up.  Thank you for sharing how your tourism operation has been impacted.  We have heard you, we have advocated for you, and now we are pleased to offer one more way to ease your bottom line, increase your engagement, and provide an even more inclusive message as we represent your voice to the provincial government.

Our members have been incredibly supportive of TIAO, assisting us when we were in need, always willing to be there, and it is our turn to give back.  We will be extending:

Complimentary membership to the entire tourism industry in Ontario for 2021.

We look forward to hearing from you, having more input, strengthening our industry's voices and making sure tourism is represented.

How does this work if I am an existing member of TIAO?

For our current members, we will be reaching out to them directly. They will be provided an option to choose:
Extend their existing membership by another year or
Become a Green shoots sponsor - For those members that can afford to pay their membership, we will recognize the value of their existing membership through sponsorship (Green shoots sponsor) and use this value of their membership to continue the research and vital actions to rebuild and represent the industry's voice to government in Ontario.
How does this work if I want to become a member of TIAO?
We are glad to extend this to the industry. We ask that you reach out to us directly here  and we will set up your membership.  We will also extend to you the option as we do to our existing members.
Membership within TIAO for a period of one year from date of signing.
Become a Green shoots sponsor - For those new members that can afford to pay their membership, we will recognize the value of their membership through sponsorship (Green shoots sponsor) and use this value of their membership to continue the research and vital actions to rebuild and represent the industry's voice to government in Ontario.

Why Green shoots? 
Green shoots is a term used to describe signs of economic recovery or positive data during an economic downturn. The term green shoots is a reference to plant growth and recovery and has been used during down economies to describe signs of similar growth.
Welcome to the Tourism Industry Association of Ontario.
We are your association, and we are here for you!
SAFE TRAVELS STAMP

 ADMINISTERED BY TIAO

TIAO has been chosen by the World Travel and Tourism Council (WTTC) to administer the Safe Travels Stamp in Canada. The Safe Travels Stamp is an international symbol designed to allow travellers to recognize governments and companies around the world, which have adopted health and hygiene standardized protocols  – so consumers can experience 'Safe Travels'.

Apply here.

See list of successful applicants here.
LE PROGRAMME DE 

RELANCE DU TOURISME FRANCOPHONE

Nous sommes fiers de soutenir le programme de relance du tourisme francophone, en collaboration avec La Société Économique de l'Ontario et l' Assemblée de la francophonie de l'Ontario. Ce programme est dédié exclusivement aux PME et OSBL touristiques francophones du Sud-Ouest de l'Ontario! Afin de soutenir une relance efficace de ce secteur important pour l'économie ontarienne, et contrecarrer les répercussions négatives causées par la pandémie, le Programme de relance du tourisme francophone dans le Sud-Ouest de l'Ontario fournira une contribution non remboursable (subvention) pouvant atteindre 20 000 $ pour soutenir les coûts ponctuels d'adaptation et de réouverture des entreprises et des organisations touristiques francophones situées dans le Sud-Ouest de l'Ontario, du Nord de Toronto allant jusqu'à Windsor vers l'Ouest, et sera disponible jusqu'au 31 Décembre 2021. Les bénéficiaires devront fournir un montant minimum de 20% aux coûts totaux du projet.

Inscrivez-vous dès maintenant ici.
---
GOVERNMENT RELEASES
-----------------------------------------------------------------------------------
Ontario Legislature Passes Budget Bill to Protect Health and Jobs
Finance
 As provinces across the country continue to battle the third wave of the COVID-19 pandemic caused by the introduction of more contagious variants of concern, the Ontario legislature has passed Bill 269, Protecting the People of Ontario Act (Budget Measures), 2021 and enacted into law the next phase of the province's ongoing response.
Ontario Prepares to Accelerate Rollout as Vaccine Supply Increases
Health
In response to an expected increase in vaccine supply from the federal government, the Ontario government is preparing to ramp up its rollout of COVID-19 vaccines to further support at-risk communities. This includes a targeted commitment to allocate 50 per cent of upcoming vaccine shipments to hot spot communities as identified by postal code, to help decrease COVID-19 transmission and hospitalizations.
Canada And Ontario Invest Over $44 M in Improved Culture, Recreation, and Green Infrastructure in Partnership with 15 Communities Across Ontario
Infrastructure 
Canadians everywhere are feeling the impact of COVID-19 on their families, their livelihoods and their way of life. Together, Canada and Ontario are working to reduce the impact of the pandemic, ensure health and safety, rebuild businesses, and promote job creation, growth and investment.
Ontario Supports North Bay Area Businesses
Energy, Northern Development and Mines
The Ontario government is investing more than $2.1 million in five businesses and one film project in the Nipissing region to help create 19 new jobs and promote economic development in Northeastern Ontario.
Ontario Invests in New and Expanded Rapid Training Programs
Colleges and Universities 
The Ontario government is providing $15 million to accelerate the development of rapid training programs and help people retrain and upgrade their skills to succeed in their current careers or find new employment. In partnership with industry, employers and other organizations, the province is inviting postsecondary institutions to design more micro-credentials that will prepare Ontarians for the in-demand jobs of today and tomorrow.
---
INDUSTRY NEWS
-----------------------------------------------------------------------------------
Muskoka Tourism announcing COVID-19 Relief Program for Muskoka's Tourism Operators
Muskoka Tourism Marketing Agency
At the Annual General Meeting of Muskoka Tourism Marketing Agency (MTMA), they announced that current and new members, in the District of Muskoka, will be receiving a COVD-19 Relief reduction on 2021 Membership fees.  This program is made possible due to the funding from the District of Muskoka and the Province of Ontario.
ITO and the OTIL Partner to Spark New Indigenous Tourism Ideas and Experiences
ITO 
Indigenous Tourism Ontario (ITO) and the Ontario Tourism Innovation Lab have partnered to launch the Skode Program, an initiative to spark new Indigenous tourism ideas and experiences that authentically represent, celebrate and promote Indigenous culture, heritage, language, cuisine and communities in Ontario. 
Related:
Mixed reviews on budget supports for hard-hit tourism industry, amid calls for a national recovery strategy
The Hill Times
The tourism sector has been particularly hard hit by the pandemic, and while some were satisfied with the new budget's announcements in the tourism sector, others were less enthused, with problems with current support being brought to the forefront.
SDG holds virtual townhall to support small businesses
Seaway News
The United Counties of SD&G, in partnership with the Community Futures Development Corporation (CFDC) of Cornwall and the Counties and the Cornwall Business Enterprise Centre (CBEC) held a virtual townhall on Wednesday, April 28 with Stormont, Dundas, South Glengarry MPP Jim McDonell and Ontario Minister of Heritage, Sport, Tourism and Culture Industries Lisa MacLeod as guest panelists.
Your Feedback is Requested: Ontario's Workforce Development Action Plan Survey
The Ministry has retained a consulting team from KPMG LLP to support key elements of this work.
Stakeholder consultation is an important component of this work. Through this work, they are seeking to reach as many workforce development stakeholders as possible using a range of consultation methods and tools. Below are anonymous and confidential surveys to seek your feedback and ideas related to the workforce development system in Ontario. KPMG is seeking broad insights and this survey is an important tool in supporting this work.
The survey will remain open until Sunday May 2nd at midnight. The relevant links are below:
If you have any questions, please reach out to WDAP_survey@kpmg.ca.
Sondage des entreprises touristiques (Nord de l'Ontario - 2021)
SEO
SÉO has partnered with the Nordik Institute to conduct a survey on the status of tourism operators in the Northern Ontario region, in order to develop a strategy to recover tourism in Northern Ontario from the COVID-19 pandemic.
If you are in Northern Ontario, please take a few minutes to complete the survey. The online survey is open until May 30, 2021.
Niagara Falls tourism sector hopeful for turnaround in 2021
St. Catherines Standard
While uncertainly still remains, Niagara Falls' battered tourism industry is starting to see light at the end of this long, dark pandemic tunnel with hopes that Niagara may be allowed to gradually reopen on a permanent basis some time this summer.
Serving Up Success: How EcoCafe Survived a Pandemic in a Small Town
lightspeed
Since 2003, EcoCafe has been serving great coffee and small-town charm to residents and tourists in the quaint village of St. Jacobs. A roaster at its core, EcoCafe has always had aspirations that stretch beyond the cafe and center on creating a connection between coffee and the community. For almost two decades EcoCafe has prided itself in providing Organic, Fair Trade, Direct Trade and Rainforest Alliance coffee beans all year round. 
Niagara-on-the-Lake voted the Most Beautiful and Sustainable Events Destination in Canada at Sustainable Event Forum Earth Day 2021
Sustainable Event Forum Earth Day 2021
Congratulations to our very own, Niagara-on-the-lake for being voted the Most Beautiful and Sustainable Events Destination in Canada at Sustainable Event Forum Earth Day 2021.
ActiveTO Midtown Complete Street Pilot
City of Toronto
Business owners along Yonge Street, between Bloor and Davisville, can help the City of Toronto better understand loading and delivery needs and inform the design of the new #ActiveTO Midtown Complete Street Pilot planned for this summer. Complete the survey by May 3.
City council approves 5-year strategy to make Brampton top tourism destination
Toronto Star
According to the Tourism Industry Association of Ontario, before the pandemic, the economic contribution of tourism in Ontario was larger than agriculture, forestry and mining combined. The city added that developing Brampton as a tourism destination will support the local economy's recovery from COVID-19, while enhancing residents' appreciation of the city.
Powassan farmer wins Northeastern Ontario tourism award
Welland Tribune
The owner of Foxfire Heritage Farm in Powassan has received the Northern Ontario Spark tourism award after taking part in a Dragons' Den-like competition to help him grow his business. Matthew Larivee was the Northeastern Ontario winner of the tourism initiative award. Two other winners represented the Northwestern Ontario and the Algoma/Central region honours.
Cycle Tourism webinar aims to help businesses in Huron County
The Sun Times
Supported by the County of Huron, the Ontario By Bike Network will host a free cycle tourism webinar workshop. It is tailored for businesses in Huron County on May 10 at 10 a.m.
The informative one-hour webinar workshop will offer tourism businesses and organizations key insights into how to become certified as a bicycle-friendly location. This will be done through the Ontario By Bike Network to help businesses reach the growing cycling market.
St. Lawrence Cruise Lines Delays Start Of 2021 Cruising Season
ftn NEWS
Due to the current province-wide lockdown and to allow sufficient time to reduce the number of cases of COVID-19 in Ontario, St. Lawrence Cruise Lines has opted to alter their 2021 cruise schedule to begin on June 24th, 2021.
Copyright © 2021

Tourism Industry Association of Ontario

, All rights reserved.
 

This email was sent by:
Tourism Industry Association of Ontario
439 University Avenue, Suite 1400
Toronto, Ontario, M5G 1Y8

 

You have received this email because you are a member or existing contact of Tourism Industry Association of Ontario, a membership organization powered by SilkStart. update notification preferences unsubscribe from this list