What is the Tourism Workforce Sustainability Program?
TIAO's Tourism Workforce Sustainability Program aims to expand and diversify Ontario's tourism workforce while helping employers retain employees for the long-term sustainability of their businesses and the industry. 
In alignment with our values of partnership and collaboration, this program complements and aligns with other workforce development projects by partners such as ITO and OTEC.
TIAO will support employers in attracting and retaining 200 new tourism employees across the province. All tourism industry employers and positions are eligible. Employees in the program will also have access to unique Mentorship opportunities to support their individual lifestyle and career goals.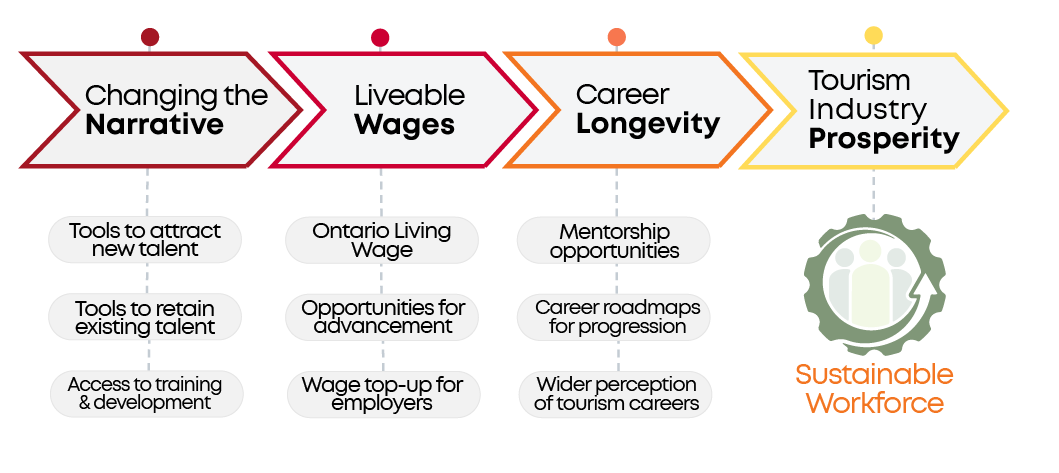 ---
Watch the TWSP Info Session
If you missed our information sessions, you can watch it here.
Frequently Asked Questions
---
Who is eligible?
Employers who register for the program will receive tools and support to fill vacant positions, targeting job-seekers from new, diverse and inclusive labour pools.  Once an eligible person is hired, participating employers will:
Offer the new hire a roadmap to career advancement as a guide, (template is available)*
Pay the Ontario Living Wage applicable in the region (the gap between the historic wage for the position and the Ontario Living Wage will be reimbursed by TIAO for 6 months, and we also accept applicants that are only hiring seasonally; additional financial support is available in limited quantity for Indigenous employees through the Three Fires program)*

Offer access to skills development and training resources offered through the program by OTEC and other TIAO partners

Participate in financial coaching and training to build the capacity to sustain higher wages in the long term
*these are mandatory components of the program
Eligible employees must self-identify as belonging to an "Underrepresented Group", which is defined as "groups facing significant barriers to participation, inequal access, opportunities and resources…often based on such factors as age, ethnicity, disability, economic status, gender, nationality, sexual orientation, and transgender status".  This includes, but is not limited to, those in the 2SLGBTQIA+ community, Indigenous Peoples, new Canadians, Persons with disabilities, Racialized Groups, those seeking second careers, women, and youth (ages 15-29).
Click here to register.
Interested employers can sign up below.
Intake period for employers is now open. 
If you have questions about the program, please contact Leni Brem, Project Manager at lbrem@tiaontario.ca.
Why the Tourism Workforce Sustainability Program?
TIAO knows the labour crisis continues to be a major challenge for our industry. Current data estimates that Ontario tourism employers will be approximately 350,000 to 360,000 employees short of where we need to be for peak season, in 2023 alone. While many programs and policies are working to address this from different angles, TIAO wants to initiate action towards long-term solutions by educating and elevating our industry to become a sustainable economic driver and contributor while being an inclusive and socially responsible example for other industries to follow.
TIAO's Tourism Workforce Sustainability Program aims to modernize the tourism industry by creating career pathways for underrepresented employees and by supporting the advancement of employers who are looking to embrace new ways of recruiting and retaining employees for a more sustainable workforce.