Your weekly digest from TIAO, updating you on the latest industry news, advocacy issues and upcoming events.
Does this email not look right? Try viewing this email in a browser.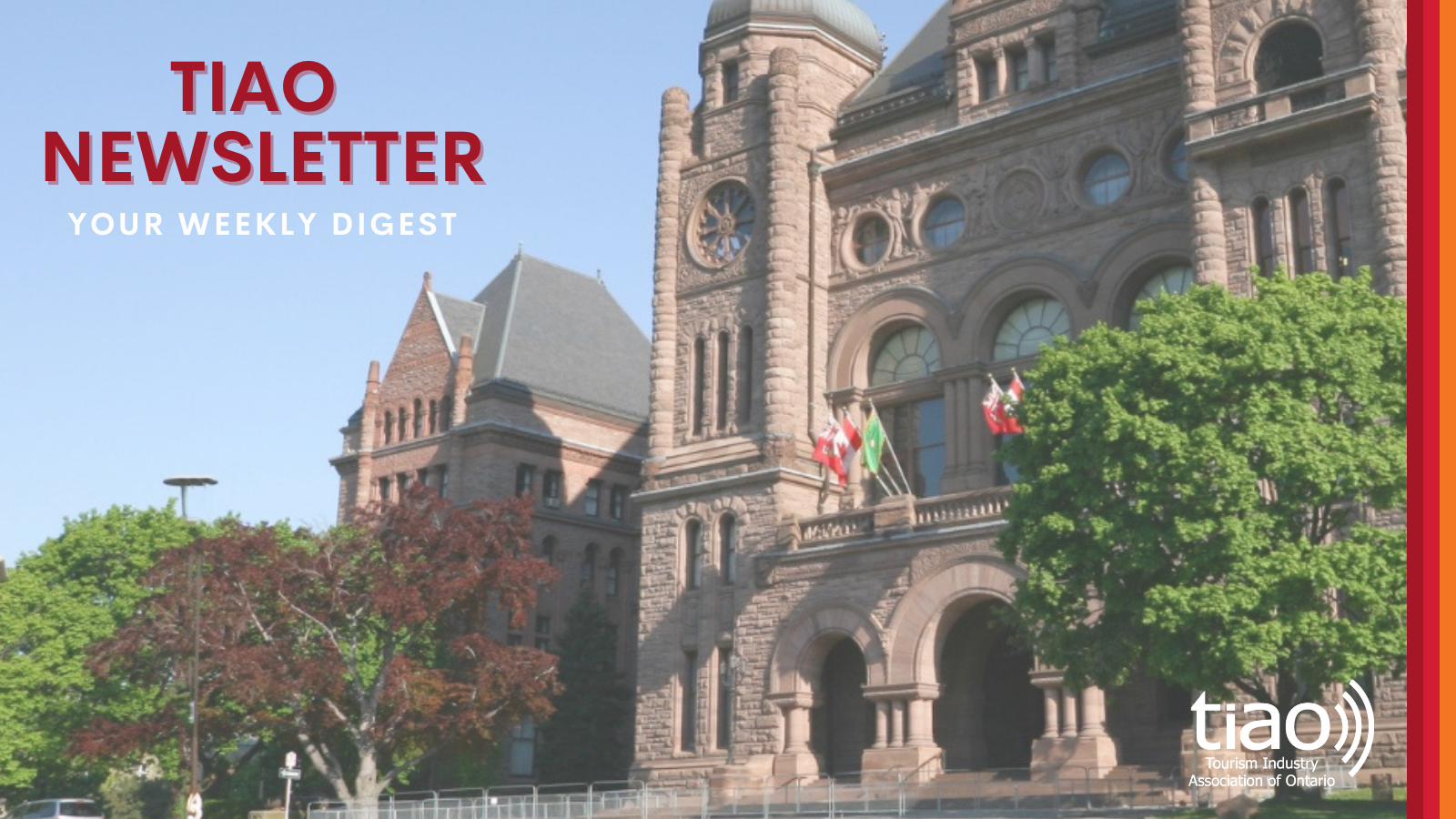 As the voice of the Ontario tourism industry, we recognize that in times of uncertainty there is a need for the industry to have access to clear and reliable information.
Our team is closely following the evolving COVID-19 situation and will link to pertinent articles on our website and social media channels, with a focus on validity and relevance to our industry. 
Email us with your Coronavirus/COVID-19 updates to feedback@tiaontario.ca 
Call us with your updates at 1-888-436-6441 (TOLL FREE)
---
FEATURED
-----------------------------------------------------------------------------------
ADVOCACY
AT BRIEF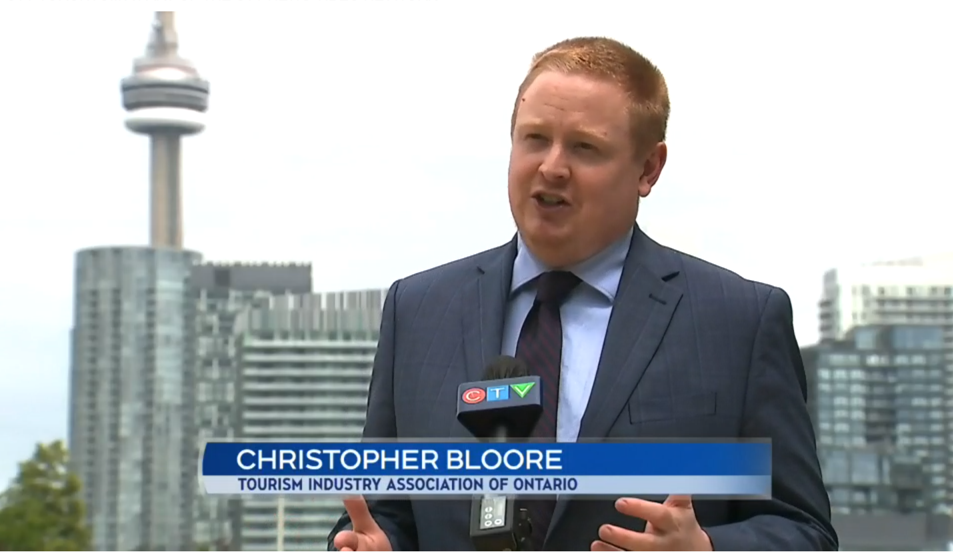 Dear Friends,
After sixteen months of uncertainty, closures and restrictions on operations in Ontario, we now have a roadmap to reopening.Tomorrow, we enter Step 3 of the province's "Roadmap to Reopen" and the welcome reopening of many businesses and resumption of indoor activities that were previously restricted. 
But Step 3 continues to significantly restrict operations and capacities and that is why TIAO was most encouraged by the government's announcement that if Ontario meets new vaccination targets, all restrictions minus minor public health measures will be lifted. Those targets - for 80% of Ontarians to have received at least one dose of the vaccine and 75% to have had both doses, with all public health units recording at least 70% double dosed - are achievable but not guaranteed. TIAO will continue to work with the Faster Together campaign to encourage as many Ontarians to get vaccinated as soon as they're able to. 
There is of course a long way to go, but it feels for the first time since the pandemic started that we have a credible opportunity to fully re-open our industry. However, whilst there has been encouraging news regarding the reopening of the Ontario economy, there remains an unfortunate silence from the Federal Government regarding their plans to re-open the border. TIAO has taken part in two national press conferences in support of TIAC and the Canadian Tourism Round Table and continues to meet with Members of Parliament to urge the government to announce their re-opening plans now. 
Tourism Relief Fund, Canada Community Revitalization Fund and Jobs and Growth Fund 
As trailed by TIAO last week, on Monday the Federal Government launched its Tourism Relief Fund, first announced in the Federal Budget back in April.  More details on the program itself can be found further on in the newsletter, including details on eligibility and the types of activities the program is designed to fund. We have also included details on technical briefings available in both English and French that are designed to help applicants fill in their applications forms and answer any questions you might have.  
The Canada Community Revitalization Fund (CCRF) aims to help communities across Canada build and improve community infrastructure projects so they can rebound from the effect of the COVID-19 pandemic. With a national investment of $500 million over two years (ending March 31, 2023), the Fund's purpose is to support not-for-profit organizations, municipalities, Indigenous communities, and other community groups. You can find more information below on this fund later in the newsletter and details on how to apply. 
The Jobs and Growth Fund (JGF) is a $700-million federal program to support regional job creation and position local economies for long-term growth. This includes up to $70 million dedicated to businesses created after January 2020 that meet the eligibility criteria. The fund will help job creators and the organizations that support them future-proof their businesses, build resiliency and prepare for growth by supporting the transition to a green economy, fostering an inclusive recovery, digital adoption to improve productivity and enhancing manufacturing processes, and strengthening capacity in sectors critical to Canada's recovery and growth.  To find out if your organization qualifies for JGF funding and to apply, visit your regional development agency's web page.   
Continued Government Economic Support and CTV Interview 
The Hardest Hit Coalition met on Thursday to discuss the economic proposals that it will be putting forward to the Federal Government to replace CEWS and CERS that are due to expire in September. The coalition has hired a prominent economist to put together a tailored program to help support tourism businesses pay fixed costs and navigate the recovery period, recognizing that revenues will not return for some time. We hope to include these asks when they're ready in our advocacy work over the summer as we engage MPs and prospective candidates for the Federal Election to ensure they commit to supporting the tourism industry long-term. 
As we reopen, there will be the temptation for some politicians to talk about recovery, but we know that the economic scars of the pandemic means that reopening doesn't guarantee recovery. This week I was interviewed by CTV News journalist Colin D'Mello about the challenges facing the industry and how we will need not only the support of Ontarians to recover, but long-term economic support programs by both levels of government to remain solvent, competitive and encourage travel. TIAO is committed to ensuring that every cent of announced government support will be spent to support the tourism industry. To view the full interview please click here.
TIAO's Tour of the Province 
I'm excited to reveal that TIAO's tour of the province is due to start next Thursday. Throughout the summer I will be travelling across the province, highlighting the challenges still faced by our industry, meeting TIAO members and meeting with Members of Parliament to urge them to extend further Federal government support to the tourism industry. After sharing Zoom calls with you all for so long, I am excited to meet as many of you as possible and help demonstrate to Ontarians that it is safe to travel and also remind politicians of their responsibilities to support our industry.
We have a lot more work to do, but thank you for your continued support. 

Christopher Bloore, President & CEO
Tourism Industry Association of Ontario
NOMINATIONS OPEN

FOR THE 2021 ONTARIO TOURISM RESILIENCY AWARDS 

TIAO in partnership with Attractions Ontario, The Culinary Tourism Alliance,  Indigenous Tourism Ontario and OTEC is pleased to announce the opening of nominations for the 2021 Ontario Tourism Resiliency Awards.

2020 was a year like no other, requiring determination and perseverance.  In a year fraught with innumerable operating obstacles, exceptional tourism businesses rose to the challenge and continued to innovate and engage with partners and their communities, even when unable to open for regular business.

A year that was so very different for the tourism industry calls for an award reflective of the times: an award that fairly recognizes the achievements of tourism businesses regardless of operating status.

The 2021 Ontario Tourism Resiliency Awards are unique to this year and have been designed to reflect resiliency through innovation, collaboration and partnership.   Our partners have joined together this year in collaboration to present this year's awards.  The trophy will reflect this collaboration or partnership while embracing our unique role within our industry. Partners working together, like that of the ribbons of a DNA helix.

Because Resiliency is in our Tourism Industry's DNA

Awards will be presented in each of the following three areas:
Innovation

Collaboration

Sustainability
You can nominate another business or apply on behalf of your own business. All nominees will be featured on TIAO's website as a legacy to the resiliency of our industry. All finalists will be featured in a Globe & Mail full promotional page. 
Key Dates:
Nominations close August 31.

Finalists will be announced on October 9. 

Winners will be announced in person at the Ontario Tourism Summit 2021 Gala Awards on October 27.
For more details, and to begin the application process please click here.
TOURISM RELIEF FUND

LAUNCHED BY FEDERAL GOVERNMENT

The Government of Canada has launched the Tourism Relief Fund, to be delivered through FedDev and FedNor Ontario. The Tourism Relief Fund supports tourism businesses and organizations to adapt their operations to meet public health requirements while investing in products and services to facilitate their future growth. This fund has a $500 million budget (ending March 31, 2023) and will focus on product development and destination development. The fund will empower businesses to create or enhance tourism experiences and products to attract visitors and to help the sector provide the best Canadian tourism experiences. 

Contributions to businesses will be either non-repayable contributions up to $100,000 for up to 50% of eligible costs OR fully repayable contributions up to $500,000 for up to 75% of eligible costs. 

The fund will offer a minimum of $50 million to support Indigenous tourism initiatives and $15 million will be dedicated to national initiatives that support the advancement of national tourism priorities. Eligible applicants include tourism entities that cater mainly to visitors, such including businesses, not-for-profit organizations, and band councils or other Indigenous organizations and cooperatives.  

To be considered eligible for this fund, applicants must meet at least one of the following criteria: 
Be a key supplier or operator in the visitor experience; 

Be part of a defined tourism cluster or a tourism dependent community, including supporting downtown cores; or 

Provide an anchor product or service in a tourism destination. 
For more information on eligibility and how to apply, please consult the Tourism Relief Fund – Application guide - FedDev Ontario  or Tourism Relief Fund - FedNor
FedDev Ontario staff will also be hosting four technical briefings on the TRF through Zoom over the next few weeks. Those who are interested may register via one of the following links:
Related:
GOVERNMENT OF CANADA
LAUNCHES CANADA COMMUNITY REVITALIZATION FUND  
The Canada Community Revitalization Fund (CCRF) aims to help communities across Canada build and improve community infrastructure projects so they can rebound from the effect of the COVID-19 pandemic. With a national investment of $500 million over two years (ending March 31, 2023), the Fund's purpose is to support not-for-profit organizations, municipalities, Indigenous communities, and other community groups: 
build new community infrastructure and revitalize existing assets 

bring people back to public spaces safely as health measures ease 

create jobs and stimulate local economies 
The maximum contribution amount per project shall not exceed $750k and applications are strongly advised to be submitted by July 23, 2021. The Fund will provide support for adapting and re-imagining / re-envisioning community spaces and maintaining accessibility standards so that they may safely be used by communities; and building or improving community infrastructure through the expansion, improvement or creation of community spaces to encourage Canadians to re-engage in and explore their communities and regionsLearn
There are 4 priorities that have been identified for the CCRF: Downtown core and main street, Outdoor space, Green projects, and Accessibility.  
Eligible costs include those already eligible under current program authorities and include all costs deemed reasonable and necessary for carrying out eligible projects that contribute to achieving the Fund's objective. Max contribution rate for eligible project costs shall not normally exceed 75%; for assistance provided to an Indigenous not-for-profit organization or a band, the maximum contribution rate for eligible costs may go up to 100%. 
Financial assistance will be non-repayable contributions. The maximum contribution amount per project shall not exceed $750K. The actual contribution amount will be based on the minimum amount required to carry out the project. 
Disbursement of Funding - An initial Advance Payment will be issued based on the cost forecast and the final claim will be required to reconcile the advance payment and to allow release of the balance of funds, as required. 
Application Process - There is a two-phase application process and assessment of applications will begin on July 23, 2021. Applicants are strongly encouraged to submit their applications by this date. Should there be remaining funding after the scheduled intake period, applications will continue to be accepted and funded on a continuous intake basis over the next two years or until such a time as the allocated funding is fully distributed. 
FedDev Applicants 
To start your application please visit Canada Community Revitalization Fund - Application guide - FedDev Ontario 
FedNor Applicants 
Applicants are strongly encouraged to contact FedNor to discuss their project with a FedNor Program Officer, for more information and how to begin the application process, please visit Canada Community Revitalization Fund application form and instructions - FedNor. 
ONTARIO ENTERS STEP 3
OF ROADMAP TO REOPEN ON JULY 16 
The Ministry of Health is proposing amendments to O Reg. 364/20 to set out the public health and workplace safety measures for step 3 of the Roadmap to Reopen. This includes but is not limited to (all with additional restrictions): 
Social gatherings and organized public events 
Maximum 25 people indoors 
Maximum 100 people outdoors 
Restaurants, bars, food trucks, and other food or drink establishments 
Indoor and outdoor capacity limited to the number of people that can maintain 2 metres of physical distance  
Food and drink establishments with dance floors (including night clubs and resto bars) 
Limited to the number of people that can maintain 2 metres of physical distance with a maximum capacity of 50% indoors and 50% outdoors 

No limits to the number of patrons per table 

Buffets permitted  

Karaoke permitted with restrictions 

Dancing is permitted with restrictions 
Retail Stores 
Essential and non-essential retail limited to the number of people that can maintain 2 metres of physical distance 
Wedding, funeral or religious service, rite, or ceremony 
For the ceremony itself:   

Capacity is limited to the number of people that can maintain 2 metres physical distance  

For social gatherings associated with the ceremony (e.g., receptions):  

Maximum 25 people indoors  

Maximum 100 people outdoors  
Indoor and outdoor meeting and event spaces  
Capacity is limited to the number of people that can maintain 2 metres physical distance  

Maximum 50% capacity up to 1,000 people indoors 
Maximum 75% capacity up to 5,000 people outdoors 
Facilities used for indoor or outdoor sports and recreational fitness activities 
Maximum 50% capacity for indoor facilities  

Personal trainers and sports trainers permitted with physical distancing and other restrictions  

Spectators limited to 50% of the indoor seating capacity for up to 1,000 people; masks are required   

Spectators limited to 50% of outdoor seating capacity for up to 10,000 people, and other restrictions; masks are required except for members of the same household seated together  

Sports permitted without restrictions on contact 
Day and overnight camps 
Hotels, motels, and short-term rentals 
Permitted to open 

On-premise indoor fitness or indoor recreational facilities permitted to open with maximum 50% capacity limit 
Campgrounds  
Permitted to open 

On-premise indoor fitness or indoor recreational facilities permitted to open with maximum 50% capacity limit 
Museums, aquariums, zoos, science centres, landmarks, historic sites, gardens, and similar attractions  
Permitted to operate with: 

Indoor capacity limited to the number of people that can maintain 2 metres' physical distance, with a maximum capacity of 50%  
Maximum 75% capacity outdoors  
Concert venues, cinemas, and theatres 
Maximum 50% capacity indoors, up to 1000 people 
An outdoor seated concert, event, or performance or movie within a concert venue, theatre or cinema is permitted to operate at a maximum capacity of:  

Maximum 75% capacity outdoors, or up to 15,000 people (seated) 

Maximum 75% capacity outdoors, or 5000 people (non-seated) 

Masks must be worn unless you are with people from your household or you are seated at least 2 meters away from every person outside your household 

Reservations are required for attendance 
Amusement parks and waterparks 
Outdoor areas are limited to the number of people that can maintain physical distance of 2 metres, with a maximum capacity of 75%  

Indoor areas are limited to the number of people that can maintain physical distance of 2 metres, with a maximum of 50%  
Horse racing venues 
Maximum 50% capacity indoors, up to 1000 people (seated) 

Maximum 75% capacity outdoors, up to 15,000 people (seated) 

Maximum 75% capacity outdoors, up to 5,000 people (non-seated) 

Reservations required for seated events 
Casinos, bingo halls, and gaming establishments 
Capacity is limited to the number of people that can maintain 2 metres physical distance  

Maximum 50% capacity indoors 
Boat Tours 
Limited to the amount of people that can maintain 2 metres of physical distance with a maximum capacity of 50%  
Fairs, rural exhibitions, festivals 
Maximum 75% capacity outdoors 

Indoor capacity is limited to the amount of people that can maintain 2 meters of physical distance, not exceeding 50% capacity 
Strip clubs  
Indoor capacity limited to the number of people who can maintain a physical distance of 2 metres (seated)  

Performers must maintain at least 2 metres' physical distance from patrons 
Bathhouses and sex clubs 
Capacity limited to the number of people who can maintain a physical distance of 2 metres  

Maximum 25% capacity, up to 250 people 

Masks required 
For more details on the rules and regulations for step 3 of the Roadmap to Reopen, please visit the official news release at  Ontario Moving to Step Three of Roadmap to Reopen on July 16 | Ontario Newsroom 
You can also view the regulation for full details and the Summary of Measures: Step 3 of the Roadmap to Reopen.
Next steps 
The province will remain in Step Three of the Roadmap for at least 21 days and until 80 per cent of the eligible population aged 12 and over has received one dose of a COVID-19 vaccine and 75 per cent have received their second, with no public health unit having less than 70 per cent of their population fully vaccinated. 
Upon meeting these thresholds, the vast majority of public health and workplace safety measures, including capacity limits for indoor and outdoor settings and limits for social gatherings, will be lifted. Only a small number of measures will remain in place, including the requirement for passive screening, such as posting a sign, and businesses requiring a safety plan. 
Related:
A THREE FIRES
COLLABORATIVE QUEST 
The Tourism Industry Association of Ontario (TIAO), in collaboration with Indigenous Tourism Ontario (ITO), and the Ontario Tourism Education Corporation (OTEC), are now accepting applications for A Three Fires Collaborative Quest Program - a program designed to support recovery and growth of the province's Indigenous tourism workforce by building the labour pool and filling critical gaps within the industry.
The program, aptly named A Three Fires Collaborative Quest, will be executed in three phases - each managed by one of the three aforementioned partners respectively.
Indigenous tourism businesses will receive one-on-one coaching and support from ITO's Indigenous Business Advisory (IBA) Program to assist in getting them market ready for the reopening. The structured content delivered to participants of the IBA Program will address all areas of a tourism operation required for business sustainability and success and will follow market-ready standards established specifically for the Indigenous tourism industry.
The second fire will be managed by OTEC who will design and execute workshops to provide customized frontline training for 100+ Indigenous tourism employees as well as the IBA group.
The third fire, executed by TIAO, is an employee-to-employer matching event designed to bridge the gap between the other two fires by helping Indigenous tourism employees find employers, and conversely, tourism businesses (both Indigenous and non-Indigenous) find employees.
To apply for the program as a potential employee, you must self-identify as Indigenous. You will have the opportunity to participate in training workshops facilitated by OTEC and you will be matched with tourism employers to complete a paid job placement.
To apply for the program as an employer, you must be a tourism business in Ontario, and you must be willing to support your new employee's training and development in collaboration with the program. After completing the program you will be eligible to receive a wage subsidy of 30%, to a maximum of $3,000 per employee hired.
To apply, click here. 
FRANCOPHONE-BILINGUAL

 TOURISM SURVEY 

Vous êtes à la tête d'une entreprise touristique offrant des services en français ou bilingues au Canada?
Il est très important pour nous de le savoir pour mieux cibler vos besoins et bien promouvoir l'offre touristique francophone pour la saison 2021! #Semainedutourisme #LeTourismeCompte
Merci de répondre à ce court sondage.

En français : cliquez ici

Are you a tourism operator offering French or bilingual services in Canada?
It is very important for us to know this so that we can better target your needs and promote the French tourism offer for the 2021 season! #TourismWeek #TourismCounts
Thank you for taking this short survey.

In English: click here.
2021 ONTARIO TOURISM SUMMIT

 TICKETS NOW ON SALE 

Join us October 26 & 27 for the tourism industry event of the year - because tourism counts. Whether in person or virtual - we are excited to share that we will be hosting as many people as is safe to do so at this year's summit at the award-winning 4 Diamond Brookstreet Hotel in Ottawa.

We will be welcoming tourism professionals from around the province to gather, share, and collaborate as we rebuild Ontario's tourism industry. This year's summit is about RESPECT, COLLABORATION and REBUILDING our future. Join us as we recognize all the innovation, re-embrace the foundation and collaborate together - Google, Deloitte, Canadian Live Music Association, Global Payments are just some highlights of speakers lined up for this year's event.

If you or part of your team would like to join virtually - this option is also available. This year the Summit is back to normal programming with full day but interactive for the in person and virtual audience to network together. Whatever you choose, we are ready - Come.....Join us..... Together.

For more information, and to register for OTS21 please click here.
STAKEHOLDER CALL

 MINUTES

Thank you to everyone who joined this week's call.

We continue to hold weekly industry stakeholder conference call meetings in order to disseminate information that we have received, address member concerns and share information on our industry consultations and share the latest news from government and our partners. 

This week's stakeholders calls provided a weekly industry update.

You can read the notes from this week here.
DO YOU HAVE

 YOUR TIAO PROUD MEMBER LOGO?

We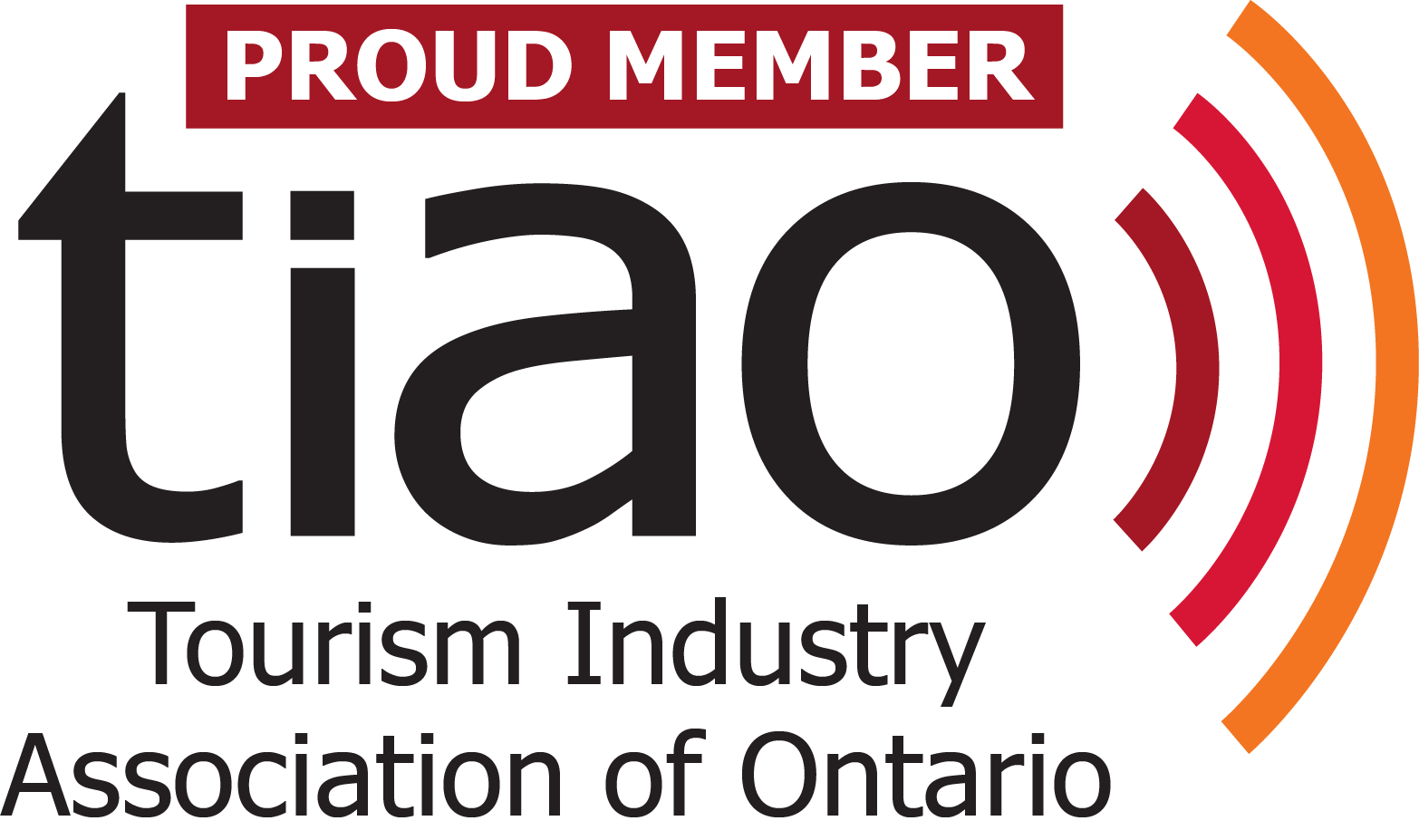 value our members and are proud to show you off, which is why we have a special TIAO "Proud Member" logo for your use.
If you are a member and don't have the updated version, please reach out here.
TIAO COMPLIMENTARY

 2021 MEMBERSHIP OFFER

When you look back at this same time last year, no one could foresee what a devastating impact the pandemic has had on our industry, on our colleagues, and our families.  Throughout this past year, we have worked together, and fought hard for the industry we believe in.  The collaboration of the tourism industry has been remarkable.

We asked for you to join us each Tuesday, so that we could share the latest information, and to hear your challenges, opportunities, and questions, so that we could provide answers.  You have offered to be on committees, you have attended workshops, and in the most difficult of times, you have shown up.  Thank you for sharing how your tourism operation has been impacted.  We have heard you, we have advocated for you, and now we are pleased to offer one more way to ease your bottom line, increase your engagement, and provide an even more inclusive message as we represent your voice to the provincial government.

Our members have been incredibly supportive of TIAO, assisting us when we were in need, always willing to be there, and it is our turn to give back.  We will be extending:

Complimentary membership to the entire tourism industry in Ontario for 2021.

We look forward to hearing from you, having more input, strengthening our industry's voices and making sure tourism is represented.

How does this work if I am an existing member of TIAO?

For our current members, we will be reaching out to them directly. They will be provided an option to choose:
Extend their existing membership by another year or
Become a Green shoots sponsor - For those members that can afford to pay their membership, we will recognize the value of their existing membership through sponsorship (Green shoots sponsor) and use this value of their membership to continue the research and vital actions to rebuild and represent the industry's voice to government in Ontario.
How does this work if I want to become a member of TIAO?
We are glad to extend this to the industry. We ask that you reach out to us directly here  and we will set up your membership.  We will also extend to you the option as we do to our existing members.
Membership within TIAO for a period of one year from date of signing.
Become a Green shoots sponsor - For those new members that can afford to pay their membership, we will recognize the value of their membership through sponsorship (Green shoots sponsor) and use this value of their membership to continue the research and vital actions to rebuild and represent the industry's voice to government in Ontario.

Why Green shoots? 
Green shoots is a term used to describe signs of economic recovery or positive data during an economic downturn. The term green shoots is a reference to plant growth and recovery and has been used during down economies to describe signs of similar growth.
Welcome to the Tourism Industry Association of Ontario.
We are your association, and we are here for you!
SAFE TRAVELS STAMP

 ADMINISTERED BY TIAO

TIAO has been chosen by the World Travel and Tourism Council (WTTC) to administer the Safe Travels Stamp in Canada. The Safe Travels Stamp is an international symbol designed to allow travellers to recognize governments and companies around the world, which have adopted health and hygiene standardized protocols  – so consumers can experience 'Safe Travels'.

Apply here.

See list of successful applicants here.
---
GOVERNMENT RELEASES
-----------------------------------------------------------------------------------
Government of Canada aims to restart cruise ship season in Canada
Transport Canada  
We know that the maritime and tourism sectors have been hit hard by the global COVID-19 pandemic. As we reopen safely, we are already preparing for the upcoming cruise season that will help grow our economy. Today, the Minister of Transport, the Honourable Omar Alghabra, announced that, as of November 1, 2021, the prohibition of cruise ships in Canadian waters would no longer be in effect if operators are able to fully comply with public health requirements. As the outlook of the COVID-19 pandemic continues to improve, Canada looks forward to having a cruising season in 2022. The cruise ship industry, which represents more than $4 billion annual input into the Canadian economy and directly and indirectly generates approximately 30,000 jobs, is an important part of Canada's domestic tourism sector. Transport Canada will continue to work with the Public Health Agency of Canada, other levels of government, the United States government, transportation industry stakeholders, Indigenous Peoples, and Arctic communities to help ensure Canadians and Canada's transportation system remain safe and secure.
Ontario Investing in Science North
Heritage, Sport, Tourism and Culture Industries 
The Ontario government is investing more than $8.9 million in Science North to support the 2021-22 operations, develop exhibits and online content, perform maintenance and repairs, and deliver learning supports for students and teachers. These investments will help sustain operations, protect jobs, and support short and long-term recovery planning following the effects of the COVID-19 pandemic. Details were provided by Lisa MacLeod, Minister of Heritage, Sport, Tourism and Culture Industries, during an announcement alongside Guy Labine, CEO of Science North.
Ontario Keeping Workers Safe As Province Reopens
Labour, Training and Skills Development  
The Ontario government is investing $10.5 million to provide up to 60,000 small businesses across the province with free health and safety training over the next three years. The new Small Business Health and Safety Training Program will improve health and safety awareness to help prevent illnesses and injures by training health and safety representatives of small businesses on how to keep workers safe in the retail, construction, health care, accommodation and food services, and other sectors. Businesses will also be reimbursed for the time the representatives are away from work.
Ontario Government Supporting Agricultural and Horticultural Societies
Agriculture, Food and Rural Affairs 
The Ontario government is providing $1.1 million in additional funding to offer continued support for the province's agricultural and horticultural societies impacted by COVID-19. The pandemic continues to place financial pressures on agricultural and horticultural societies across the province as many will be unable to hold their primary revenue-generating fairs and events again this year. ​ The government will provide up to $5,000 for each eligible agricultural society and up to $1,500 for each eligible horticultural society, equal to their 2019 grants. This is the latest investment from the provincial government to strengthen Ontario's agri-food sector, ensuring sustainability of agriculture and fostering vibrant rural economies. This latest funding follows the January 2021 investment of $5 million to help support agricultural and horticultural societies impacted by cancelled events in 2020.
Ontario Helping Workers Start New Careers | Ontario Newsroom
Labour, Training and Skills Development  
The Ontario government is increasing financial supports available and simplifying the application process for individuals applying to the Second Career program. As the province's economy begins to reopen, these changes will make it easier for laid-off and unemployed workers to pursue training and start new and better careers.
INDUSTRY NEWS
-----------------------------------------------------------------------------------
A tax break for your staycation? Not quite yet
TVO 
Well aware of the economic pounding tourism has faced, the government announced to great fanfare that the "Year of the Staycation" would encourage Ontarians to plan a vacation within the province. Actually, two different finance ministers have promised it twice. The idea is to incentivize Ontarians to "staycation" by offering them $150 million worth of tax credits to enjoy their vacations within Ontario. The details have always been sketchy, but the gist of it seemed to be, save your receipts for hotels, restaurants, and attractions, include them in your annual tax filings, and the government will give you a tax credit to thank you for supporting local tourism operators. 
Except that it hasn't happened. The government has made the announcement twice but never followed through. 
Tourism SkillsNet North Launches 
Destination Northern Ontario 
Did you know you can use the Tourism SkillsNet North program to help fill your rehiring needs for 2021? If you have employees you've had to lay off or let go because of the pandemic and are going to be hiring back as COVID-19 restrictions lift, now is the time to act to ensure you qualify for these special subsidies. With access to 30% of wages, up to a maximum of $3,000 per employee available for qualifying employers, the time to act is now! Any employer can only qualify for up to two positions.  To learn more please click on the link in the title.
Canada's Taking It Slow On Reopening Its Border To Travelers From The U.S. Here's Why
NPR 
Prime Minister Justin Trudeau indicated last week that vaccinated travelers will be admitted before those who are not vaccinated, but the government has said a full reopening could require 75% of Canadians — or more than 85% of the eligible population — to be fully vaccinated.
Government of Canada partners with City of Toronto to revitalize and rebuild main streets and neighbourhoods in Toronto
News Wire 
Toronto's many diverse neighbourhoods are the heart and soul of the city - rich with retail and dining, art, culture and sport experiences. With more than 27 million visitors each year, Torontonians and tourists alike contribute to the vitality of the urban centres and local economies. The shift to remote work during the pandemic, combined with business closures and travel restrictions, has impacted the businesses and growth of Toronto's neighbourhoods. That is why on July 13, the Honourable Mélanie Joly, Minister for Economic Development and Official Languages and Minister responsible for the Federal Economic Development Agency for Southern Ontario (FedDev Ontario), announced $19 million to support the recovery and revitalization of Toronto's neighbourhoods.
Bus firm launches twice-daily London-Toronto rides with Greyhound gone
The London Free Press 
Badder Bus is stepping into the void left by Greyhound, offering twice-daily bus service between London and Toronto. The regional bus company, founded in Chatham and headquartered in St. Thomas, is partnering with Megabus, a division of Coach Canada, to offer service seven days a week from the Flying J truck stop at Highbury Avenue near Highway 401, starting Thursday.
'Everyone's affected': Pelee Island residents, businesses frustrated by reduced ferry service amid crew issues
CBC 
Residents and businesses on Ontario's Pelee Island are feeling stuck and frustrated by Pelee Islander II staffing issues and a diminished ferry service.  When it started running in 2019, the Pelee Islander II, a $40-million vessel, was supposed to replace the 61-year-old Pelee Islander. The island ferry service is currently running out of Leamington, across Lake Erie to the island. It serves a vital link for businesses that rely on it to bring tourists to and from the island, as well as for agricultural businesses, which use the service to move their crops and equipment across the water. Residents also rely on the service for daily tasks. But of late, the older vessel has been running in place of the Pelee Islander II every other week because of an unexpected crew shortage. 
Toronto Region Board of Trade calls for vaccine passports for non-essential activities
Global News  
The Toronto Region Board of Trade is calling on the Ontario government to introduce a vaccine passport system for non-essential business activity, as European nations like France begin to make vaccine passports a part of daily life. Quebec has signalled it will require vaccine passports for non-essential activities by September if COVID-19 rates increase, and Manitoba is already issuing vaccine cards to fully immunized people. Jan De Silva, CEO of the board, says vaccine passports are the only way to safely reopen larger events like business conferences and will help revive tourism.
Related:
'People have been begging for it': Wye Marsh offering unique early-morning birdwatching experience
Simcoe.com 
For the first time ever, the Wye Marsh will be allowing the public to access the wildlife centre at dawn for a unique birdwatching experience. The marsh operators have teamed up with Mom's Restaurant and ToDoOntario.com to offer a birding and breakfast experience on July 27. The event will include a 20-minute guided hike and allow participants the chance to roam the marsh and birdwatch between 6 a.m. and 8 a.m. It will be followed by breakfast at Mom's Restaurant.
'The boat has already sunk': Tourism operators fear another lost summer
CBC 
Tourism operators in Ontario's border-hugging Thousand Islands region want the federal government to make a plan for the return of non-essential travel amid devastating drops in revenue. Some operators suggest they could lose almost all of their typical revenue this summer without American tourists. "What is the plan to keep our businesses open, and allow our tourism market to flourish in a safe manner?" Amy Kirkland, executive director of the Thousand Islands and Gananoque Chamber of Commerce, told Radio-Canada. "This should have been developed over the past year-and-a-half."
Horwath renews push for $1,000 tourism tax credit in Ontario
St. Catharines Standard 
Ontario NDP leader Andrea Horwath is urging Premier Doug Ford to embrace a $1,000 tourism tax credit for this summer instead of waiting two years. Speaking on Clifton Hill Monday morning, she said the idea for a tax credit for tourists — stemming from Niagara Falls MPP Wayne Gates' private member's bill introduced last year — would be a vital boost to Ontario tourism as it recovers from the pandemic. But she said Ford's PC government not only proposed a tax credit of 20 per cent instead, it wants to hold off on it until at least 2022/23.
Related:
Regional Tourism Route Launches
CKDR News 
Officials working on a new tourism initiative involving Manitoba and northwestern Ontario are preparing for a 2022 launch. Destination Northern Ontario and Travel Manitoba are working together on what they call the Heart of Canada Touring Route. Sioux Narrows-Nestor Falls Community Development Officer Heather Gropp says it's to promote travel opportunities between Winnipeg and Thunder Bay.
Tourism minister visits Grey-Bruce as it readies for reopening Stage 3
Owen Sound Sun Times 
With the province set to enter Stage 3 of its reopening plan on Friday, Ontario Minister of Heritage, Sport, Tourism and Culture Industries Lisa MacLeod was in the Owen Sound area for a "soft launch" of her tour to boost the tourism and cultural sectors hit hard by the 16-month pandemic.
Ontario Casinos Get OK to Reopen by as Early as This Friday as COVID Cases Wane
Casino.org 
This Friday, July 16, is the new date that Ontario will enter into Step Three of its COVID Reopening Plan. Previously, officials had said that the province wouldn't enter that phase until at least 21 days after entering Step Two, which the province entered on July 1. Ontario Premier Doug Ford said last Friday, July 9, that the province surpassed the benchmarks necessary to enter the next phase. For casinos, that means they will be able to open at 50 percent capacity by the end of this week.
Every day border is closed 'another person's life work goes up in smoke:' Niagara business owner
CBC
Another summer with the border closed to non-essential travel, Whirlpool Jet Boats owner John Kinney says, could mean disaster for him and his business. "Every day the border is not open, another job, another business, another person's life work goes up in smoke. I'm hoping that it won't be my life's work," Kinney said. "It is absolutely imperative for Niagara Falls, Southern Ontario and actually the whole tourism industry in the province of Ontario to have our borders open."
Tourism Sudbury wants you to think 'big' this tourist season
CTV News
With news that the city will soon be going into Stage 3, attractions in Greater Sudbury have high hopes for the summer ahead. Whether it's the 'big entertainment', the 'big' ideas or just the 'Big Nickel,' Tourism Sudbury says there will be lots to see and do this summer. "I think overall we have a sector of people who are willing to give it their best shot, willing to share resources and get ready for the summer, whatever it holds," said Meredith Armstrong, Manager of Tourism and Culture with the city. "We have been working hard to help our residents discover what they have in their own backyard so we hope we have a community full of ambassadors who will be willing to welcome their friends and family back this summer."
Visitors to popular Sandbanks Provincial Park told to plan ahead as day passes are snapped up
CTV News
With its breathtaking sand dunes and famous waters, Sandbanks has long been a popular destination for tourists but the province is trying to curb overcrowding under COVID-19. Last year saw bumper-to-bumper traffic, long wait times, and hundreds turned away. This season, to maintain physical distancing, Ontario Parks has implemented new rules. Sandbanks is one of 17 provincial parks participating in a pilot project requiring that visitors buy a day pass to get into the beach and day-use areas. The pass can be purchased five days in advance.
Northern Ontario Recovery Program helps 215 local businesses through pandemic
TB News Watch
Businesses across the northwest have faced unprecedented financial hardships as a result of lockdowns and restrictions during the COVID-19 pandemic, but provincial funding has helped more than 200 Thunder Bay businesses navigate these trying times and prepare for the future. The Northern Ontario Recovery Program has provided more than $3.8 million to 215 businesses in the Thunder Bay region to help them adapt to COVID-19 restrictions through the procurement of personal protective equipment, safety equipment, and renovations.
OHTO launches promotional tourism campaign
Renfrew Today 
The Ontario's Highlands Tourism Organization (OHTO) has launched a campaign to promote local tourism and businesses. The campaign is anchored by a video series that's being shared to social media and features stories on seven locals, describing their personal connections to the area. And the OHTO has also launched a "Community Champions Program" in which residents can nominate a local group or organization that's gone up and beyond in the past year.
A 4-season destination: Kenora looks to revamp its tourism sector with new 5-year plan
CBC 
The City of Kenora aims to grow its economy and tourism sector, with help from a new, five-year strategy. A draft of the Tourism and Economic Development Strategy was presented to the northwestern Ontario city's council last week. "The strategy was to address two things," Kenora Deputy Mayor Sharon Smith said. "It was to provide broader direction for tourism and economic development, and also the direct use and allocation of municipal accommodation tax (MAT) funds.
Visit Oakville Ambassadors provide friendly welcome in-person and online
CBC 
People can explore Oakville safely this summer with guidance from Visit Oakville's in-person and digital Tourism Ambassadors. Though the program is usually employed to aide tourists during peak travel season, this year's ambassadors will help everyone navigate Oakville as the province reopens. Ambassadors will be stationed at Bronte Heritage Waterfront Park and Lakeside Park, where residents and visitors can learn about Oakville tourism, ask for recommendation or directions and pick up local guides and maps. They will be active through the summer on Thursday and Friday afternoons, and on weekends.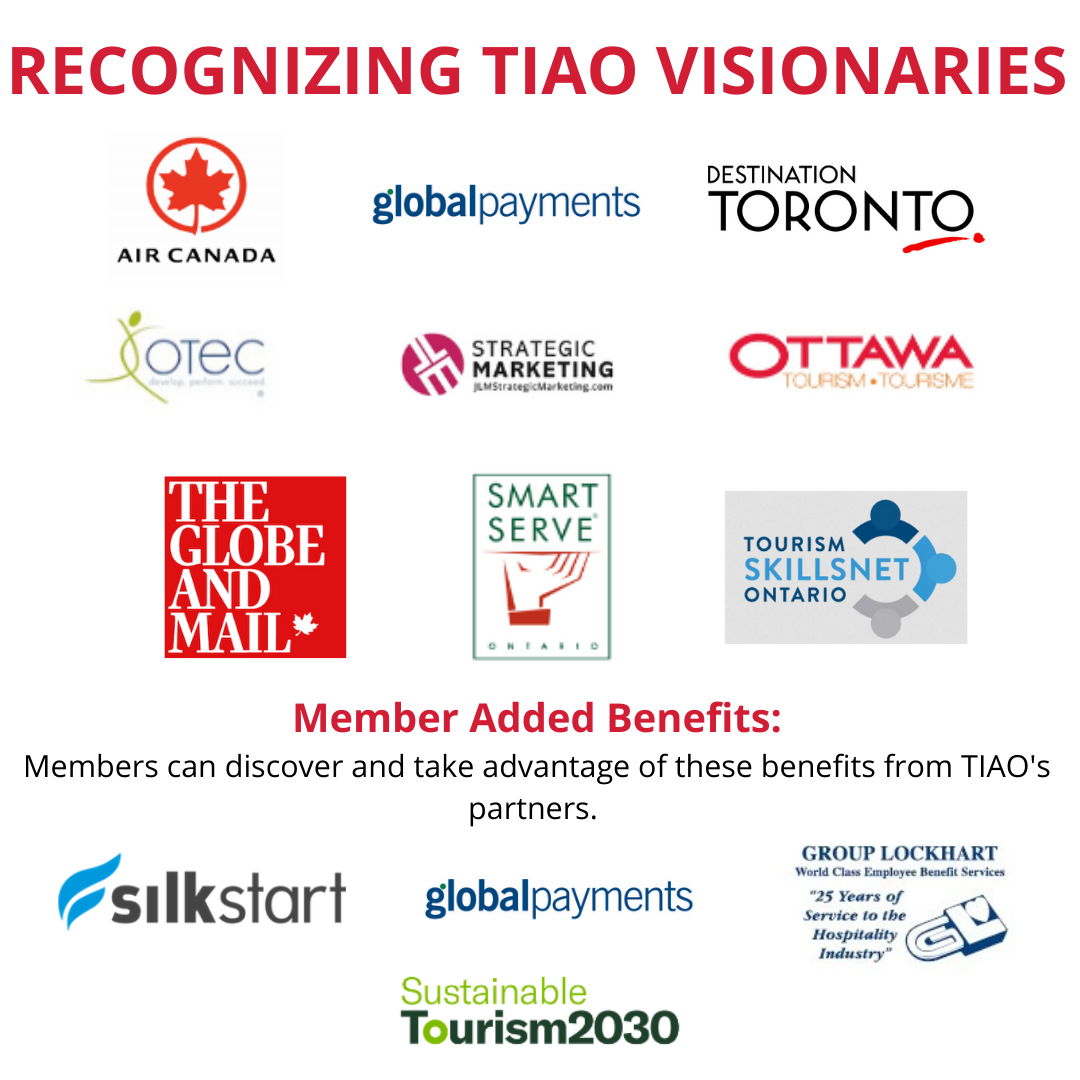 Copyright © 2021

Tourism Industry Association of Ontario

, All rights reserved.
 

This email was sent by:
Tourism Industry Association of Ontario
439 University Avenue, Suite 1400
Toronto, Ontario, M5G 1Y8

 

You have received this email because you are a member or existing contact of Tourism Industry Association of Ontario, a membership organization powered by SilkStart. update notification preferences unsubscribe from this list