Your weekly digest from TIAO, updating you on the latest industry news, advocacy issues and upcoming events.
Does this email not look right? Try viewing this email in a browser.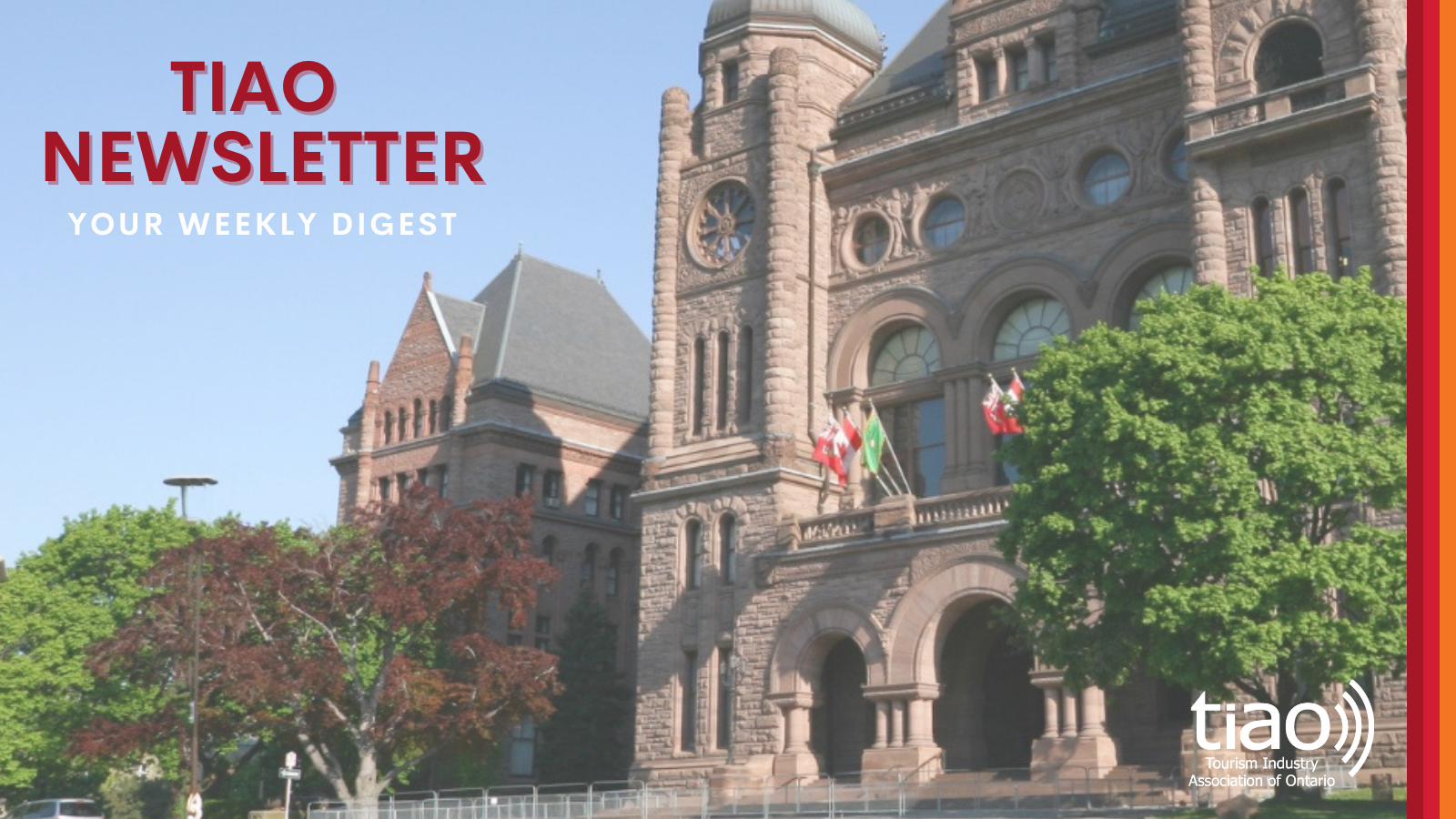 As the voice of the Ontario tourism industry, we recognize that in times of uncertainty there is a need for the industry to have access to clear and reliable information.
Our team is closely following the evolving COVID-19 situation and will link to pertinent articles on our website and social media channels, with a focus on validity and relevance to our industry. 
Email us with your Coronavirus/COVID-19 updates to feedback@tiaontario.ca 
Call us with your updates at 1-888-436-6441 (TOLL FREE)
---
FEATURED
-----------------------------------------------------------------------------------
ADVOCACY AT BRIEF 
TIAO is campaigning for extension of CEWS and CERS 
The Canada Emergency Wage Subsidy (CEWS) and Canada Emergency Rent Subsidy (CERS) have been two of the most utilized government support programs during the COVID-19 pandemic. In the Federal Budget in April, Chrystia Freeland announced her intention to phase out both programs by the fall. TIAO and several other key tourism leaders wrote to the finance minister expressing our concern about the danger of removing financial supports for the tourism industry at this stage, when restrictions on operations are likely to continue through the summer.  After fifteen months of lockdowns and restrictions, increased fixed costs and rising debts, this is not the time for the Federal government to eliminate support programs. You can read our letter here.
Extension of the HASCAP Program announced  
TIAO welcomes the decision of the Federal government to extend the HASCAP program to the end of 2020. However, as mentioned in previous updates, TIAO and our partners have identified several problems with the program that are limiting take up and that could be limiting the program's success. TIAO and our partners are writing to Small Business Minister The Honourable Mary Ng, MP with a series of recommendations including adding a forgivable element to HASCAP, allowing increased principal payments and increasing eligibility criteria. For more information on HASCAP please click here.
Canada Recovery Hiring Program 
This week the Federal government released further details on the new Canada Recovery Hiring Program. The proposed subsidy would offset a portion of the extra costs employers take on as they reopen, either by increasing wages or hours worked, or hiring more staff. This support would only be available for active employees and will be available from June 6 to November 20, 2021. Eligible employers would claim the higher of the Canada Emergency Wage Subsidy or the new proposed subsidy. Find out more about the program here.
Please note, whilst we welcome the new Canada Recovery Hiring Program, TIAO is concerned that several businesses will lose financial support previously received through CEWS. That is why TIAO continues to press hard for the extension of the CEWS program as detailed above. 
Ontario Tourism and Travel Small Business Support Grant 
In our most recent survey on the Ontario Tourism and Travel Small Business Support Grant, one in ten businesses told us that they had not been previously aware of the program. That is potentially thousands of tourism businesses missing out on much needed financial support. If you've not heard about the program before then please click here to see if you're eligible to claim up to $20,000 in grant support.  
THANK YOU TO EVERYONE WHO JOINED TUESDAY'S AGM
TIAO wants to extend a big thank you to everyone who joined us for our AGM yesterday. Thank you to TIAC, Destination Canada and Air Canada as well, for hosting such an informative and compelling discussion at the Town Hall.
We would like to thank Minto Schneider for her time as TIAO's Chair, and Steve  Ball and Bryan Plumstead for their time on the board. With their departures, TIAO is excited to announce Andrew Weir, Executive Vice President, Destination Development at Destination Toronto as the new TIAO Chair and ttwo new incoming board members, Isabelle deBruyn from SEO-ONT and Dionne Bishop from Events by Dionne, Inc.
Congratulations to all!

2021 ONTARIO TOURISM SUMMIT

 TICKETS NOW ON SALE 

Join us October 26 & 27 for the tourism industry event of the year - because tourism counts. Whether in person or virtual - we are excited to share that we will be hosting as many people as is safe to do so at this year's summit at the award-winning 4 Diamond Brookstreet Hotel in Ottawa.

We will be welcoming tourism professionals from around the province to gather, share, and collaborate as we rebuild Ontario's tourism industry. This year's summit is about RESPECT, COLLABORATION and REBUILDING our future. Join us as we recognize all the innovation, re-embrace the foundation and collaborate together - Google, Deloitte, Canadian Live Music Association, Global Payments are just some highlights of speakers lined up for this year's event.

If you or part of your team would like to join virtually - this option is also available. This year the Summit is back to normal programming with full day but interactive for the in person and virtual audience to network together. Whatever you choose, we are ready - Come.....Join us..... Together.

For more information, and to register for OTS21 please click here.
NOW INTO THE FUTURE;

 CULTURAL TOURISM IN ONTARIO SYMPOSIUM 

Cultural tourism provides unique discoveries and genuine interactions for host communities and visitors alike. On June 16 & 17, Ontario Culture Days is hosting a free symposium that asks: How can we collaborate to highlight Ontario as the arts and culture destination we know it is? As the arts, culture, and tourism sectors look forward to reopening, this symposium presents conversations, keynote presentations, and panel discussions featuring leaders in cultural tourism in Ontario and from outside Canada.   TIAO's President and CEO, Chris Bloore, will join the panel discussion presented on June 16, from 2:45 pm – 3:25 pm.

To learn more about Now, into the Future: Cultural Tourism in Ontario click here.

For free registration click here.
STAKEHOLDER CALL

 MINUTES

We did not host stakeholder calls this past week as we attended the Tourism Industry Association of Canada's Town Hall. 
DO YOU HAVE

 YOUR TIAO PROUD MEMBER LOGO?

We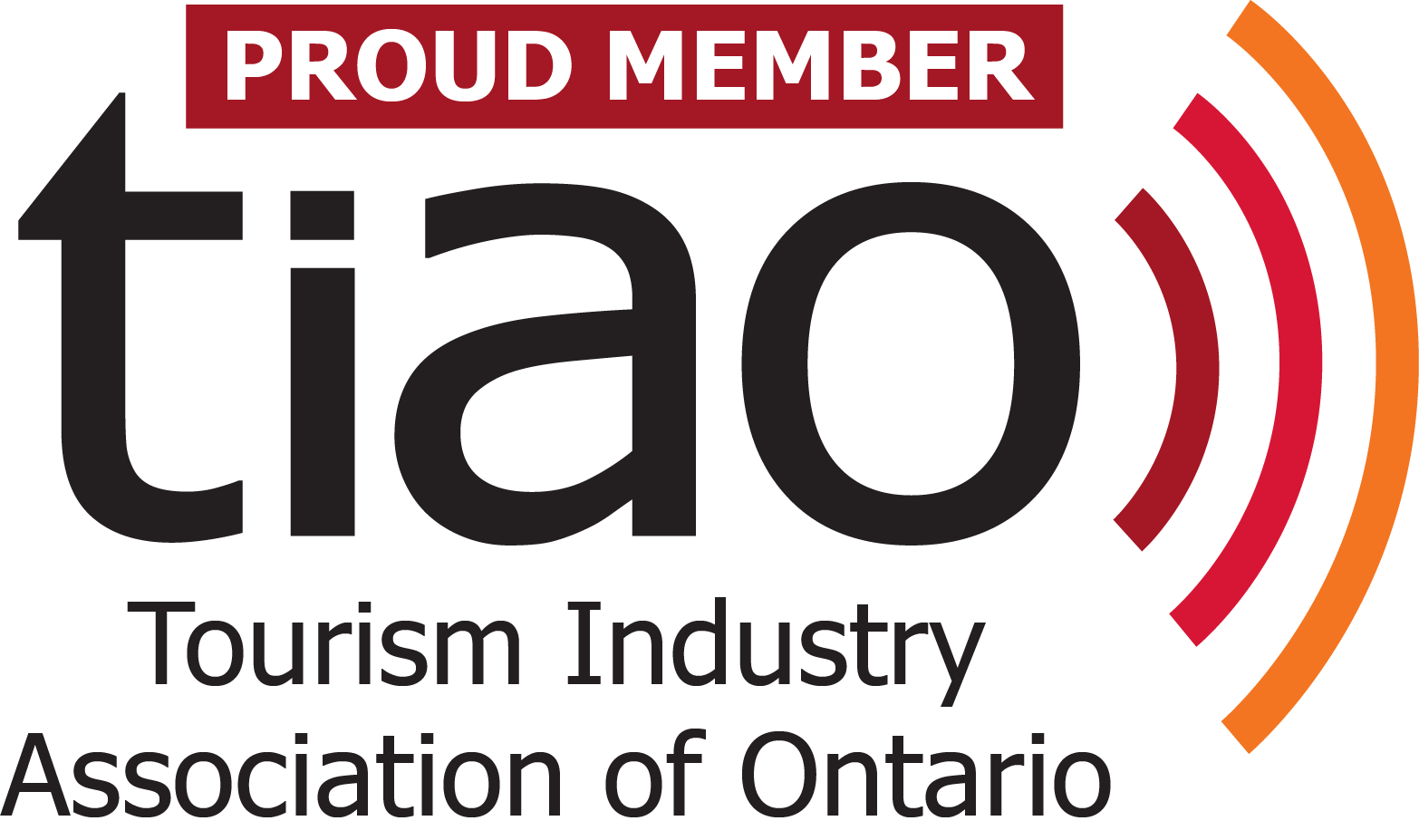 value our members and are proud to show you off, which is why we have a special TIAO "Proud Member" logo for your use.
If you are a member and don't have the updated version, please reach out here.
TIAO COMPLIMENTARY

 2021 MEMBERSHIP OFFER

When you look back at this same time last year, no one could foresee what a devastating impact the pandemic has had on our industry, on our colleagues, and our families.  Throughout this past year, we have worked together, and fought hard for the industry we believe in.  The collaboration of the tourism industry has been remarkable.

We asked for you to join us each Tuesday, so that we could share the latest information, and to hear your challenges, opportunities, and questions, so that we could provide answers.  You have offered to be on committees, you have attended workshops, and in the most difficult of times, you have shown up.  Thank you for sharing how your tourism operation has been impacted.  We have heard you, we have advocated for you, and now we are pleased to offer one more way to ease your bottom line, increase your engagement, and provide an even more inclusive message as we represent your voice to the provincial government.

Our members have been incredibly supportive of TIAO, assisting us when we were in need, always willing to be there, and it is our turn to give back.  We will be extending:

Complimentary membership to the entire tourism industry in Ontario for 2021.

We look forward to hearing from you, having more input, strengthening our industry's voices and making sure tourism is represented.

How does this work if I am an existing member of TIAO?

For our current members, we will be reaching out to them directly. They will be provided an option to choose:
Extend their existing membership by another year or
Become a Green shoots sponsor - For those members that can afford to pay their membership, we will recognize the value of their existing membership through sponsorship (Green shoots sponsor) and use this value of their membership to continue the research and vital actions to rebuild and represent the industry's voice to government in Ontario.
How does this work if I want to become a member of TIAO?
We are glad to extend this to the industry. We ask that you reach out to us directly here  and we will set up your membership.  We will also extend to you the option as we do to our existing members.
Membership within TIAO for a period of one year from date of signing.
Become a Green shoots sponsor - For those new members that can afford to pay their membership, we will recognize the value of their membership through sponsorship (Green shoots sponsor) and use this value of their membership to continue the research and vital actions to rebuild and represent the industry's voice to government in Ontario.

Why Green shoots? 
Green shoots is a term used to describe signs of economic recovery or positive data during an economic downturn. The term green shoots is a reference to plant growth and recovery and has been used during down economies to describe signs of similar growth.
Welcome to the Tourism Industry Association of Ontario.
We are your association, and we are here for you!
SAFE TRAVELS STAMP

 ADMINISTERED BY TIAO

TIAO has been chosen by the World Travel and Tourism Council (WTTC) to administer the Safe Travels Stamp in Canada. The Safe Travels Stamp is an international symbol designed to allow travellers to recognize governments and companies around the world, which have adopted health and hygiene standardized protocols  – so consumers can experience 'Safe Travels'.

Apply here.

See list of successful applicants here.
LE PROGRAMME DE 

RELANCE DU TOURISME FRANCOPHONE

Nous sommes fiers de soutenir le programme de relance du tourisme francophone, en collaboration avec La Société Économique de l'Ontario et l' Assemblée de la francophonie de l'Ontario. Ce programme est dédié exclusivement aux PME et OSBL touristiques francophones du Sud-Ouest de l'Ontario! Afin de soutenir une relance efficace de ce secteur important pour l'économie ontarienne, et contrecarrer les répercussions négatives causées par la pandémie, le Programme de relance du tourisme francophone dans le Sud-Ouest de l'Ontario fournira une contribution non remboursable (subvention) pouvant atteindre 20 000 $ pour soutenir les coûts ponctuels d'adaptation et de réouverture des entreprises et des organisations touristiques francophones situées dans le Sud-Ouest de l'Ontario, du Nord de Toronto allant jusqu'à Windsor vers l'Ouest, et sera disponible jusqu'au 31 Décembre 2021. Les bénéficiaires devront fournir un montant minimum de 20% aux coûts totaux du projet.

Inscrivez-vous dès maintenant ici.
HAPPY PRIDE 
MONTH 2021
TIAO is proud to work with the Canadian Gay & Lesbian Chamber of Commerce to ensure better representation and inclusiveness in the tourism industry. CGLCC have a plethora of resources directly targeting education and awareness in Diversity, Equity and Inclusion. 
Related:
JUNE IS NATIONAL

 INDIGENOUS HISTORY MONTH

June is National Indigenous History Month. We commemorate this time to recognize the history, heritage and diversity of First Nations, Inuit and Métis peoples in Canada.

National Indigenous History Month 2021 is dedicated to the missing children, the families left behind and the survivors of residential schools.

Take this time to learn about the rich and diverse cultures, voices, experiences and histories of First Nations, Inuit and Métis peoples.

Related:
---
GOVERNMENT RELEASES
-----------------------------------------------------------------------------------
Government of Canada Announces Details of the New Canada Recovery Hiring Program and Extension of Business Support Programs
Department of Finance Canada
Deputy Prime Minister and Minister of Finance, the Honourable Chrystia Freeland, and the Minister of Small Business, Export Promotion and International Trade, the Honourable Mary Ng, announced that the new Canada Recovery Hiring Program, would be available retroactively to June 6, 2021.The Deputy Prime Minister and the Minister of Small Business also detailed the proposed extension of business support programs that have served as a lifeline to Canadian businesses through the pandemic. This includes the proposed extension of the Wage Subsidy, Rent Subsidy, and Lockdown Support until September 25, 2021. The Deputy Prime Minister and the Minister of Small Business also announced that the Business Credit Availability Program and Highly Affected Sectors Credit Availability Program are being extended to December 31, 2021. 
Black Entrepreneurship Loan Program
Government of Canada
The Government of Canada has announced that the Black Entrepreneurship Loan Fund is now accepting loan applications from Black business owners and entrepreneurs through the Federation of African Canadian Economics (FACE). It will provide loans up to $250,000 to Black business owners and entrepreneurs. Loans can be used for capital investments, working capital, short-term receivable financing.
To learn more and to apply click here.
Ontario Seeks Input from the Francophone Community
Francophone Affairs
Ontarians are invited to take part in a province-wide online consultation that will help improve access to services in French in the province. This consultation seeks input from the general public and a wide range of stakeholders on how to improve access to French-language services. This solution-focused approach will help identify legislative barriers, best practices and innovative delivery models that can strengthen and expand the provision of these services. As part of a broader approach, the consultation will also help the government gather valuable input on how to improve recruitment and retention of Francophone and bilingual personnel, which is vital to the delivery of high-quality services in French.
Ontario Updating AstraZeneca Second Dose Guidance
Health
The Ontario government, in consultation with the Chief Medical Officer of Health and other health experts, is providing updated guidance for individuals who received the first dose of the AstraZeneca vaccine and who have not yet received their second dose, to allow for the mixing of COVID-19 vaccines if desired. This decision is in alignment with updated guidance from the National Advisory Committee on Immunization (NACI) recommendation.
Remote Learning to Continue across Ontario for the Remainder of School Year
Office of the Premier
To best protect Ontario families from the fast growing B.1.617.2 variant, and to allow for higher rates of vaccination of students, staff, and families, the Ontario government has made the difficult decision to continue with remote learning for all elementary and secondary students across the province for the remainder of this school year. This will allow the province to continue its focus on accelerating COVID-19 vaccinations to support a safer summer and return to in-person learning in September for the 2021-22 school year.
Ontario Maintains COVID-19 Restrictions after Stay-at-Home Order Expires
Solicitor General
As was previously announced, Ontario's Stay-at-Home order expired on June 2, 2021. All other public health and workplace measures remain in place province-wide until Ontario enters Step One of the Roadmap to Reopen, at which point some restrictions will ease with an initial focus on outdoor settings.
Ontario Investing in Community Museums
Heritage, Sport, Tourism and Culture Industries
The Ontario government is investing more than $4.9 million through the Community Museum Operating Grant to support community museums across our province.
Details were provided today by Lisa MacLeod, Minister of Heritage, Sport, Tourism and Culture Industries. Minister MacLeod was joined by Michael Parsa, MPP for Aurora-Oak Ridges-Richmond Hill, who sponsored a private member's bill that led to the creation of Ontario Day, which will be commemorated annually on June 1.
FedDev Ontario investment supports recovery of Ontario's Highlands' tourism sector
Government of Canada
Tourism is essential to the vitality of businesses and communities in Ontario's Highlands, including those in rural areas, with visitors traditionally drawn to the area's natural and cultural attractions. The sector has been hit hard by the impacts of the COVID-19 pandemic in the past year, and tourism-related businesses are working hard to build back stronger.
On June 1, 2021, Marie-France Lalonde, Parliamentary Secretary to the Minister of Economic Development and Official Languages (FedDev Ontario and Official Languages), announced a non-repayable FedDev Ontario investment of $1 million to support the tourism industry's recovery in Ontario's Highlands.
Related:
Ontario Making it Affordable and Easier to Visit Ontario Parks
Environment, Conservation, and Parks
The Ontario government is making it easier and more affordable to get safely outdoors and enjoy nature by providing free day-use permits at 115 provincial parks from Monday to Thursday until September 2, 2021. Starting June 7, visitors will also be able to guarantee access to 17 select provincial parks to avoid long line-ups during popular and busy visitation times by obtaining a daily vehicle permit in advance. Doing so will help avoid crowding, helping to make it safer for the public to enjoy Ontario Parks.
Related:
Ontario Accelerates Rollout of Second Shots Targeting a Two-Dose Summer
Office of the Premier
Ontario has reached a key milestone in its fight against COVID-19, having achieved its target to administer first doses to 65 per cent of Ontarians aged 18 and over ahead of schedule. Ontario is also preparing to roll out the eligibility for accelerated second dose appointments starting with individuals aged 80 and over, beginning on May 31, 2021. If there is sufficient vaccine supply, it is anticipated that the majority of Ontario residents who choose to receive the vaccine will be able to be fully vaccinated by the end of summer.
Ontario Providing Training for Tourism Jobs
Labour, Training, and Skills Development 
The Ontario government is investing $1.25 million through Destination Northern Ontario to provide 300 people with free training to work in Northern Ontario's tourism industry. The project will benefit people who have lost their jobs because of COVID-19 and benefit businesses and employers by ensuring they have the resources they need to attract and retain workers.
Related:
INDUSTRY NEWS
-----------------------------------------------------------------------------------
City Announces New Director of Tourism/CEO of Tourism Mississauga
City of Mississauga 
The City of Mississauga has selected Victoria Clarke as its new Director of Tourism effective May 31, 2021. The Director of Tourism has also been appointed as the CEO of Tourism Mississauga, a position previously held by Shari Lichterman, the City's Commissioner of Community Services. The position of Director of Tourism was developed to provide dedicated executive leadership for the tourism portfolio in Mississauga and to lead Tourism Mississauga in supporting a strong recovery from the pandemic for the tourism and hospitality sectors.
TIAC & GreenStep Launch the Sustainable Tourism 2030 Pledge
TIAC 
It's Canadian Environment Week and together GreenStep Solutions and the Tourism Industry Association of Canada (TIAC) are excited to announce the launch of the Sustainable Tourism 2030 Pledge. The Sustainable Tourism 2030 Pledge is a new initiative that encourages tourism businesses and destinations across Canada, and globally, to commit to measuring and improving their sustainability performance each year between now and 2030. 
Developed in Canada by GreenStep, the Sustainable Tourism 2030 Pledge offers a free online assessment and sustainability score, helping tourism businesses and destinations self-assess on a broad range of sustainability criteria.
To learn more and to take the pledge, click here.
Perth County Launches NEW Discover More Flavour Farm Gate Map Program
Perth County
The new and improved Discover More Flavour Farm Gate Map program has officially launched in Perth County. The revamped Farm Gate Map is now available in print and online to assist residents and visitors in discovering locally produced food and unique agricultural experiences across the county.
To explore the new Farm Gate Map program online click here.
Provincial input still needed before border changes: Hajdu
CBC News
Health Minister Patty Hajdu says she expects to consult with provincial counterparts on travel restrictions this coming week after an expert panel called for an end to the current three-day quarantine system and amid increasing pressure from both sides of the border.
The health minister said she wants to hear the perspectives of the provinces before making any decisions on easing restrictions.
FedDev Ontario supports tourism sector's recovery across Eastern Ontario
Mirage News
Tourism across Eastern Ontario is essential to the vitality of the region and contributes significantly to Canada's economy. From its extraordinary waterfront to vibrant downtowns to Indigenous cultural tourism attractions, the region has historically brought in millions of annual visitors.
Marie-France Lalonde, Parliamentary Secretary to the Minister of Economic Development and Official Languages (FedDev Ontario and Official Languages), announced a non-repayable FedDev Ontario investment of $750,000 to support the tourism industry in communities across Eastern Ontario.
Related:
Federal government invests $500,000 to help tourism sector recover in Peterborough and the Kawarthas
Kawartha Now
The federal government is investing $500,000 in Peterborough & the Kawarthas Economic Development (PKED) to assist the region's hard-hit tourism industry.
The funding, which comes from the Federal Economic Development Agency for Southern Ontario (FedDev Ontario), is supporting the PKED's Tourism Resiliency Fund Program, delivered in partnership with the Community Futures Peterborough, the City of Peterborough, the eight townships of the County of Peterborough, and Hiawatha and Curve Lake First Nations.
E-bike rentals coming soon to Manitoulin Island
CTV News Northern Ontario
The tourism sector in northern Ontario is getting ready to welcome visitors once it is safe to do so. More than $473,000 in funding from Ottawa will allow three tourism-related projects in the Algoma-Manitoulin region to move forward.
On Manitoulin Island, the Dawson Citizens Improvement Association will receive $254,700, which will be used to upgrade and restore the Meldrum Bay marina boardwalk, wharf and docks. Manitoulin Island Cycling Advocates will receive $64,200 to improve cycling infrastructure. The money will allow the organization to create a network of 20 electric bicycles for rent and build seven quick charging stations in strategic locations across the island, which features 14 cycling routes totalling more than 850 kilometres. The third recipient is Blind River, where $155,000 will be used to implement the next phase of town's waterfront and downtown revitalization project.
Barrie, Collingwood and Orillia arts organizations receive 'critical' Ontario Cultural Attractions Fund cash
Simcoe.com
On May 21, Heritage, Sport, Tourism and Culture Industries Minister Lisa MacLeod announced a total of $4 million in funding to support 54 cultural tourism-based groups across the province through the Ontario Cultural Attractions Fund. Under this, Orillia's Mariposa Folk Foundation and the Barrie Film Festival/Talk is Free Theatre will each receive $50,000, while the Collingwood Summer Music Festival will get $10,000.
Talking about Tourism and the Impact of COVID-19
NetNewsLedger
The Tourism Sector has been hard hit with the impact of the COVID-19 pandemic. NetNewsLedger spoke with  Kenora MP Eric Melillo and Tony Baldinelli the MP for Niagara Falls and Conservative Shadow Cabinet as Special Advisor to the Leader on Tourism Recovery.
To watch the complete discussion click here.
Fleet Replacement Program
VIA Rail Canada
VIA Rail is getting a brand new fleet of trains! Beginning in 2022, VIA Rail Canada will be welcoming passengers onto 32 state-of-the-art and bidirectional trainsets in the provinces of Quebec and Ontario, where they serve over 4.7 million passengers a year. These new trains will replace their aging fleet while offering Canadians more reliable, comfortable and sustainable travel.
To view VIA Rail's final design of its new fleet click here.
This Ontario tourist destination is imposing huge fines to limit visitors this year
BlogTO
After a hectic tourist season last year, Prince Edward County is looking to deter crowds and traffic jams with huge fines and fees this summer. With the U.S. border and amusement parks closed, leaving few choices for travel or summer fun, nearby attractions were inundated with visitors last year.
2021 Hamilton Halton Brant Regional Tourism Awards Recognition Program Recipients Announced 
Hamilton Halton Brant Regional Tourism Association
In celebration of National Tourism Week, the Hamilton Halton Brant Regional Tourism Association (HHBRTA) salutes the spirit of tourism operators and their employees for their perseverance and contributions that they have made to the Ontario and Canadian economy over the past 15 months. The HHBRTA hosted a pan-regional industry gathering to celebrate the richness of the region and how each community delivers unique experiences vital to the tourism economy. In addition, the 2021 Regional Tourism Awards Recognition Program recipients were announced. 
For detailed information about the awards program and its categories, click here.
5 New Free Learning Resources for Tourism Operators & Destination Partners 
TIAC
The Tourism Industry Association of Canada (TIAC) launched the Elevating Canadian Experiences (ECE) program to help tourism stakeholders seize innovative opportunities in culinary tourism and in the winter and shoulder seasons (WSS). 
The ECE program was conceived as a series of in-person workshops held in rural and remote areas. But the program launch dovetailed with the pandemic and, like so many organizations, TIAC needed to pivot. And now, TIAC is pleased to announce the ECE content hub, where tourism industry stakeholders can access five new practical tools and resources developed for the program.
Access the free tourism industry tools and strategies at TIAC's ECE content hub here.
Perth County Launches New Snapshot Business Support Program
Perth County
The Economic Development and Tourism Division at Perth County is excited to launch the new Perth County Snapshot Program. The program is aimed at supporting businesses across rural Perth County who have been hard hit by providing them with professional photography packages to enhance their digital presence and support their COVID-19 recovery efforts. The program will support local businesses and will focus particularly on sectors disproportionately impacted by pandemic restrictions. Applications will be accepted online until June 7, 2021.
To view details and application criteria click here.
The Project : 101 Experiences
Northeastern Ontario Tourism 
More than 25 passionate Northeastern Ontario locals host online workshops as part of the "Ride the Third Wave" campaign. There are currently over 30 experiences available: 27 in English and 8 in French (some are in both languages), hosted by passionate locals from Kirkland Lake, Temiskaming Shores, Timmins, North Bay, Haileybury, Englehart, Black River-Matheson, Kapuskasing and Hearst. 101 Experiences is still reaching out to locals in these communities who have a passion, and also to those who see and value tourism and human potential of their community.
For more information on this program, click here.
Copyright © 2021

Tourism Industry Association of Ontario

, All rights reserved.
 

This email was sent by:
Tourism Industry Association of Ontario
439 University Avenue, Suite 1400
Toronto, Ontario, M5G 1Y8

 

You have received this email because you are a member or existing contact of Tourism Industry Association of Ontario, a membership organization powered by SilkStart. update notification preferences unsubscribe from this list