Over the course of the COVID-19 pandemic, 7 in 10 tourism operators in Ontario reported taking on debt to remain afloat, with 20% accruing over $100,000 in debt. In Northern Ontario, the situation is magnified, with resource-based tourism operators reporting an average debt load of over $185,000. CEBA, RRRF, and HASCAP loans have been critical to the survival of tourism operators. But as we have heard from operators, repaying these loans on the current schedule may further extend an already slow recovery time for tourism businesses dealing with critical labour gaps, the slow return of key markets, supply chain disruptions, and rising commercial costs.
Debt relief has been a key priority for TIAO throughout our advocacy for pandemic recovery. Through our meetings with provincial partners, we were able to successfully advocate for the extension of the repayment deadline to qualify for partial loan forgiveness for CEBA and RRRF loans (from December 31, 2022 to December 31, 2023). But at the current pace of recovery, further debt relief is needed.
Data released by Twenty31 in late May found significant enthusiasm for travelling in Ontario in the near future. Tourism in Ontario looks set to continue growing as travellers reassess their holiday plans in the wake of the COVID-19 pandemic and the cost-of-living crisis, according to a new survey of leisure travellers across the wider region. Continued support is needed to allow tourism businesses to focus on this opportunity, as opposed to concentrating on looming debt deadlines.
The Canadian Federation of Independent Business (CFIB) issued a release this week with new data showing that a quarter million businesses are at risk of closure as CEBA repayment deadline approaches.
The report released by CFIB entitled Back in Business? Spring Update on Small Business and CEBA also includes the following key results:
Of the nine in ten small businesses who used CEBA, three quarters accessed loans between $40,001 and $60,000, while one quarter received loans of up to $40,000.
Only 10% of CEBA users have repaid their loans.
A total of 43% of CEBA users risk missing the current repayment deadline by end of 2023. Small businesses in the arts, recreation, and information (62%), hospitality (61%) and social services sectors (46%) are most likely to miss the current CEBA deadline.
The smallest businesses with 0-4 employees are the most likely to miss the repayment deadline (49%)
Even among the 47% of small business owners who indicate they will meet the 2023 deadline, half say they will struggle to do so, and two-thirds would like to see an extension of the repayment deadline.
To support our asks, we need to have up-to-date, substantive data that shows the extent of the debt load among tourism operators. That's why as part of the Provincial Territorial Tourism Industry Association of Canada (PTTIA), we launched, with the Tourism Industry Association of Canada (TIAC) and Nanos Research, a survey project to gather critical information about the debt load of tourism operators across Canada and their current capacity to repay CEBA, RRRF, and HASCAP loans. Thank you to all of our members who took part in this critical survey. We will be working with our partners to release this information in the near future, and will continue to prioritize this issue in our advocacy efforts.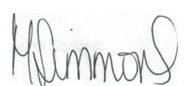 Madison Simmons
Vice President, Public Affairs