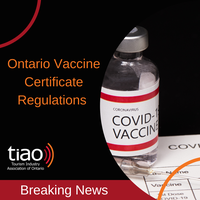 The Government of Ontario has released guidance on the vaccine certificate and proof of vaccination. As of September 22, 2021, the government will require patrons to be fully vaccinated and provide proof of their vaccination status and proof of ID to enter certain businesses and organizations, with a focus on higher-risk indoor public settings. Requiring proof of vaccination to enter the specified businesses and organizations is based on the risk of the setting and aligns with the goals of overall provincial response to COVID-19 by:
Limiting COVID-19 transmission and outbreaks

Encouraging vaccination

Supporting Ontario's businesses in remaining open
The government has also set new targets to beat the Delta variant of COVID-19, they have set a target rate of 90% of the eligible population (12+) to have received their first dose and second dose of a vaccine. These new targets are not for exiting Step 3 and capacity limits are remaining the same.
In regards to the proof of vaccination general guidelines, the proof of vaccination rules are for patrons only, not staff, businesses can implement their own proof of vaccination policy if not covered by these regulations, but need to seek their own legal advice. Additionally, other public health and workplace safety measures will still apply, including masking, screening, and track and trace.
In order to be considered 'fully vaccinated,' patrons must have received:
The full series of a COVID-19 vaccine authorized by Health Canada

Health Canada-authorized COVID-19 vaccines: Pfizer-BioNTech, Moderna, AstraZeneca, Johnson & Johnson

A combination of doses of COVID-19 vaccines authorized by Health Canada

One dose of a Health Canada-approved COVID-19 vaccine plus one dose of a COVID-19 mRNA vaccine not approved by Health Canada

3 doses of a COVID-19 vaccine not authorized by Health Canada

PLUS 14 days elapsed since the 2nd dose by the time proof of vaccination provided

Trial vaccines will NOT be accepted**
Providing Proof of Vaccination
Proof of vaccination can be shown on paper or on mobile device (e.g., PDF)

Accepted ID does not need to be photo ID – only requires name & DOB (information must match proof of vaccination document)

Accepted forms of ID:

Birth certificate

Citizenship card

Driver's licence

Government-issued ID card (Ontario issued or other), including health card

Indian status card/indigenous membership card

Passport

Permanent resident card

The patron must provide proof of being fully vaccinated and proof of ID at the point of entry to the required setting

Patrons cannot pre-display or upload proof of vaccination: no data retention of data allowed

The business or organization must review and confirm proof of ID and vaccination – they are responsible for ensuring they meet the requirements to check for proof of vaccination and ID from patrons

The patron seeking entry is solely responsible for demonstrating that they are legitimate holders of the vaccination receipt

Patrons are not allowed to enter a business or organization if the name and DOB on both documents do not match
Below is a list of the businesses and organizations in which proof of vaccination will be required:
Indoor areas of commercial film & TV productions w/ studio audiences

Indoor areas of waterparks

Indoor areas of concert venues, theatres, cinemas

Indoor areas of restaurants, bars, other food & drink establishments (excluding outdoor patios & takeout)

Indoor food service/food courts (e,g., café at costco)

Indoor AND outdoor areas of food & drink establishments with dance facilities (e.g., nightclubs, restoclubs; excluding takeout)

Indoor areas of horse racing tracks, car racing tracks, & other similar venues

Indoor areas where spectators watch sporting events

Indoor areas of casinos, bingo halls, other gaming establishments

Indoor areas of facilities for sports & recreational fitness activities, including personal fitness training

Indoor meeting & event spaces (e.g., banquet halls, conference/convention centres)
Proof of Vaccination Exemption:
Children under 12

Patrons under 18 entering the indoor premises of a sports and recreational facility in order to participate in an organized sport ONLY

Patrons with a medical exemption (must present ID AND written document) – must have written documentation from a doctor or nurse stating they are exempt for a medical reason from COVID-19 vaccination

At weddings, funerals, rites, and ceremonies you do not need to show proof of vaccination if:

The service is held in a meeting or event space and you are attending the wedding funeral, rite, or ceremony but not the social gathering (e.g., reception)

The associated social gathering is held in a business licensed under the Funeral, Burial, and Cremation Services Act
Enforcement of Proof of Vaccination:
All provincial offence officers: by-law, police, public health inspectors, regulatory officers from ministries & agencies can enforce proof of vaccination

Non-compliance by individuals and business can result in charges & fines

Provincial offence officers may take a measured approach to enforcing orders that balance public safety, health, & other risks businesses owners are managing

Starting this week, officers are visiting businesses and organizations to raise awareness of new proof of vaccination requirements

The government will also provide information on tools and resources to help businesses and organizations implement the necessary COVID-19 safety plan measures – e.g., workplace violence & harassment measures

In the event of harassment or threats of violence, contact law enforcement
For more information on the vaccine certificate, please read the following:
Proof of Vaccination Guidance for Businesses and Organizations under the Reopening Ontario Act (gov.on.ca)
Vaccine Update: The Last Mile Technical Briefing
MOH briefing on vaccine certificate
---