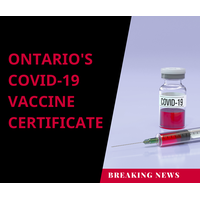 Ontario is currently in the fourth wave of the COVID-19 pandemic. To curb the spread of the Delta variant and keep businesses open, the Government of Ontario is introducing an enhanced COVID-19 vaccine certificate system.
Starting September 22, Ontarians will need to be fully vaccinated (2 doses plus 14 days) and provide proof of vaccination along with photo ID to access higher-risk indoor public settings and facilities where face coverings cannot always be worn.
September 22 – October 21: Proof of Immunization Required
From September 22 to October 21, Ontarians will need to present their COVID-19 vaccine receipt (paper copy or PDF copy on a mobile device) along with photo ID in order to enter the higher-risk indoor settings outlined below. These documents must be presented when entering the establishment – they cannot be pre-displayed in advance of entering.
From October 22 Onwards: Digital COVID-19 Vaccination Certificate and Verification App
COVID-19 vaccination certificates will be issued to Ontarians by the province and will include a unique QR code containing similar information as the current paper/PDF certificate. This digital QR code system aims to protect data privacy by limiting the personal health information displayed (e.g., displaying a simple yes/no plus name when scanned). It will incorporate standard technology to enable it to be read across jurisdictions outside of Ontario and to make it interoperable with the federal vaccine passport for international travel.
To reduce the burden on businesses, the province is also developing an app for businesses to scan the QR code on a holder's vaccine certificate and to verify the contents of the QR code. This app will be ready by October.
Starting October 22 (once the QR code verification app launches), organizations and venues will scan the unique QR codes on vaccine certificates to verify their authenticity. Individuals can print their vaccine certificate or store it on their mobile device to be presented when entering the establishment – the vaccine certificate cannot be pre-displayed in advance of entering.
The province will be establishing exception processes for clients with red and white health cards, or clients who have a photo health card but did not provide it at the time of vaccination.
Where Proof of Vaccination Will Be Required:
Restaurants and bars (excluding outdoor patios, delivery, and takeout)

Night clubs (including outdoor areas of the establishment)

Meeting and event spaces (e.g. banquet halls and conference/convention centres)

Facilities used for sports and fitness activities and personal fitness training (e.g. gyms, fitness and recreational facilities with the exception of youth recreational sport)

Sporting events

Casinos, bingo halls and gaming establishments

Concerts, music festivals, theatres and cinemas

Strip clubs, bathhouses and sex clubs

Racing venues (e.g. horse racing)
Proof of vaccination requirements will apply only to customers, not staff.
Where Proof of Vaccination Will NOT Be Required:
Outdoor settings where the risk of transmission is lower, including patios (except for nightclubs)

Retail shopping

Personal services

Accessing government services

Workplace settings
Exemptions
No one will be prevented from accessing necessary medical care, food from grocery stores, basic medical supplies or other essentials based on vaccination status. This includes voting in the upcoming federal election.
Unvaccinated people with medical exemptions and children under age 12 will be permitted to enter settings requiring proof of vaccination.
A negative COVID-19 test or recent COVID-19 infection will not enable a person to enter the above settings.
*For indoor wedding and funeral receptions taking place between September 22 and October 12, a negative rapid antigen COVID-19 test taken no more than 48 hours before the event will be accepted.
Obtaining Your Vaccine Receipt – Ontarians
Ontarians currently have access to paper/PDF receipt that includes all their clinical vaccination information. This receipt includes the user's name, date of birth, the last 4 digits of the user's health card, date of vaccination dose, vaccination type, and authorizing organization.
Individuals with a green photo OHIP card can also log in to the provincial portal to download or print an electronic COVID-19 vaccine receipt (PDF). Individuals will need their green photo OHIP card, date of birth, and postal code. If you have a red and white health card, please call the Provincial Vaccine Booking Line at 1-833-943-3900 to receive a copy of your vaccination receipt by email.
Those who received their first or second dose of the COVID-19 vaccine out-of-province should contact their local public health unit to record their information and receive proper documentation.
For questions about how to access vaccination record, Ontarians can contact the Provincial Vaccine Information Line at 1-888-999-6488 (for people who are deaf, hearing-impaired or speech-impaired: 1-888-797-0007). Information is available in more than 300 languages and the line is available 8am to 8pm, 7 days a week.
Obtaining Your Vaccine Receipt - Out-of-Province and International Visitors
Those who received their first or second dose of a WHO-approved COVID-19 vaccine out-of-province should contact their local public health unit to record their information and receive proper documentation.
Enforcement
The province will use the reopening framework to support enforcement. Warnings followed by penalties will be issued to individuals and businesses contravening these regulations. Fines will be issued for fraud and impersonation (up to $750 for individuals and higher amounts for businesses). MLTSD (Ministry of Labour, Training and Skills Development) and law officers will enforce these regulations.
To read the Ontario News release, please click here.
To read Ontario's New Requirement for Proof of Vaccination in Certain Settings: Frequently Asked Questions please click here.
---