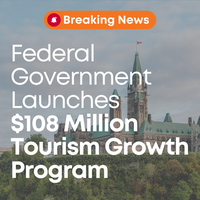 Today, the Hon. Soraya Martinez Ferrada, Federal Minister of Tourism, announced the launch of the Tourism Growth Program (TGP) as part of the previously announced Federal Tourism Growth Strategy. With $108 million in federal funding, the TGP will be delivered by Canada's seven regional development agencies over three years, starting in 2023-24. The regional development agencies will deliver the program funding directly to businesses and other organizations.
The TGP will support Indigenous and non-Indigenous communities, small and medium-sized businesses, and not-for-profit organizations in developing local tourism products and experiences. Tourism projects will align with the Federal Tourism Growth Strategy in supporting sustainable tourism, outdoor experiences, Indigenous tourism, seasonal expansion, and tourism in rural and remote areas, with the goal of diversifying regional economies and supporting economic growth. Approximately 15% of TGP funding will support Indigenous-led tourism initiatives.

To read the news release, see here.

For any inquiries or to learn more about the TGP, please reach out to Alexander Miceli, Manager of Policy and Government Affairs, at amiceli@tiaontario.ca.
---