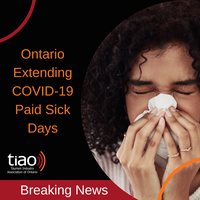 The COVID-19 Worker Income Protection Benefit was set to expire at the end of this month, however the Ontario government is extending the program to July 31, 2022. The program was launched in April 2021 and allows employees to take a maximum of 3 sick days over the course of the program.
The program requires employers to provide all their employees with up to three paid days off for a range of reasons related to the pandemic, including getting vaccinated against COVID-19, showing symptoms, or caring for a sick family member. Through the program, the government reimburses employers who do not normally give their workers sick pay with up to $200 per employee per day.
Employers have submitted claims for more than 235,000 employees and have been reimbursed more than $80 million in wages, according to the Ministry of Labour, Training and Skills Development. The government has budgeted $1 billion for the program.
The province is also extending temporary changes to the Employment Standards Act that prevent temporary layoffs of non-unionized employees from becoming unwanted terminations, which can trigger payments and force businesses to close. This measure will now be extended until July 30, 2022.
For the full news release, please visit here Ontario Extending COVID-19 Paid Sick Days | Ontario Newsroom
---