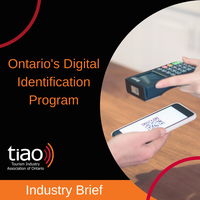 Ontario's Digital ID program is set to launch in late 2021. Ontarians will have an electronic version of their government ID (I.e., driver's license and health card) which will be stored in a digital wallet app. The app will be available for download onto smartphones and other devices, including tablets and computers.
The digital ID will allow people and businesses to prove who they are both online and in person, and it offers more privacy to users. For example, if you need to prove you're 18, the verifier will only know you are over 18 and not your DOB or actual age.
Further, the digital ID is not stored in a central database, it is only saved on your own personal device and can be turned off if your device is stolen. The government will not be able to track you or know where you used your digital ID. The digital ID is not useable without your permission, you must consent before sharing any information.
Ontario's digital ID will also be able to be used in relation to the vaccine certification program which is set to launch on September 22, 2021. The program requires government-issued photo ID to be used alongside the vaccine certificate.
The digital ID will be available to use at the settings below (this list is set to increase over the years as the program develops):
Making an age-sensitive purchase (like a lottery ticket)

Picking up a package at the post office

Applying for government assistance (such as disability support) or benefits (such as CERB or EI)

To access and use vaccination records

Opening a bank account

Make a medical appointment

Visiting a doctor

To access medical records online

Get, renew or replace a driver's licence

Apply for, renew or replace a health card

Renew or replace a licence plate sticker
The program has not yet launched, but when it becomes available, users will be able to download the app to their mobile device or computer. The app will require users to sign up for the program and verify their ID online or in person.
For more information on Ontario's digital ID program, please visit Digital ID in Ontario | Ontario.ca
---