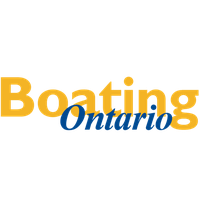 We're featuring a special TIAO Member each month to share with the #TourismFamily what they do, and how they connect with TIAO. Learn something new about your tourism industry colleagues, and the value of a TIAO Membership!
This month we talked to Rick Layzell, CEO, at Boating Ontario.
Please note that this interview has been edited for clarity.
---
Tell us about your organization and its role within Ontario's tourism industry.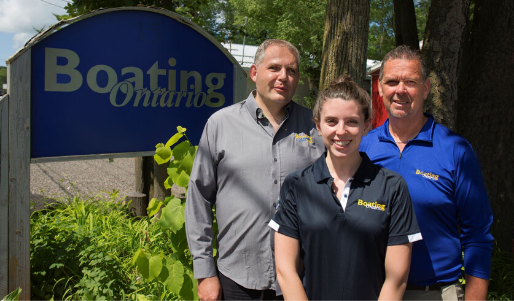 "I'm Rick Layzell, CEO of the 52-year old Boating Ontario Association – we represent over 530 member companies across the province of Ontario that serve every element and anything to do with the sport of recreational boating. This includes everyone from municipally run marinas, privately managed marinas, dry land boat dealership facilities, service facilities, finance and insurance partners, engine companies, distribution centres, and everything in between."
"The Toronto Boat Show is a corner stone of our industry and as the largest indoor boat show in North America the annual January event really does set the stage for our season. The January 2020 show will be my 30th year at this one. Throughout my career I have always been an active volunteer serving and supporting the growth of our industry including several stints as a Director on the Boating Ontario Board."
"Boating Ontario has three full-time staff members in Penetanguishene, Ontario: myself [Rick Layzell] Duane McKay, who has been with the association for almost twenty years, and Madi Lacey, who joined us three months ago from a family run marina that her great grandfather built."
"In January of 2018, we undertook creating a strategic plan for the organization, with the assistance of Christine Dodd from the Ministry of Heritage, Sport, Tourism & Culture Industries. It was a pretty daunting three days for our group but it really defined pillars of our strategy plan. This plan also allowed us to create a new mission statement that really underlines the work and the specific areas that we put our time and effort into."
"The pillars of the plan are Business Development, Workforce Development, Government Relations, Increasing Boating Participation & Increasing Membership value. Our mission statement is simply 'Boating Ontario provides a foundation to support and grow the recreational boating lifestyle while protecting the environment and enhancing the sustainability of its members.'
How long have you been a TIAO Member and why did you join?
Boating Ontario has been a TIAO Member since 2006.
"I have been a supporter of TIAO in any way I can since we joined, both in events and meetings, and it has certainly been a phenomenally successful relationship."
How has being a member of TIAO provided value for your organization?
Rick spoke to TIAO advocating on behalf of the industry as a major source of value.
"The service plate for boat trailers is the best example. When I sat down in the TIAO office with Carol and Beth in June of 2018, and Beth asked, "what is your number one issue at Boating Ontario?" - I brought up the trailer plate and Beth said, "we are going to roll up our sleeves, we are going to help you open doors." And that is exactly what happened. It is because of TIAO that the recreational boating world can now legally move a boat on a trailer with a service plate. "
What are you working on right now?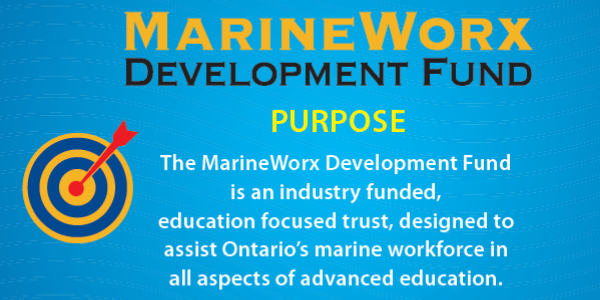 MarineWorx Development Fund: Industry Led Solution for Labour Shortage and Retention of Workers
"In early 2018, we created the Marine Worx Development Fund, that is designed as an industry funded education focused platform to support education growth in all aspects of our industry."
"In the first twelve months of the program we dolled out just north of $15,000 and we touched about 45 different employees from across the market. That includes: $100 membership reimbursements, tool bursaries for students taking the skills training marina technician program at Georgian College, and travel and accommodation bursaries for students taking the eight month program that have to rent housing while they're here. We have a budget and a plan that will see the $15,000 that we donated this year double in the period of August 1st, 2019 to July of 2020."
Issues Agenda:
Rick discussed two daunting issues affecting the boating industry.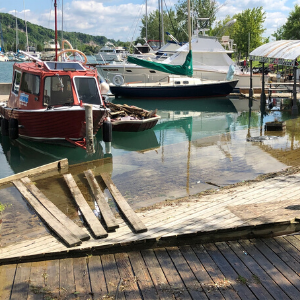 "The first is water levels that are managed by the International Joint Commission (IJC). There are only two dams that control the Great Lakes, one is at the top of the end of Lake Superior and the other is in Cornwall, and we have watched the devastation across our industry, along many shoreline homeowners, communities, and businesses. This was seen both in 2017 where we set 100 year record levels for flooding, and again in 2019 where the 100 year record levels were absolutely surpassed."
"We are very concerned about water levels in some areas of Lake Ontario because its 16 inches higher than it should be at this time of year. If that water doesn't get out of Lake Ontario, those impacted businesses will not survive Spring of 2020. We are going to lose marinas and people are going to lose their homes and their jobs next year."
"The other major concern we have is that during the federal election the Liberals & the NDP campaigned on the promise that they will introduce a luxury tax on boats over $100,000. These boats represent about 15% of the volume of this industry, and close to 30% of the sales revenue – and the taxes that government collects from these sales - of our industry. In today's market there are countless middle class families that choose to buy fishing, pontoon and family runabouts that sell for over $100,000. I am already strategizing with my counterparts across Canada and the team from the National Marine Manufacturers Association on how we battle this proposal."
2019 Boating Ontario Conference: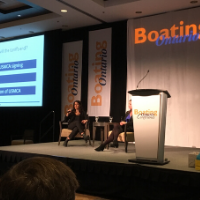 "We are so incredibly excited for the conference this year. We have designed the event from direct feedback from our members, so it is centered around networking and knowledge sharing. We have created an entirely new event for the Monday evening. What was traditionally referred to as a Trade Show is now called BOATS, which stands for the Boating Ontario Annual Trade Show. BOATS will feature a live band, Minister MacLeod coming to provide welcome remarks, and the Mayor of Niagara Falls welcoming our group. There will be a lot of networking that evening, followed by a heavy hitting platform of presentations Tuesday & Wednesday designed to educate all members.
"Our breakout sessions on Tuesday will include a presentation from TIAO, and we continue to educate our members on the importance of incorporating tourism into their business planning."
"This inaugural summit is taking place on January 23rd, 2020. This is an event being hosted during and on site at the Toronto International Boat Show. Our objective is to bring decision makers and government officials from municipalities across the province with an idea to say: look at your town from the water, not just from the towns and highways. We're going to provide an education platform that discusses the impact that recreational boating can have on your town. Our objective is to see somewhere in the area of 100 officials join us. The creation of this and the leg work behind this has a number of partners, including TIAO, Parks Canada, the Toronto International Boat Show, and the Ministry of Heritage, Sport, Tourism & Culture Industries. We think this is something that could be an annual event at the boat show. We are really excited about this."
If you had to give a piece of advice to another organization as to why they should get involved in the community or get involved in advocacy initiatives, what would you recommend?
"My relationship with TIAO is worth every dollar of what we invest, and I have used these exact words with my board. When my board looks at the budget and says what is the ROI? It is so easy for me to define the results from the investment we make in this partnership, both tangible and intangible. It was at a TIAO lobby day at Queen's Park that connected me with MPP Norm Miller representing Parry Sound – Muskoka, and now I reach out to his office and I hear back in less than a day. And it really was TIAO's December 2018 lobby day that opened that door, and that is priceless to me, because I can get things done for our industry."
What's your favourite thing about TIAO and why?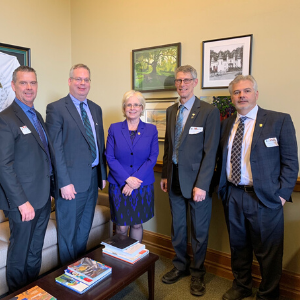 Rick pointed to the ease of building relationships with government and working in collaboration as his favourite thing about TIAO.
"I think one of the most important elements of our membership with TIAO is that I don't have to be the expert at understanding all things tourism and I have so many doors opened for me to key government people. Our TIAO relationship has been so fundamentally successful for us because you open doors within government for us to get our issues, not only mentioned and heard, but also moving."
"Another element of my TIAO membership that is so beneficial is that I have direct lines to government stakeholder events. My first AMO conference in 2018 was an opportunity for me to be at the table, and now at AMO this year I was much more active and engaged in the meetings and the outcomes. I think the sense of unity that comes from walking into a room [at AMO, or other events] with other likeminded groups is huge for me. When we as a TIAO tourism delegation walk in together to meetings, and talk with the Minister and their teams, there is so much strength to us a group."
Thank you to Rick for sharing his enthusiasm about the boating industry, for sharing support for TIAO, and for being our member of the month for October!
---