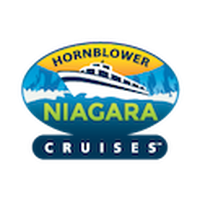 We're featuring a special TIAO Member each month to share with the #TourismFamily what they do, and how they connect with TIAO. Learn something new about your tourism industry colleagues, and the value of a TIAO Membership!
This month we talked to Mory DiMaurizio, General Manager at Hornblower Niagara Cruises.
---
Please note that this interview has been edited for clarity.
Who are you and what do you do? Tell us about your organization and its role within Ontario's tourism industry.
"Hornblower Niagara Cruises is a day one experience. People tend to come see us on their first day in town, whether it's for the (daytime) Voyage to the Falls, or evening fireworks cruises. Some folks also [visit] the lower landing for food, drinks and live entertainment, which not a lot of locals know about."
Mory emphasized, however, that it's the physical waterfalls themselves that truly bring people to Niagara to experience Hornblower cruises.
"All of us have that natural wonder to be thankful for—we [organize] our amenities and attractions and hotels and everything around it to accommodate the people that come to Niagara Falls. It's the environment, it's the city, it's Niagara as a destination that's so important."
Nevertheless, Hornblower Niagara Cruises has certainly seen success since it began operations in 2014.
"Our passenger count went from 1.6 million in our first year, to around 2.4 million this year. We're really proud of the fact we're Canada's number one gated attraction in terms of visitation."
Hornblower has received prestigious accolades for its work, including an award for Green Tourism for a commitment to sustainable tourism, and a 2018 Travelers' Choice Award from TripAdvisor. The organization has also expanded operations in Niagara Falls to include on- and off-water experiences.
"We have a purpose-built vessel just for private charters—we see a lot of celebrities and VIPs make good use of that. And for the land-based side of things, we [host] weddings, bar mitzvahs, all kinds of celebrations and events on a regular basis. We're really a multi-faceted site, not just a boat tour anymore."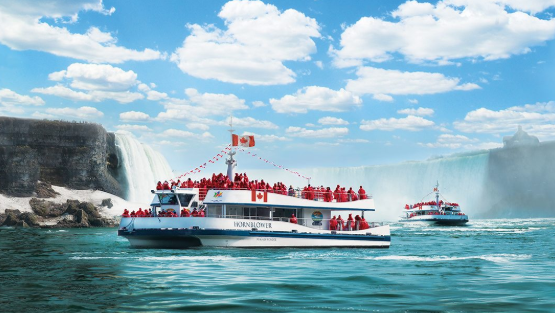 How long have you been a TIAO Member and why did you join?
Hornblower Niagara Cruises has been a TIAO Member since 2014.
"We're part of the tourism community. As such, it's important for us to join organizations and associations such as TIAO so that we're strategically aligned with them, as well as with other partners and significant stakeholders within our region.
"We're because of tourism. People aren't coming to Niagara Falls for any other specific purpose than to enjoy the wonderful space that is here: the environment, the parks, the water. All of us attractions, hoteliers, retailers, entertainers, everybody else in town really capitalizes on the fact that we are a tourist destination, which is why it's important for us to always be aligned and support tourism associations like TIAO so long as we continue to be successful here in Niagara Falls."
How has being a member of TIAO provided value for your organization?
"It's the gathering of information. When you get like-minded people together in associations, or at conferences [and] events—people striving to analyze the same information that you are—you can compare notes, compare experiences, get multiple data points and then seriously create your marketing and strategic plans on a go-forward basis by collaborating with TIAO and others."
What's your favourite thing about TIAO and why?
Mory pointed to opportunities for networking, collaboration and information sharing as Hornblower's favourite thing about TIAO.
What are you working on right now?
"One of the things that we've been working on this past year was the Hornblower Niagara Funicular. Before the elevator cars existed to get folks down to the lower landing at the bottom of the gorge, [the funicular] is what [transported them], 30 some odd years ago.
"It was buried in the trees for quite a long time, decades. Working with the Niagara Parks Commission and the Ministry of Natural Resources and Forestry, we cleared the trees appropriately to make room for what would be a new funicular incline railway.
"We created an old-but-new incline railway that's been upgraded for capacity, is completely AODA (Accessibility for Ontarians with Disabilities Act) compliant, and has all the bells and whistles of modern times built into it."
The Hornblower Niagara Funicular is enclosed in glass, showcasing 360-degree views of the Niagara Gorge. Groups or VIPs that ride the funicular will experience a new way of getting down into the gorge, as well as visually spectacular views while descending. The trip takes about three minutes.
"It's also a way for us to sustain the passenger growth that we've been experiencing for the last four years. The funicular has the same capacity as the four available elevator cars, so it represents our success going forward and the future of building the business."
Many thanks to Hornblower Niagara Cruises for being TIAO's Member of the Month for July, and to Mory for speaking with us during peak season! #TourismFamily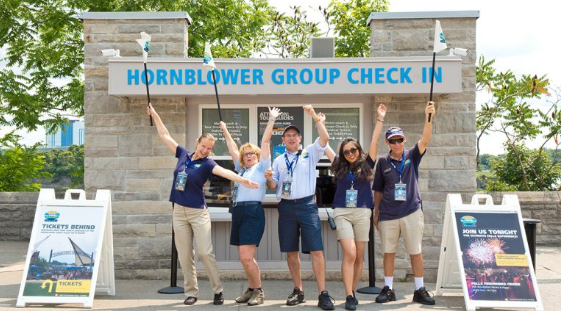 ---