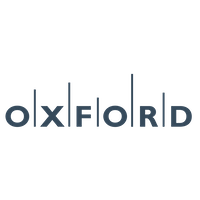 We're featuring a special TIAO Member each month to share with the #TourismFamily what they do, and how they connect with TIAO. Learn something new about your tourism industry colleagues, and the value of a TIAO Membership!
This month we talked to Lesley Boughen, Tourism Manager for Yorkdale and Square One shopping centres, two of the leading retail tourism destinations in Ontario.
---
Please note that this interview has been edited for clarity.
Who are you and what do you do? Tell us about your organization and its role within Ontario's tourism industry.
"I oversee the tourism strategy at both Yorkdale and Square One, both [of which] are owned and managed by Oxford Properties."
Oxford Properties is the real estate arm of the Ontario Municipal Employees Retirement System (OMERS).
"At one time, retail tourism was something that was very prominent in the United States [before] it made its way into Canada. My focus for both properties is capitalizing on the fact that shopping continues to be a top activity for many international markets coming to Toronto."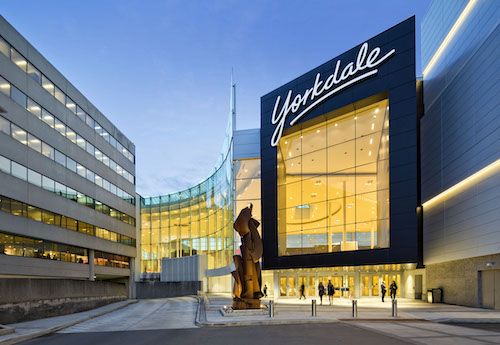 Retail is indeed a major tourism activity and revenue generator in Ontario. According to TIAO's Travel and Destination Analytics Report, released last fall in partnership with Global Payments Canada, international visitors from the UK, France, Mexico and Japan spend at least 25 per cent of their travel dollars on retail. Visitors from China allocate more than 70 per cent of their tourism spending to retail and shopping.
"At Yorkdale and Square One we have a dynamic retail mix. In many cases we have global firsts and exclusive brands that enter into the Canadian market (especially at Yorkdale), and in addition to that retail mix, we also have a dedicated tourism strategy that will entice and attract international travellers to visit both properties."
Lesley has worked in tourism for almost 20 years. Prior to working in retail tourism, she spent eight years promoting Britain as a destination to Canadians with VisitBritain.
"Now I position retail as one of the many the reasons people from all over the world should come to Toronto."
Lesley's position is relatively rare in Canada—there are about three people with similar roles at other retail locations across the country. Sometimes people are surprised at Lesley's position, unaware of the critical role that retail and shopping play in tourism.
"Oxford is very much at the forefront of acknowledging the fact that retail and tourism do go hand in hand."
How long have you been a TIAO Member and why did you join?
Oxford Properties has been a TIAO Member for about a year.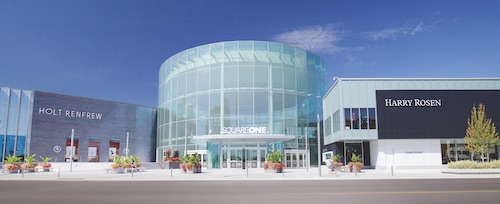 "I think it's really important for people in the industry to have their finger on the pulse of what's going on [within our industry]. I know what's happening at both shopping centres, but it's much bigger than that.
"I see TIAO as that heartbeat of the industry. TIAO is the organization that can provide us with insight, access to government, and government advocacy—something our industry needs.
"It made sense for [Oxford Properties] to become a TIAO Member, because not only is TIAO there as a support, but it has the ear of the government and the inside track of what's going on [in the tourism industry]. It's important for us to have a voice, and that's what a TIAO Membership provides."
What's your favourite thing about TIAO and why?
Lesley pointed to advocacy support and resources as her favourite thing about TIAO.
How has being a member of TIAO provided value for your organization?
Again, Lesley spoke to TIAO's leadership on advocacy issues and information sharing as a major source of value for Oxford Properties.
"I was preparing for a retail tourism presentation, I reached out to TIAO and was able to get some statistics within 12 hours. TIAO is a great resource."
What is one piece of advice you would give to an organization that wants to get involved in advocacy initiatives with TIAO?
"Sometimes it's very easy to become focussed on internal objectives and hitting year-end goals. But in tourism there are so many different facets of the industry—we're part of a bigger picture.
"I think there's a huge opportunity to work with TIAO, all towards a common goal. Tourism is such an economic driver in the province, [but] we need to work together [to actualize it].
"My advice is to get involved, because we're better together."
What are you working on right now?
"In 2019, at Yorkdale we've got some really exciting brands opening—Valentino, Tora Aburi Sushi and the Holt Renfrew expansion [for example]. One of the things that Yorkdale is known for is having the largest collection of first-in-Canada brands, [many of which] have traditionally been in department stores and are now opening up standalone stores. In 2019, that first-to-market trend is expected to continue."
Lesley also told us about two exciting new projects launching at Square One in 2019: The Rec Room and the Food District.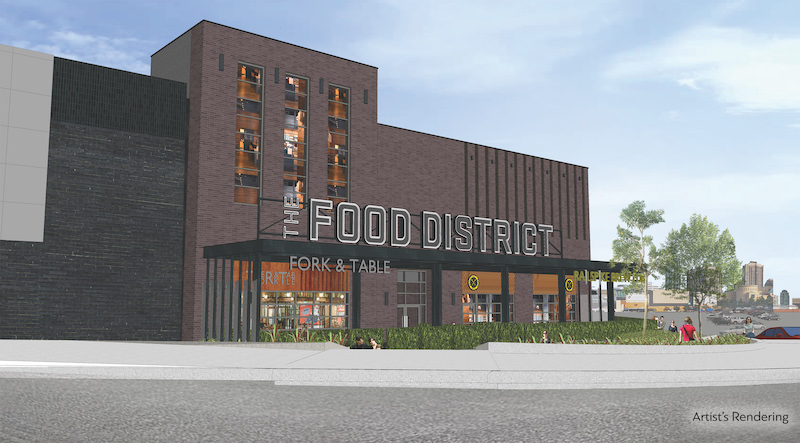 "Square One is going to be evolving in 2019. The Rec Room, managed by Cineplex, is 44,000 square feet occupying two levels in the shopping centre. It will be a state-of-the-art amusement, games, experience and live entertainment [facility], and will elevate the overall experience that Square One offers.
"In the spring we have the Food District opening, the second food market of its kind in Canada. It's 34,000 square feet, will host about 20 vendors, and will offer everything from dine-in restaurants, individual [artisanal food vendors], a demonstration kitchen, and more."
Both properties will also be focussing on partnerships in 2019, exploring opportunities to work with tourism operators in dining, retail, entertainment, accommodation and transportation, among other areas.
Thank you to Lesley for speaking with us about the importance of retail tourism's contribution to Ontario's economy. And thank you to Oxford Properties for being TIAO's Member of the Month for January!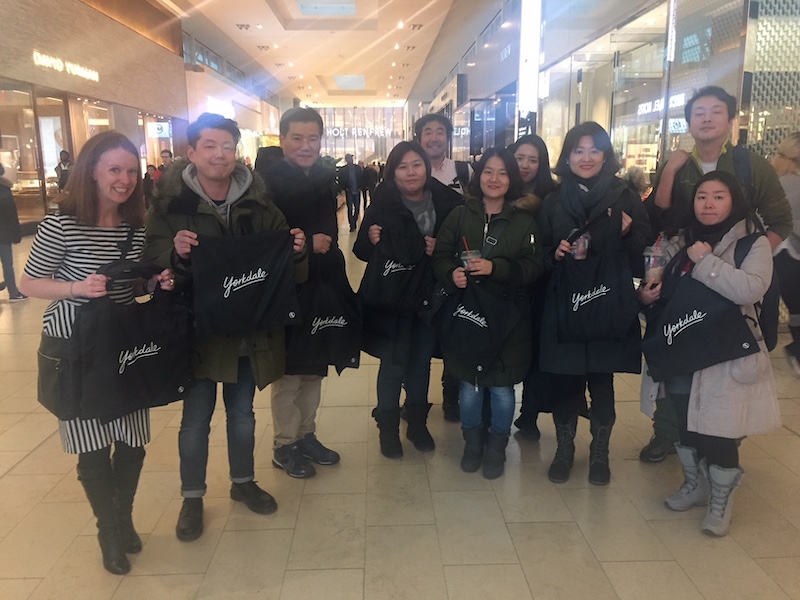 Lesley (far left) welcoming a group to Yorkdale
---