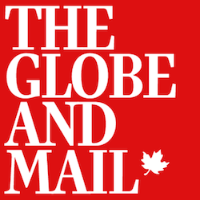 We're featuring a special TIAO Member each month to share with the #TourismFamily what they do, and how they connect with TIAO. Learn something new about your tourism industry colleagues, and the value of a TIAO Membership!
This month we talked to Mark Iker, Advertising Manager at The Globe and Mail and TIAO Board Director.
---
Please note that this interview has been edited for clarity.
Who are you and what do you do? Tell us about your organization and its role within Ontario's tourism industry.
Currently in the role of one of the Advertising Managers at The Globe and Mail for 38 years. With regards to how the Globe and Mail fits into Ontario's Tourism Industry, Mark explained how he can help with the industry to gain greater coverage within the newspaper.
"Local tourism is so important to the overall economy of Ontario, and unless you work in the industry, you don't how important it is in terms of the amount of jobs the sector creates, and how all businesses are affected positively through a healthy local tourism industry.
"The travel category is very important to the overall advertising revenue for The Globe and Mail, and local tourism is one of the key components to the overall revenue of the category. Over 60 percent of our audience is based in Ontario, and there are so many great things to see and do in the province that The Globe and Mail can help promote to its readership."
Much more than just a print newspaper, The Globe and Mail is a multi-media company that utilizes a multitude of different platforms to produce all different types of content. From digital, to print, to custom content, to custom editorial, to native social media and influencers, The Globe can cover it all.
Mark personally recognized the importance of the tourism industry to local economies early in his career.
"When I began my advertising career selling the travel category, I quickly realized how much local tourism meant to our readership. [For instance], special supplements such as Explore Ontario and Taste Ontario have become a reader favourites. We get testimonials from advertisers who say readers are taking these supplements into local tourism businesses with a copy of an ad or editorial that was written about them. Our readers have a passion for local tourism [and] these supplements are just one little thing I can help produce for the industry."
How long have you been a TIAO Member and why did you join?
"The Globe and Mail has been a TIAO member since 2007. I spearheaded the effort for The Globe to become a member and support TIAO and the industry; I felt it was important to show how we as a company can help give back."
How has being a member of

TIAO

provided value for your organization?
A sample of TIAO's OTS18 ad that appeared in The Globe and Mail on October 6, 2018
"Being a member of TIAO has been of great value. Membership has opened many doors for The Globe to forge deeper relationships with its clients, and gain a better knowledge of what their challenges are and how we can help.
"Supporting TIAO by sponsoring the Tourism Industry Awards of Excellence has given The Globe and Mail more recognition with TIAO Members and the province's tourism industry. As a company, we are trying to help promote local tourism in many different ways, and sponsoring these awards is one of them."
What's your favourite thing about TIAO and why?
"In addition to the great golf tournament, the Ontario Tourism Summit and relationship-building with its members, TIAO is the voice of tourism in Ontario. There needs to be a voice out there advocating on behalf of its members to the government and TIAO fulfills that role.
"If I had my own small tourism business, I know that there is a voice out there that I can turn to for help with advocacy issues. TIAO also speaks for both large and small tourism businesses alike."
What is one piece of advice you would give to an organization that wants to get involved in advocacy initiatives with TIAO?
"Make sure you do your due diligence and have the facts right before you [engage] TIAO to advocate on your behalf."
What are you working on right now?
Mark told us about one of The Globe's recent initiatives this past summer, mobilizing a social media influencer to help spread the word that destinations in Northeastern Ontario were unaffected by forest fires. You can read the influencer's story here.
"Northeastern Ontario Tourism came to us with an issue they had with getting calls from people who had booked fishing cabins [and other vacation activities] in the region. Guests were hearing about forest fires happening in the region, and were cancelling [out of concern].
"Northeastern Ontario Tourism requested a reporter to be sent to the area to write a story about how it was unaffected by forest fires. The advertising department doesn't have access to do that sort of thing, but what we do have as part of our portfolio is a social media influencer program that we can use in cases like this.
"So we approached our social media person, told her what the issue was, and started conversations about how we could help [Northeastern Ontario Tourism]. We were able to put a package together, and get an influencer and photographer to go up to the region to report how great things were.
"It came together within less than a week, and it took off—it went very well. The story got picked up by CBC News in Sudbury, both the influencer and Northeastern Ontario Tourism staff involved had a great time, and everyone was ecstatic about the results.
"It's one of the additions we can do at The Globe and Mail that also help out regions in need, [and through these programs] we can [help promote] tourism in Ontario. This is something completely different that we're trying to grow, separate from your traditional buy-in with the paper. Our social media expert wants to do more features like these, as travel and tourism is the perfect fit for these types of activities."
The Northeastern Ontario influencer program was the first of its kind done by The Globe and Mail for local tourism. The Globe hopes to do many more in the coming year!
Thank you to The Globe and Mail for being TIAO's Member of the Month for October, and for its continuous support as a TIAO Visionary and sponsor of the Tourism Industry Awards of Excellence! #TourismFamily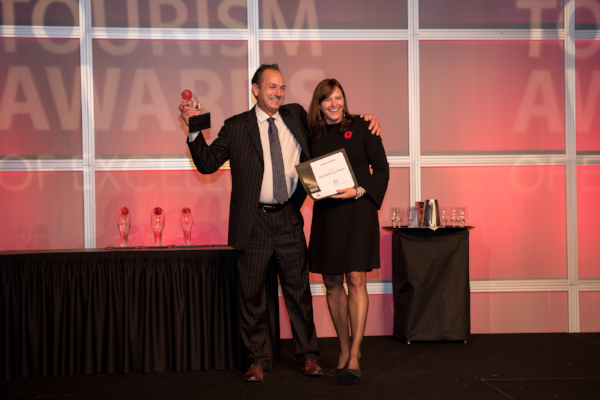 TIAO President & CEO Beth Potter presenting the Tourism Industry Awards of Excellence with Mark @ OTS17 in Ottawa
---