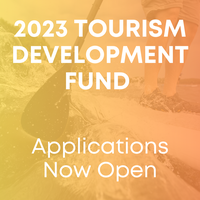 The Ministry of Tourism, Culture and Sport has announced the launch of the 2023 Tourism Development Fund, formerly known as the Tourism Economic Development and Recovery Fund. The fund supports projects that encourage the development of innovative new tourism products, support tourism investment or build the capacity of Ontario's tourism industry to foster new tourism investment. The fund offers a matching contribution of up to 50% (maximum of $25,000) for new tourism projects and experiences, aligning with the project's budget.
The Tourism Development Fund 2023 program aims to support projects that will increase tourist visitation and visitor spending in Ontario by:
Developing innovative tourism products and experiences

Increasing domestic and/or foreign private sector tourism investment

Strengthening the skills, resources and abilities of the tourism industry to attract or support new tourism investments
The application period is now open – applications will be accepted until September 14, 2023, at 5 p.m. (ET).
For information on how to apply, please click here. For more information about the program, please click here.
---