Your weekly digest from TIAO, updating you on the latest industry news, advocacy issues and upcoming events.
Does this email not look right? Try viewing this email in a browser.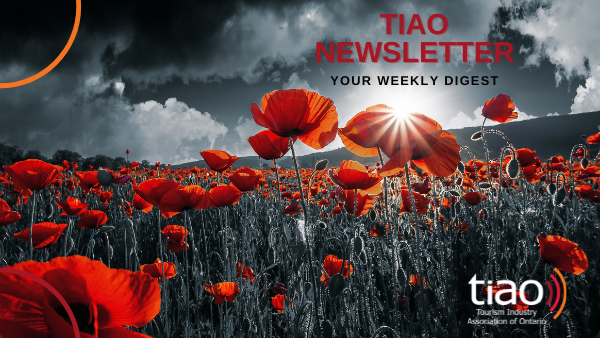 As the voice of the Ontario tourism industry, we recognize that in times of uncertainty there is a need for the industry to have access to clear and reliable information.
Our team is closely following the evolving COVID-19 situation and will link to pertinent articles on our website and social media channels, with a focus on validity and relevance to our industry. 
Email us with your Coronavirus/COVID-19 updates to feedback@tiaontario.ca 
Call us with your updates at 1-888-436-6441 (TOLL FREE)
---
FEATURED
-----------------------------------------------------------------------------------
ADVOCACY

AT BRIEF

On this day of remembrance, we remember those that have made the ultimate sacrifice in defense of the freedoms and liberties that we enjoy in Canada. We honour their memories and give thanks to those men and women that serve in our armed forces during times of war and peace to keep us safe. As well as marking the 11th hour, on the 11th day of the 11th month, November 8th marked Indigenous Veterans Day when we honour First Nation, Metis and Inuit soldiers and veterans and their long, distinguished legacy of serving in the Canadian Armed Forces. TIAO gives thanks to all our veterans for their service in defense of what we cherish the most.  

This week marked the reopening of the United States land border with Canada, bringing to an end the twenty month ban on non-essential travel. This important milestone and the return of normality are an integral part of our work to rebuild consumer confidence and help to increase the numbers of American tourists travelling to Canada. However, as we know, in response to Canada's reopening of international borders, there has not been the influx of American tourists that are so important to our visitor economy. Whilst uncertainty on travel rules and confusion of non-aligned entry requirements have played their part, we also know the requirements for Americans to take a PCR test to enter the country is making a trip cost-prohibitive for the average US family looking to vacation in Canada - just as it is also cost-prohibitive for Canadian families looking to travel abroad because they have to take a PCR test before they come back. 

We are encouraging the Canadian government to eliminate the unnecessary and non-science-based obstacles to cross border travel for fully vaccinated travelers. We are also asking that there be a level playing field in requirements across all modes of transportation be it by plane, car, boat or train. In support of these recommendations, TIAO has joined our national colleagues TIAC in calling for the removal of PCR testing at the border. You can watch my interview on the CP24 here. 

Preparations for the Rural Ontario Municipal Association Conference 2022 in January are underway and the TIAO policy team is already putting together briefs for our delegation to raise key important issues with government ministers and members of the opposition. But we want to hear from you about the issues we should be raising with politicians. Let us know your top three priorities for government by emailing us here. 

TIAO continues to support the work of TIAC in their discussions with government, advocating for changes to recently announced federal support programs regarding concerns on eligibility criteria and the seasonal nature of our industry. President and CEO of TIAC, Beth Potter, issued the following statement earlier today:

"We know that many of you are anxious to hear more details on the Tourism and Hospitality Recovery Program. Please know that we are working with officials to get clarity on several questions around the new targeted support measures for tourism businesses. As I mentioned last week, the priorities are to completely understand which businesses will and will not qualify for the Tourism and Hospitality Recovery Fund, qualification questions for seasonal businesses, and the expected date to be open for applications."

This week I attended the Federation of Northern Ontario Municipalities learning morning. TIAO was kindly asked to host a session on the tourism industry and I was delighted to be joined by an all-star panel of Laurie Marcil, David MacLachlan, Kevin Eshkawkogan, Rick Layzell, and Isabelle de Bruyn. We spoke about the challenges facing the tourism industry, the innovation and resiliency of our industry, current advocacy efforts and how municipalities can work with tourism operators to enhance our recovery. You can view that conversation by accessing FONOM's YouTube channel here.

Next week, TIAO is hosting, in partnership with OTEC, a roundtable with Minister of Labour, Training and Skills Development, Monte McNaughton. It will be an opportunity for us to discuss the current Labour crisis and challenges facing our industry. The Minister will be meeting current employees within the tourism industry, those in training and those looking for work and we will report back on those discussions next week.  

Finally, I would like to thank all summit attendees, both in-person and virtual, for taking the time to fill in our delegate questionnaire. This feedback is an essential part of our work as we start to plan next year's summit and will be an important tool as we curate next year's agenda.  

This is just a snapshot of the work we're currently undertaking, if you would like to speak to me about another issue, please don't hesitate in dropping me an email here.

Christopher Bloore, President & CEO, TIAO
UPCOMING ROMA CONFERENCE

 - WE WANT YOUR FEEDBACK 

TIAO and our tourism delegation will be participating in the upcoming 2022 conference of the Rural Ontario Municipal Association (ROMA), where we will be meeting with cabinet ministers to advocate for the tourism industry in rural regions of Ontario. With our delegation (including NOTO, Destination Northern Ontario, Indigenous Tourism Ontario, Resorts of Ontario, Blue Mountain Village Association, and Kingston Accommodations), we will discuss how the provincial government can support the recovery and rebuild of rural tourism economies through investments in areas such as tourism innovation, labour, Indigenous tourism, infrastructure, transportation, affordable housing, and education. 

We want to hear from you about what issues we should raise in our meetings. Send your ideas to feedback@tiaontario.ca. Your feedback is important to our advocacy!  
JOIN TIAO IN TAKING THE PLEDGE

- AND ENSURE THAT ONTARIO IS THE MOST COMMITTED PROVINCE TO

SUSTAINABLE TOURISM

At the 2021 Ontario Tourism Summit, we asked our attendees to join TIAO in becoming the most sustainable provincial tourism destination in Canada and take the Sustainable Tourism 2030 Pledge - and now we are inviting all our TIAO members. 

The Sustainable Tourism 2030 Pledge is a commitment to improve the sustainability performance of your tourism business or destination between now and 2030... but this is more than a pledge.

Launched in June 2021, the Sustainable Tourism 2030 Pledge is a global movement of individuals, businesses, and organizations within the tourism and hospitality industry that believe tourism has a tremendous opportunity to become a force for good and change the world. We believe that improving the social, cultural, environmental, and economic performance of our industry in support of the UN Sustainable Development Goals and UN 2030 Agenda for Sustainable Development is not a trend or a cause, but is essential to the long term health and well-being of this important sector of the global economy. The Sustainable Tourism 2030 Pledge is built upon the GreenStep Sustainable Tourism criteria, which is aligned with, and in the case of the business criteria, has achieved "Recognized" status, with the Global Sustainable Tourism Council. We have set a goal of achieving this. 

Take the pledge here: https://www.sustainabletourism2030.com/pledge/ ... GAME ON, BC. 
---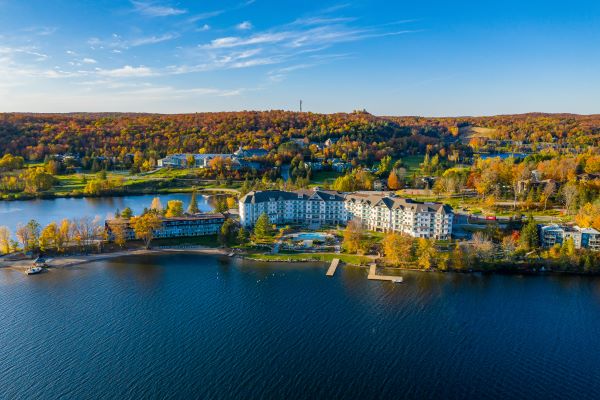 THE 2022 ONTARIO TOURISM SUMMIT

IS HEADED TO DEERHURST RESORT NEXT YEAR!

Get ready to connect, network, and learn in Muskoka on October 25 and 26, 2022. Early-Bird Registration is open now at Tourism Industry Association of Ontario | Early Bird Tickets: 2022 Ontario Tourism Summit (tiaontario.ca)

See you at Deerhurst Resort for #OTS22
---
A THREE FIRES COLLABORATIVE QUEST
EMPLOYEE-TO-EMPLOYER MATCHING EVENT
Are you looking for a job in the Ontario Tourism Industry? Do you self-identify as Indigenous? Or, are you an Ontario tourism business looking to hire new employees? If you answered yes to one of these questions, we want you to Save the Date! 
The first A Three Fires Collaborative Quest Employee-to-Employer Matching Event is taking place on Monday, December 6th, 2021. If you haven't already applied for the program, there is still time! 
Apply now for A Three Fires Collaborative Quest - a program designed to build capacity for the province's tourism workforce. You will be invited to participate in the Employee to Employer Matching event taking place on December 6th, 2021. Hosted virtually, our online platform will allow you to schedule online interviews with potential employees, and vice-versa, to interview for eligible positions in 2022.    
For full program details and how to apply, please click here.
SONDAGE MAIN D'OEUVRE
BILINGUE EN TOURISME - BILINGUAL TOURISM WORKFORCE SURVEY
**English follows**
Êtes vous à la recherche d'employés francophones ou bilingues? Aidez la Société Économique de l'Ontario à connaître vos besoins pour que nous puissions mieux vous accompagner dans votre recrutement et courrez la chance de gagner un crédit de traduction de 2 000 mots d'une valeur de 600 $. Pour participer et répondre au sondage en français : https://fr.surveymonkey.com/r/seo-ent-fr
Are you searching for francophone or bilingual employees? Please let  the Societé Économique de l'Ontario know your needs so we can better assist you in your search. Complete today for your chance to win a 2,ooo word translation credit valued at over $600!  To participate and take the survey in English:  https://www.surveymonkey.com/r/seo-ent-en
SAFE TRAVELS STAMP

 

ADMINISTERED BY TIAO
TIAO has been chosen by the World Travel and Tourism Council (WTTC) to administer the Safe Travels Stamp in Canada. The Safe Travels Stamp is an international symbol designed to allow travellers to recognize governments and companies around the world, which have adopted health and hygiene standardized protocols  – so consumers can experience 'Safe Travels'.
Our application process has moved to an online system and you can access it here. Almost 2000 businesses have been approved. See list of successful applicants here.
SURVEY BY TOURISM SKILLSNET NORTH:

FALL & WINTER TRAINING PLANNING

In collaboration with Ontario Tourism Education Corporation, Destination Northern Ontario, Nature and Outdoor Tourism Ontario, District Social Services Administration Boards and Northern Ontario Workforce Planning Boards, Tourism SkillsNet North is reaching out to tourism business operators across Northern Ontario (Regional Tourism Organization 13) to gather information to help analyze and identify specific workforce labour gaps and available opportunities within Northern Ontario's tourism sector. The results will also aid to understand and support the skills and talent needs of the tourism sector to develop and deliver skills training in the fall and winter seasons to meet the labour gaps identified by you, the employer.  The result will be to address the needs of the local labour market and employers that have been impacted by the pandemic. Ultimately, the program will assist in the identification and training of 300 potential employees and match them with a minimum of 150 employers within Northern Ontario's tourism sector. Qualified employers will be eligible for a 30% wage subsidy to $3,000 per employee. You can use this program to train new/re-hires as well! 

To complete the survey, please click here.
STAKEHOLDER CALL

 MINUTES

Thank you to everyone who joined this week's call. 

We continue to hold weekly industry stakeholder conference call meetings in order to disseminate information that we have received, address member concerns and share information on our industry consultations and share the latest news from government and our partners. 

This week's stakeholders calls provided a weekly industry update. You can read the notes and review the PowerPoint presentation from this week here.
SURVEY ON THE FRANCOPHONE AND BILINGUAL IN 

LABOUR MARKET IN TOURISM

In order to develop targeted programs to help find them the perfect candidate, we need to know their needs. You are invited to complete this survey as part of the study on the Francophone and bilingual labour market in tourism conducted by the Société Économique de l'Ontario. 

The survey is only 5 minutes and answers will remain anonymous. If you have any questions about the survey, please contact florine@touriscope.ca

Participation in the survey offers a chance to win a translation credit worth $600! Click here to take the survey.

 
DO YOU HAVE

 YOUR TIAO PROUD MEMBER LOGO?

We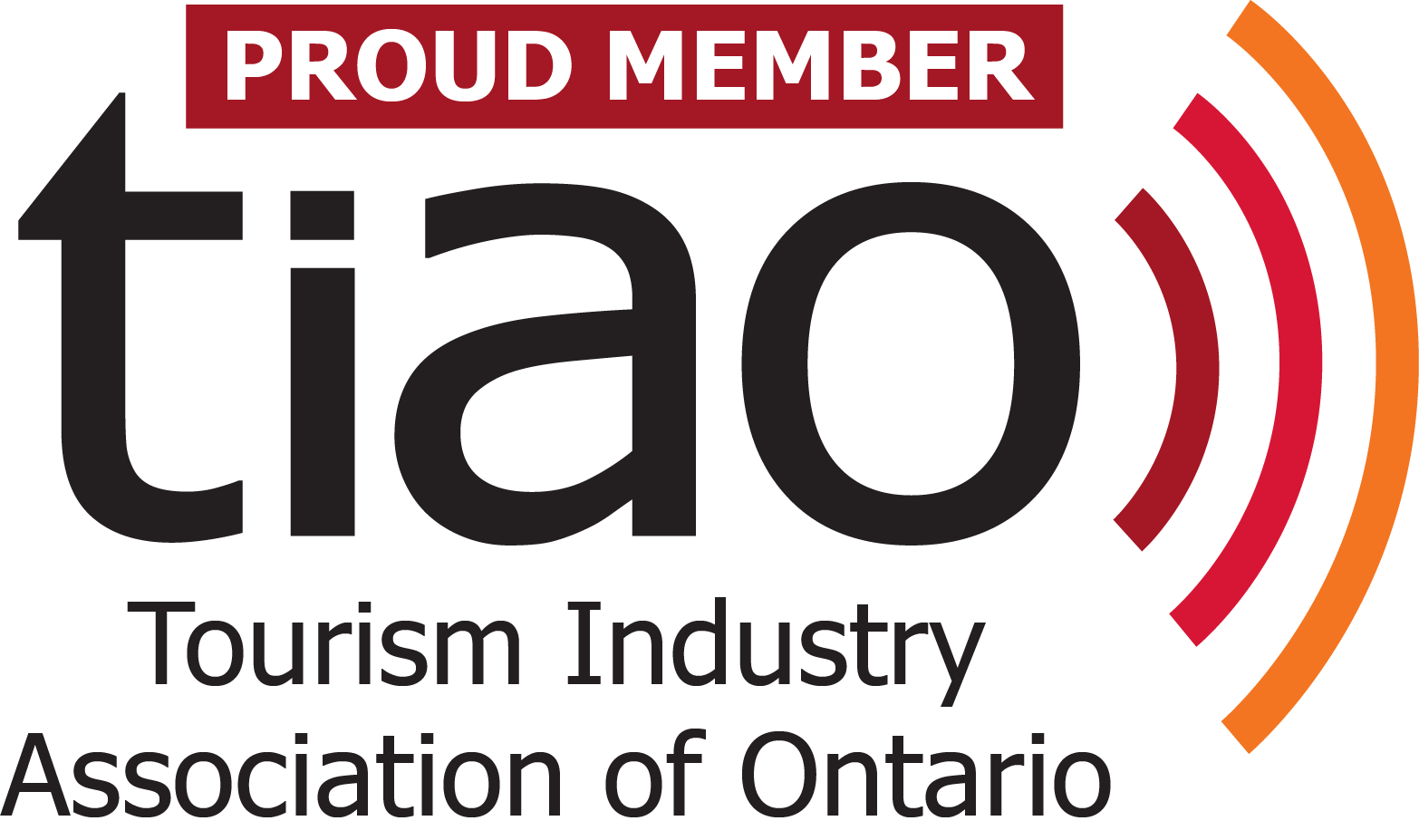 value our members and are proud to show you off, which is why we have a special TIAO "Proud Member" logo for your use. If you are a member and don't have the updated version, please reach out here.
TIAO COMPLIMENTARY

 2021 MEMBERSHIP OFFER

When you look back at this same time last year, no one could foresee what a devastating impact the pandemic has had on our industry, on our colleagues, and our families.  Throughout this past year, we have worked together, and fought hard for the industry we believe in.  The collaboration of the tourism industry has been remarkable.

We asked for you to join us each Tuesday, so that we could share the latest information, and to hear your challenges, opportunities, and questions, so that we could provide answers.  You have offered to be on committees, you have attended workshops, and in the most difficult of times, you have shown up.  Thank you for sharing how your tourism operation has been impacted.  We have heard you, we have advocated for you, and now we are pleased to offer one more way to ease your bottom line, increase your engagement, and provide an even more inclusive message as we represent your voice to the provincial government.

Our members have been incredibly supportive of TIAO, assisting us when we were in need, always willing to be there, and it is our turn to give back.  We will be extending:

Complimentary membership to the entire tourism industry in Ontario for 2021.

We look forward to hearing from you, having more input, strengthening our industry's voices and making sure tourism is represented.

How does this work if I am an existing member of TIAO?

For our current members, we will be reaching out to them directly. They will be provided an option to choose:
Extend their existing membership by another year or
Become a Green shoots sponsor - For those members that can afford to pay their membership, we will recognize the value of their existing membership through sponsorship (Green shoots sponsor) and use this value of their membership to continue the research and vital actions to rebuild and represent the industry's voice to government in Ontario.
How does this work if I want to become a member of TIAO?
We are glad to extend this to the industry. We ask that you reach out to us directly here  and we will set up your membership.  We will also extend to you the option as we do to our existing members.
Membership within TIAO for a period of one year from date of signing.
Become a Green shoots sponsor - For those new members that can afford to pay their membership, we will recognize the value of their membership through sponsorship (Green shoots sponsor) and use this value of their membership to continue the research and vital actions to rebuild and represent the industry's voice to government in Ontario.

Why Green shoots? 
Green shoots is a term used to describe signs of economic recovery or positive data during an economic downturn. The term green shoots is a reference to plant growth and recovery and has been used during down economies to describe signs of similar growth.
Welcome to the Tourism Industry Association of Ontario.
We are your association, and we are here for you!
---
GOVERNMENT RELEASES
-----------------------------------------------------------------------------------
Message from Hon. Lisa MacLeod, Minister of Heritage, Sport, Tourism, and Culture Industries to Commemorate Remembrance Day
Heritage, Sport, Tourism, and Culture Industries
On Remembrance Day, we honour the courage, valour and sacrifice of the heroes who have served – and continue to serve – during times of war and conflict. We pause to pay tribute to those who made the ultimate sacrifice to defend our democracy, rights and freedoms. And we show our gratitude and honour to the heroes who walk among us. 
Throughout our proud history, Canadians have shown exceptional bravery, resourcefulness, and dedication in the defence of our country. This week I was proud to recognize the Cameron Highlanders of Ottawa, who have answered the call since the very beginning. That is why our government is committing more than $100,000 in capital funding support for the development of a Cameron Highlanders of Ottawa commemorative plaza.
Since the birth of our country, this regiment has bravely served through numerous times of war and conflict, including battles fought during the South African (Boer) War, as well as the First World War and Second World War. With the creation of a new memorial plaza, we are ensuring that the courage and valour of these great Canadians – especially those who made the ultimate sacrifice – will never be forgotten.
Ontario Pausing the Lifting of Capacity Limits in Remaining Settings Where Proof of Vaccination is Required
Health
The Ontario government, in consultation with the Chief Medical Officer of Health, is pausing the lifting of capacity limits in remaining higher-risk settings as outlined in A Plan to Safely Reopen Ontario and Manage COVID-19 for the Long-Term. This is being done out of an abundance of caution as the province monitors public health trends.
The phased and cautious approach to Ontario's safe reopening includes ongoing monitoring and assessment of key public health and health care indicators. While Ontario's hospital and intensive care capacity remains stable and the province continues to report one of the lowest rates of active cases in the country, certain public health trends, including the effective reproduction number and percent positivity have increased slightly over the past week.
Ontario Investing in Visitor Safety at Brown's Bay Beach
Heritage, Sport, Tourism and Culture Industries 
The Ontario government is providing the St. Lawrence Parks Commission (SLPC) with more than $5 million in capital funding to help repair and rehabilitate its facilities. This investment will help encourage and reinvigorate tourism in eastern Ontario, including $3.1 million to support much-needed capital repairs and construction at Brown's Bay Beach and Picnic Area.
Ontario Fully Funding the Bradford Bypass
Office of the Premier, Transportation, and Finance
The Ontario government is taking another step toward relieving gridlock by advancing planning for the Bradford Bypass, a new four-lane freeway connecting Highway 400 and Highway 404 in Simcoe County and York Region. Both regions are expected to experience rapid growth over the next 10 to 20 years and investing in this new corridor is required to ease congestion on Highway 400 and existing east-west local roads. This is part of the government's plan that's building Ontario. 
Ontario Collaborating with Far North First Nations to Promote Economic Growth and Job Creation
Northern Development, Mines, Natural Resources and Forestry
The Ontario government is proposing to refocus the Far North Act and its regulations for Far North economic development and joint planning with Indigenous partners. The revised Act will focus on enabling the development of all-season roads, electrical transmission projects and mineral development, while maintaining community-based land-use planning.
Building Ontario with Highway 413
Office of the Premier
The Ontario government is moving forward with building Highway 413, a new 400-series highway and transit corridor across Halton, Peel and York regions. The highway will bring relief to the most congested corridor in North America and play a vital role in the province's plan for economic recovery, growth, and job creation.
Highway 413 will be a key factor in unlocking the potential of people and businesses in the Greater Golden Horseshoe (GGH), which is an economic driver for the province. In addition to reducing time on the road for drivers, including those taking goods to market, the highway will link growing regions, provide better connections to housing and jobs, and attract increased investment in auto manufacturing and other industries.
Ontario Supports Business Development in Kenora
Northern Development, Mines, Natural Resources and Forestry
The Ontario government is providing more than $178,000 to help two local businesses purchase new equipment and expand operations in Kenora. This investment will support innovation, economic growth and job creation in the Northwest.
The following funding is being delivered through the Northern Ontario Heritage Fund Corporation (NOHFC):
$148,780 for Rugged Geomatics Inc. to purchase a new facility, build a maintenance garage and buy equipment to amalgamate its business operations and diversify its service portfolio.

$30,000 for Mount Evergreen Ski Club to build a drive-in theatre to operate during the summer months and become a year-round entertainment and tourist destination.
Province Invests in Waterloo Region Businesses to Boost Local Economy
Economic Development, Job Creation, and Trade
The Ontario government is supporting an investment of $20.5 million by Kitchener-Waterloo-area manufacturers to strengthen domestic manufacturing and agri-food production and attract investment in the local economy. The province is investing nearly $2.2 million in four businesses through the Regional Development Program, which will help create 85 jobs and retain 233 jobs.
Ontario Supporting Advanced Science, Technology and Innovation
Colleges and Universities
The Ontario government is investing $48 million over two years to support ground-breaking work at leading research institutes and universities across the province. This funding was announced in the 2021 Ontario Economic Outlook and Fiscal Review: Build Ontario on November 4 and will help put Ontario at the forefront of innovation, ensuring that research and research infrastructure continues to be competitive to attract the best and brightest talent to the province.
Ontario Supports Organic Food Manufacturer in Seguin
Northern Development, Mines, Natural Resources and Forestry
The Ontario government is providing $1 million to help Crofter's Food Ltd. expand its operations and create nine new full-time jobs. The investment will support economic growth and diversification in the Parry Sound region.
Crofter's Food, a family-owned company, will build a new facility to increase its daily production capacity, and create more storage space to meet the growing demand for its popular organic fruit spreads. Funding for this project is being delivered through the Northern Ontario Heritage Fund Corporation (NOHFC).
Ontario Honouring the Cameron Highlanders of Ottawa
Heritage, Sport, Tourism, and Culture Industries
The Ontario government is committing more than $100,000 in capital funding to the Cameron Highlanders of Ottawa (Duke of Edinburgh's Own) to support the construction of a new commemorative plaza honouring the service of the regiment throughout Canada's history. 
The Cameron Highlanders of Ottawa (Duke of Edinburgh's Own) is a reserve infantry unit within the Canadian Armed Forces, located within the 4th Canadian Division. As part of 33 Canadian Brigade Group, the regiment trains soldiers in the light infantry role for augmentation to the regular force and for use in emergencies at home. The regiment also provides Ceremonial Guards of Honour for visiting dignitaries and for national ceremonies and events. Another very active part of the regimental family is the Cameron Highlanders Pipe and Drums, who are regularly tasked in national ceremonial roles, competitions and events in the Ottawa Valley. The Cameron Highlanders commemorative plaza will be located at the corner of Robertson Road and Northside Road in Nepean.
INDUSTRY NEWS
-----------------------------------------------------------------------------------
Tourism SkillsNet North
Destination Northern Ontario 
Did you know you can use the Tourism SkillsNet North program to help fill your rehiring needs for 2021? If you have employees you've had to lay off or let go because of the pandemic and are going to be hiring back as COVID-19 restrictions lift, now is the time to act to ensure you qualify for these special subsidies. With access to 30% of wages, up to a maximum of $3,000 per employee available for qualifying employers, the time to act is now! Any employer can only qualify for up to two positions.  To learn more please click on the link in the title.
U.S border reopening may affect how Canadians travel inland, tourism experts say
Global News
Tourism operators have mixed feelings about the opening of the U.S. land border Monday. An end to the 20-month closure of the world's longest undefended frontier marks a sign that restrictions are loosening and more international leisure travel may be on the horizon. But if Canadians start to stream south for vacations and shopping sprees, they aren't spending their money on destinations here.
Chris Bloore, chief executive of the Tourism Industry Association of Ontario, says local visits to hot spots ranging from Niagara Region vineyards to the boutique hotels of Prince Edward County will undoubtedly decline after receiving a boost last summer. "There is definitely going to be a reduction in some numbers, for sure. That's absolutely inevitable," he said.
"But as we start to welcome international visitors now back to Canada, as we try and push for PCR testing, changes to protocols, we're hoping to make sure that we're we're looking further afield to people as well to try and bring them to us."
City optimistic as tourism industry 'slowly rebounding'
Orillia Matters News
Hotel occupancy rates have city officials feeling confident about the tourism industry bouncing back. Staff recently provided a report on the municipal accommodation tax, which came into effect in late 2020. It sees a four per cent tax on every room used for short-term accommodations in Orillia, with the revenue being split between the city and Orillia and Lake Country Tourism.
The money generated from the tax is used in a variety of ways to encourage tourism to the area. The tax brought in $62,584.89 in revenue in 2020, but that represented just a few months of the year because of COVID-19 lockdown measures. Staff anticipated the net revenue would jump to $323,700 in 2021, but the actual figure, from January to August, was $188,017.
Destination Ontario Launches Tourism Campaign in the UK
TTG Media
Destination Ontario has launched a consumer marketing campaign in the UK and Germany in a bid to encourage travel to the Canadian province now that borders have reopened.  "Discover Together" will run from 3 November to mid-December and will target those who plan to visit friends and family abroad by spotlighting British and German expats living in Ontario as spokespeople for the destination. 
The campaign will roll out across digital and social platforms that will direct consumers to a new market-specific website, which includes details of bookable tour operator packages. Debra Mansillo, vice president of industry relations and international marketing at Destination Ontario, hopes the campaign will "increase awareness" of the province and lead to bookings for its trade partners.
Burlington's top tourist attraction, Royal Botanical Gardens, implementing COVID-19 vaccine mandate
inHalton
Beginning Monday, Nov. 15, the Royal Botanical Gardens will require all visitors aged 12 and up to prove they have been fully vaccinated against COVID-19. This includes all indoor and outdoor areas of RBG Centre, Hendrie Park, Rock Garden, Laking Garden, and also includes public programs and events at the Arboretum or other RBG properties. Proof of vaccination is not required to access RBG's trails.
St. Lawrence Parks Commission gets $5 million in funding from Ontario Government
Global News
The St. Lawrence Parks Commission has received significant funding from the provincial government.  Over $5 million is being invested in the SLPC to help repair and rehabilitate its facilities. $3.1 million of that funding will be going directly to Brown's Bay Beach and Picnic Area, where some much-needed repairs will be taking place.
"When the COVID-19 outbreak began, Ontario's tourism industry was among the first and hardest hit," says Lisa MacLeod, Minister of Heritage, Sport, Tourism and Culture Industries.
"By supporting the St. Lawrence Parks Commission with the capital funding they need, we can ensure that the thousands of acres of park land and attractions along the St. Lawrence Corridor will remain world-class destinations that provide safe, family-friendly opportunities to enjoy Ontario's great outdoors."
10 must-do adventures in Northeastern Ontario
Sudbury.com
As summer ends and the spectacular fall colours are in full display, it is a great time to start checking off some incredible adventures from your fall and winter bucket list. Northeastern Ontario is the perfect place to find vibrant communities with rich histories set in an awe-inspiring landscapes.
 

November 18, 2021 Destination Ontario Presents: Ontario Travel Information Services

November 18, 2021 RTO9 - Travel Trade For Tourism Operators

November 22, 2021 Central Counties/RTO6 Virtual Symposium – Partners in Tourism

November 22 to 24, 2021 Resorts of Ontario 2021 Annual Conference

November 24, 2021 South Georgian Bay Tourism Mini Conference

November 24, 2021 - GreenStep Webinar: How to Create a Sustainability Action Plan

November 30 - December 1, 2021 TIAC 2021 Tourism Congress

December 3 - December 18, 2021 The Ontario Festival of Small Halls Deck The Small Halls Series

January 12, 2022 TIAO Presents: Session One of the Webinar Series - Building Inclusive Tourism

February 9, 2022 TIAO Presents: Session Two of the Webinar Series - Building Inclusive Tourism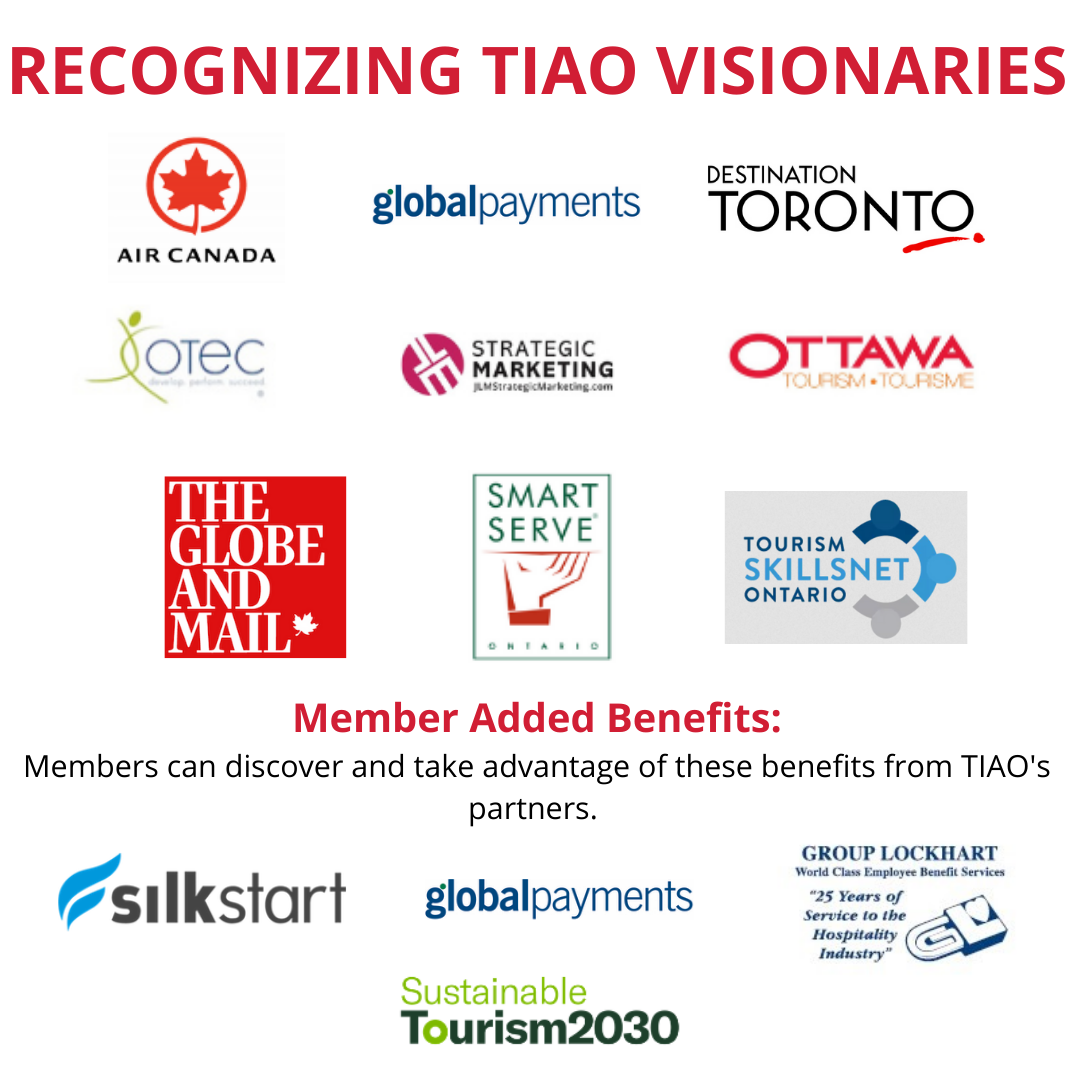 Copyright © 2021

Tourism Industry Association of Ontario

, All rights reserved.
 

This email was sent by:
Tourism Industry Association of Ontario
439 University Avenue, Suite 1400
Toronto, Ontario, M5G 1Y8

 

You have received this email because you are a member or existing contact of Tourism Industry Association of Ontario, a membership organization powered by SilkStart. update notification preferences unsubscribe from this list