Your weekly digest from TIAO, updating you on the latest industry news, advocacy issues and upcoming events.
Does this email not look right? Try viewing this email in a browser.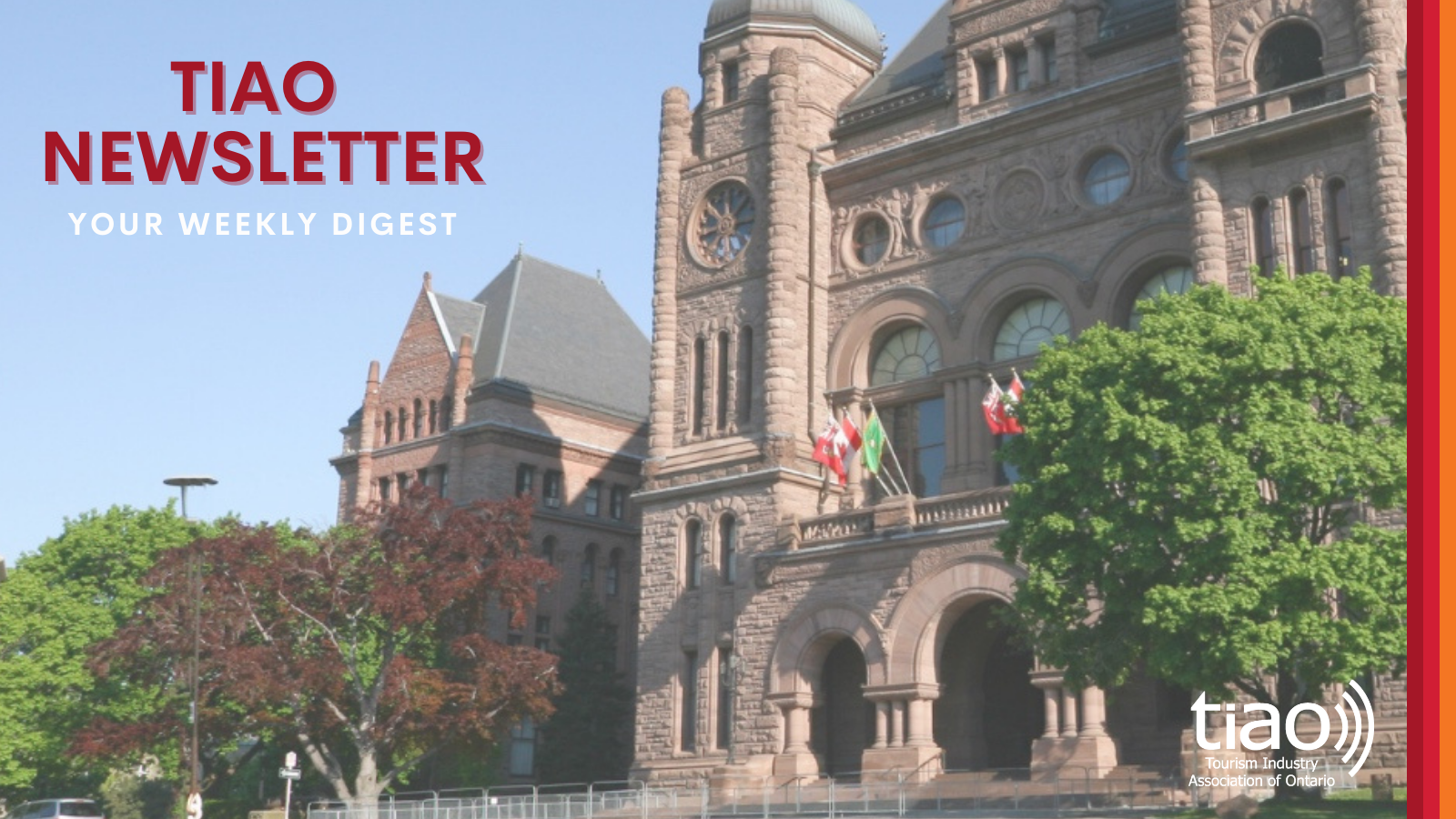 As the voice of the Ontario tourism industry, we recognize that in times of uncertainty there is a need for the industry to have access to clear and reliable information.
Our team is closely following the evolving COVID-19 situation and will link to pertinent articles on our website and social media channels, with a focus on validity and relevance to our industry. 
Email us with your Coronavirus/COVID-19 updates to feedback@tiaontario.ca 
Call us with your updates at 1-888-436-6441 (TOLL FREE)
---
FEATURED
-----------------------------------------------------------------------------------
ADVOCACY AT BRIEF 
Hello and welcome to the latest edition of TIAO's weekly newsletter. As usual you will find a blend of industry and government news, updates on TIAO's advocacy efforts, collaboration, and ways you can help us get our message across to those in positions of power. It is no understatement to say that we find ourselves at a pivotal moment for the tourism industry in Ontario. After 18 months of closures and restrictions, our partial reopening as an industry has given the false impression to some that our industry is recovering. However, we know the true reality facing many operators and business owners, as Ontario remains stuck in step three of the province's Roadmap to Reopening, with highly restricted capacity limits meaning many are simply just getting by. It is this reality that drives the work of TIAO, to continue to push for extended and enhanced government support programs and continue to tell the real story of the tourism industry in the media. Even this week, as international borders reopened, TIAO has been consistent in its messaging that our industry will require long term and substantial support.
As ever, if there is an issue not covered in this newsletter that you would like to speak to the team about, please don't hesitate to send me an email by clicking here and we will get back to you as soon as possible.
Proof of Immunization/Vaccine Certificate
On our stakeholder calls on Tuesday, our policy team gave a comprehensive review of the information released so far by the provincial government on the practicalities of the rollout and enforcement of the new protocols. You can download the slides and FAQs from the presentation here. We are continuing to collate questions to feed into government ranging from issues regarding acceptable forms of photo ID to accompany vaccination status, issues on implementation, and out of province visitors. If your question isn't covered in our FAQs or stakeholder minutes, please send us your question and if we don't have an answer, we will get you one.
Roadmap to Reopen
Two weeks ago, TIAO, with the support of our industry, wrote to Premier Ford and the CMOH, Dr. Kieran Moore, asking for clarification on how long this pause would last. As of yet, neither the CMOH nor the government have made an announcement on the conditions required for the province to leave the roadmap and for capacity limits and restrictions to be lifted (with a few minor restrictions left in place). Recently in the press, Dr. Moore has spoken about the need for 90% of Ontarians to be fully vaccinated to counter highly transmissible variants of COVID-19, a process which he admits could take several months. TIAO and our industry partners continue to push for answers. If this pause is set to be a prolonged one as speculated, it is inevitable that we will need to revisit current provincial and federal support programs to protect the solvency of businesses and to protect jobs.
Labour - How we answer our short-term challenges and remain competitive
The reasons for our current labour challenges are not easily diagnosed or answered. We know that our industry was suffering a shortage of workers before COVID-19 and that this has been made worse by the pandemic. Throughout the province, we are hearing from businesses unable to attract employees back into work and about the disruption it's causing - in some cases leading to closures and being unable to meet demand. We know that both our short-term recovery and long term competitiveness is reliant on us answering these challenges. TIAO is working with MTLSD and MHSTCI to bring forward a series of discussions on this important issue, and work with our partners to put together a local comprehensive response.
Election Update - Reopening doesn't mean Recovery – help us get our message across to your local candidates
We're just 11 days away from Election Day and with fluctuating polls every day, it's never been more important to ensure that Canadians elect Members of Parliament who understand the importance of the tourism industry to our communities and our economy. In recent weeks, TIAO has been publishing the key parts of the political parties' platforms, relevant to the tourism industry and small businesses, on our dedicated Federal Election section of our website. In addition, TIAO has continued to write to and meet with candidates to explain the realities of the situation on the frontline for our industry. With only a few days left until Election Day and too many candidates failing to engage with us, we need to do more.
As part of our final push to influence as many prospective MPs as possible, we have created an easy-to-use toolkit for you to contact your local candidates and promote our key messaging. Specifically, that we need an industry-specific tailored wage and fixed cost support program into 2022, that we need support to address the industry-wide labour shortage, and that any new government should be prepared to support the industry as long as restrictions connected to the pandemic continue. Simply click here to be taken to our page where you will find template letters, images and ways to identify your local candidates. Don't forget to copy us into any letters you might send for our records and follow up.
TIAO Summit 2021
The new provincial protocols, starting on September 22 regarding proof of immunization and vaccine certificates, mean that delegates and speakers at our summit in Ottawa in October will need to be double vaccinated to attend in person. The TIAO team is in the process of reaching out to delegates and speakers to discuss the implications of this. If you've already bought your in-person ticket you will be contacted by the TIAO team shortly.

Christopher Bloore, President & CEO

APPLICATIONS OPEN

FOR THOSE WHO SELF-IDENTIFY AS INDIGENOUS  

Are you, or someone you know, looking for a position in the Ontario Tourism Industry? 

The Tourism Industry Association of Ontario (TIAO), in collaboration with Indigenous Tourism Ontario (ITO), and the Ontario Tourism Education Corporation (OTEC) are now accepting applications for A Three Fires Collaborative Quest - a program designed to fill critical gaps within the industry and encourage recovery and growth of the province's tourism workforce by bringing awareness of opportunities to potential Indigenous employees. 

To be eligible for the program as a potential employee, you must self-identify as Indigenous. After being accepted into the program, beginning in Fall 2021, you will have the opportunity to participate in frontline training workshops facilitated by OTEC. These workshops are suitable for potential employees whether you are just starting in the tourism industry, or if you have experience but are seeking a new position within the industry. 

After completing the training program, you will be invited to participate in the Employee to Employer Matching event, taking place in Winter 2021. Hosted virtually, our online platform will allow you to schedule video interviews with potential employers, and vice-versa, in order to provide you the opportunity to secure employment in 2022.   
JOIN TIAO'S CAMPAIGN 

FOR INDUSTRY-SPECIFIC SUPPORT
Reopening is Not Recovery
On August 15, 2021, the Governor General of Canada accepted the request to dissolve Parliament and hold a 36-day election campaign with Election Day set for September 20th. 
TIAO has been actively advocating on behalf of Ontario's tourism industry, and this election period does not change that. As a member of the Coalition of Hardest Hit Businesses, we continue to contact prospective federal MPs standing in Ontario ridings to speak with them to ensure that they're fully briefed on the situation facing the tourism industry and the prolonged economic support we need to navigate the pandemic whilst facing government restrictions and closures. 
During the run-up to Election Day, we are encouraging our members to send a letter to their local MPs and electoral candidates for more targeted support for the tourism industry and to emphasize the message that reopening is not recovery. 
Don't let the tourism sector slip between the cracks. We need your help to voice our industry's need for government support so that political parties prioritize our sector. We need you to reach out to your riding's candidates today to ensure that our industry's needs do not go unnoticed. Reopening is not recovery. 
Find more information and all the tools you need on TIAO's Reopening is Not Recovery Campaign for Industry-Specific Support web page.
ONTARIO'S DIGITAL

IDENTIFICATION PROGRAM  

Ontario's Digital ID program is set to launch in late 2021. Ontarians will have an electronic version of their government ID (I.e., driver's license and health card) which will be stored in a digital wallet app. The app will be available for download onto smartphones and other devices, including tablets and computers.  

The digital ID will allow people and businesses to prove who they are both online and in person, and it offers more privacy to users. For example, if you need to prove you're 18, the verifier will only know you are over 18 and not your DOB or actual age.  

Further, the digital ID is not stored in a central database, it is only saved on your own personal device and can be turned off if your device is stolen. The government will not be able to track you or know where you used your digital ID. The digital ID is not useable without your permission, you must consent before sharing any information.  

Ontario's digital ID will also be able to be used in relation to the vaccine certification program which is set to launch on September 22, 2021. The program requires government-issued photo ID to be used alongside the vaccine certificate.  

The digital ID will be available to use at the settings below (this list is set to increase over the years as the program develops): 
 Making an age-sensitive purchase (like a lottery ticket) 

 Picking up a package at the post office 

 Applying for government assistance (such as disability support) or benefits (such as CERB or EI) 

 To access and use vaccination records 

 Opening a bank account 

 Making a medical appointment 

 Visiting a doctor 

 To access medical records online 

 Get, renew or replace a driver's licence 

 Apply for, renew or replace a health card 

 Renew or replace a licence plate sticker 
The program has not yet launched, but when it becomes available, users will be able to download the app to their mobile device or computer. The app will require users to sign up for the program and verify their ID online or in person.  
For more information on Ontario's digital ID program, please visit Digital ID in Ontario | Ontario.ca 
ONTARIO'S COVID-19

VACCINATION RATES
Currently, 84.5% of people 12+ in Ontario have received at least 1 dose of a vaccine and 78% of people 12+ in Ontario are fully vaccinated.  
Below is a list of every Public Health Unit in Ontario with the percentage of people ages 12 and up who have received their first dose of a COVID-19 vaccine and a percentage of those who have received both doses.
| | | |
| --- | --- | --- |
| Public Health Unit  | % of Dose 1  | % of Dose 2  |
| | 84.7%  | 77.9%  |
| | 78%  | 72%  |
| | 79%  | 72%  |
| | 81.8%  | 76.4%  |
| | 84.7%  | 78.1%  |
| | 82.3%  | 76.9%  |
| | 80.3% (18+)  | 74.4% (18+)  |
| | 82.7%  | 77.4%  |
| | 85%  | 80%  |
| | 80.7%  | 73.4%  |
| | 84%  | 75%  |
| | 81.1%  | 74.8%  |
| | 84.9%  | 78.6%  |
| | 78.8%   | 73.3%   |
| | 92.5%  | 86.8%  |
| | 84%  | 77.3%  |
| | 82.3%  | 75.1%  |
| | 82.1%  | 75.4%  |
| | 82.5%   | 73.9%  |
| | 87%  | 80%  |
| | 84.4%  | 76.3%  |
| | 82.7%  | 76.7%  |
| | 81.3%  | 72.4%  |
| | 84.6%  | 77.6%  |
| | 83.9%  | 78.1%  |
| | 82.6%  | 79.2%  |
| | 83.1%  | 76.9%  |
| | 82.5%  | 74.6%  |
| | 79.5%  | 73.1%  |
| | 83.6%  | 77.6%  |
| | 86.8%  | 80.3%  |
| | 85.2%  | 79.8%  |
| | 70.7%  | 64.5%  |
| | 84.4%  | 79.2%  |
The following link is to Ontario's current vaccination rate as a province, broken down into first and second dose percentage rates COVID-19 Tracker Canada - Ontario Vaccination Tracker (covid19tracker.ca) 

LAST CALL: ADVANCED TICKET SALES  FOR THE 2021 ONTARIO TOURISM SUMMIT 
Advanced ticket sales pricing closes September 12
Join us October 26 & 27 for the tourism industry event of the year - because tourism counts. Whether in person or virtual - we are excited to share that we will be hosting as many people as is safe to do so at this year's summit at the award-winning 4 Diamond Brookstreet Hotel in Ottawa.
We will be welcoming tourism professionals from around the province to gather, share, and collaborate as we rebuild Ontario's tourism industry. This year's summit is about RESPECT, COLLABORATION and REBUILDING our future. Join us as we recognize all the innovation, re-embrace the foundation and collaborate together - Google, Deloitte, Canadian Live Music Association, Global Payments are just some highlights of speakers lined up for this year's event.
If you or part of your team would like to join virtually - this option is also available. This year the Summit is back to normal programming with full day but interactive for the in person and virtual audience to network together. Whatever you choose, we are ready - Come.....Join us..... Together.
Agenda Now Available! Check it out online by clicking the link below.
*TIAO will now require in-person Summit attendees to be fully vaccinated (2 doses plus 14 days), unless they have a medical exemption.
This new requirement in compliance with provincial proof of vaccination regulations for indoor conference, meeting, and event spaces, effective September 22, 2021. In-person attendees will be required to present their digital COVID-19 vaccination certificate (not the vaccine receipt) along with photo ID at Summit premises. The digital COVID-19 vaccination certificate contains a unique QR code that displays your vaccination status when scanned—these will be issued by the Government of Ontario for use from October 22 onwards, in time for Summit. Digital COVID-19 vaccination certificates in paper format or on a mobile device will be accepted. COVID-19 vaccine receipts and negative COVID-19 tests will not be accepted. 
For more information, and to register for OTS21 please click here.
SAFE TRAVELS STAMP

 

ADMINISTERED BY TIAO
TIAO has been chosen by the World Travel and Tourism Council (WTTC) to administer the Safe Travels Stamp in Canada. The Safe Travels Stamp is an international symbol designed to allow travellers to recognize governments and companies around the world, which have adopted health and hygiene standardized protocols  – so consumers can experience 'Safe Travels'.
NEW: Our application process has moved to an online system and you can access it here.
See list of successful applicants here.
VOTING NOW OPEN:
SAFE TRAVELS STAMP AWARDS
What is the Safe Travels Stamp Award?
The Safe Travels Stamp Award is a way for your customers and local residents to recognize your business's outstanding efforts in adopting the World Travel & Tourism Council's health and hygiene global standardized protocols for the hospitality and tourism sector. 
It's their way of saying they feel safe when doing business with you.
There are 13 Safe Travels Stamp Awards to be won: one for each tourism region in Ontario.
Voting runs until October 11, 2021. 
Top finalists and winners will be announced on October 26 at the 2021 Ontario Tourism Summit.
How can I win the Safe Travels Stamp Award?
Step One
Ensure you are Safe Travels Stamp approved. You can check the list of approved Safe Travel Stamp applicants on our website here. 
If you are not yet Safe Travels Stamp approved, click here to apply now.
Step Two
Get the word out! Use your digital Safe Travels Stamp logo on social media and proudly proclaim your Safe Travels Stamp approval. Don't forget to place your Safe Travels Stamp sticker in a prominent location in your business. (If you haven't received your sticker yet, it is in the mail and you will have it soon!) Be sure that your team understands and can explain what it means to be Safe Travels Stamp approved. If you need more information, please check out our Safe Travels Stamp Training Guideline.
Step Three
Get votes! The top vote-getter within each of the thirteen tourism regions of Ontario will win the Safe Travels Stamp Award. Use social media and in-person conversations to let your customers and local residents know about the Safe Travels Award campaign. The voting link can be found  here. 
ÉTUDE TOURISME FRANCOPHONE

ET BILINGUE - FRANCOPHONE & BILINGUAL TOURISM STUDY

Cher partenaire touristique,

**English follows**

Le Réseau de développement économique et d'employabilité (RDÉE Canada) et ses membres désirent entamer un exercice d'étude qui portera sur l'évolution de l'offre touristique francophone et bilingue au Canada près de 15 mois après le début de la pandémie. L'étude portera sur les entreprises touristiques situées à l'extérieur du Québec qui offrent des services à une clientèle francophone.

Les résultats du sondage permettront à RDÉE Canada d'établir un rapport de données générales sur la situation des entreprises touristiques après la crise de la COVID dans le but de cibler leurs besoins pour mieux les aider à se préparer à accueillir les visiteurs des marchés francophones du Québec, du Canada, de la France, de la Belgique, de la Suisse et de l'Europe de l'Est.

Nous vous invitons à nous faire part de votre réalité et de vos besoins pour accueillir les visiteurs francophones en répondant à ce court sondage disponible en ligne (offert dans les deux langues)  https://api.legerweb.com/RDEE2021

Nous vous remercions de votre collaboration constante au rétablissement de notre industrie.

__________________________________________________________________

The Réseau de développement économique et d'employabilité (RDÉE Canada) and its members wish to initiate a study that will focus on the evolution of the Francophone and bilingual tourism offer in Canada almost 15 months after the beginning of the pandemic. The study will focus on tourism businesses located outside of Quebec that offer services to a Francophone clientele.

The results of the survey will allow RDÉE Canada to establish a general data report on the situation of tourism businesses after the COVID crisis in order to target their needs to better help them prepare to welcome visitors from the French-speaking markets of Quebec, Canada, France, Belgium, Switzerland and Eastern Europe.

We invite you to tell us about your reality and your needs to welcome French-speaking visitors by answering this short survey available online (available in both languages): https://api.legerweb.com/RDEE2021

Thank you for your ongoing collaboration in our industry recovery.
SURVEY BY TOURISM SKILLSNET NORTH

: FALL & WINTER TRAINING PLANNING

In collaboration with Ontario Tourism Education Corporation, Destination Northern Ontario, Nature and Outdoor Tourism Ontario, District Social Services Administration Boards and Northern Ontario Workforce Planning Boards, Tourism SkillsNet North is reaching out to tourism business operators across Northern Ontario (Regional Tourism Organization 13) to gather information to help analyze and identify specific workforce labour gaps and available opportunities within Northern Ontario's tourism sector. The results will also aid to understand and support the skills and talent needs of the tourism sector to develop and deliver skills training in the fall and winter seasons to meet the labour gaps identified by you, the employer.  The result will be to address the needs of the local labour market and employers that have been impacted by the pandemic. Ultimately, the program will assist in the identification and training of 300 potential employees and match them with a minimum of 150 employers within Northern Ontario's tourism sector. Qualified employers will be eligible for a 30% wage subsidy to $3,000 per employee. You can use this program to train new/re-hires as well! 

To complete the survey, please click here.
NEW HEIGHTS IS BACK

 WITH THE 3RD ANNUAL NEW HEIGHTS CANNABIS TOURISM SUMMIT!   

The summit includes insights and strategies for participating in the rapidly emerging Cannabis Tourism industry in Canada. Hear from tourism and cannabis experts, innovators and giants who will share their knowledge, experience and drive for growth in this segment. This leadership conference will demonstrate the massive growth opportunity for recreational cannabis experiences to support tourism recovery in Canada. 

Get the Data! The 1st Canadian Cannabis Tourism Research Report will be available in October 2021. An executive summary report will be presented at the New Heights Cannabis Tourism Summit on Monday, October 25, 2021.

Leading the study is Susan Dupej, PhD, a Social Sciences and Humanities Research Council (SSHRC) Post-Doctoral Fellow at the University of Guelph in the School of Hospitality, Food and Tourism Management. The research is designed to provide insights on the different ways that Canadians are interested in incorporating cannabis into their travel and the opportunities for tourism and cannabis businesses to develop products based on the demand.  

You can learn more and register by clicking here. 
STAKEHOLDER CALL

 MINUTES

Thank you to everyone who joined this week's call.

We continue to hold weekly industry stakeholder conference call meetings in order to disseminate information that we have received, address member concerns and share information on our industry consultations and share the latest news from government and our partners. 

This week's stakeholders calls provided a weekly industry update. 

You can read the notes from this week here.
DO YOU HAVE

 YOUR TIAO PROUD MEMBER LOGO?

We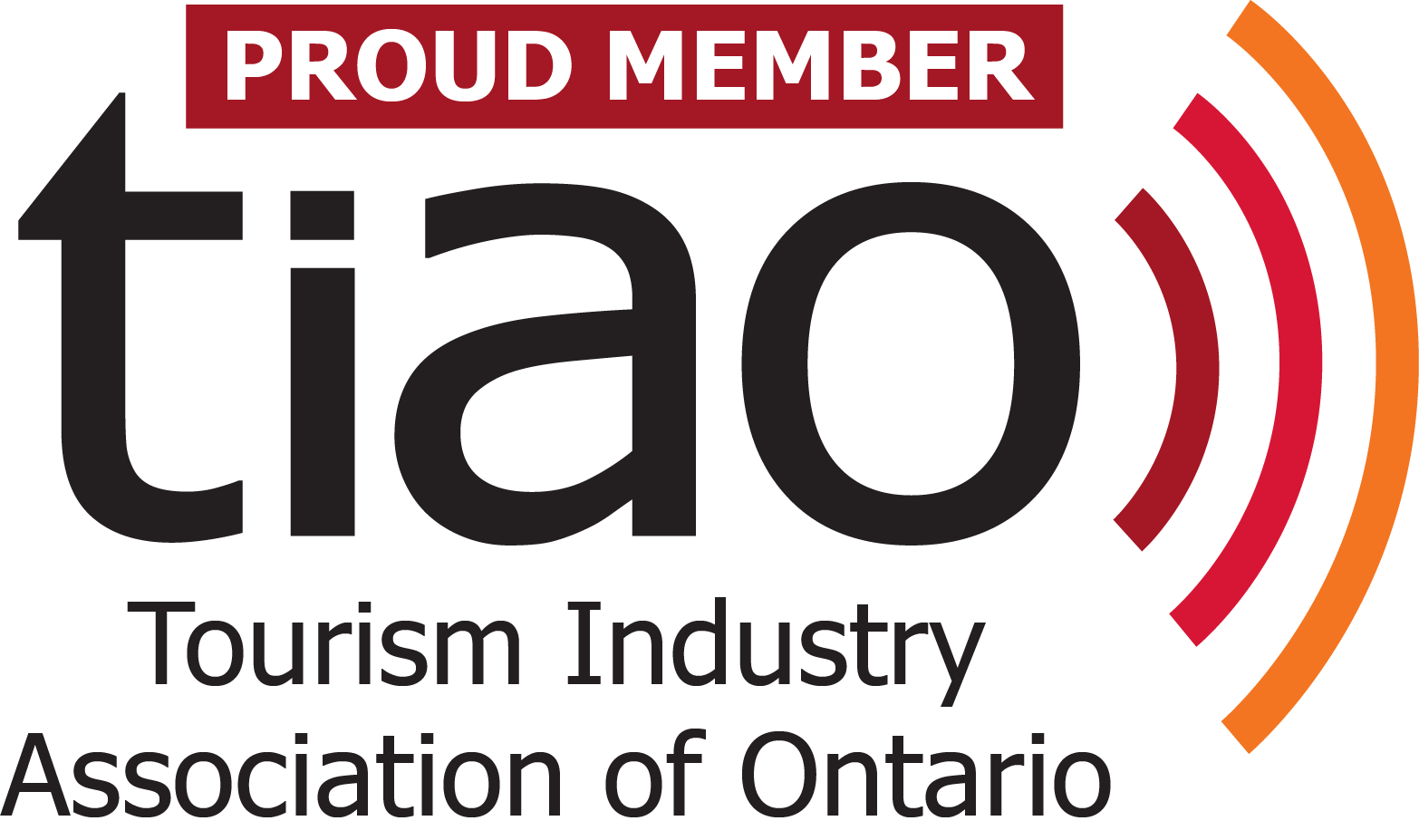 value our members and are proud to show you off, which is why we have a special TIAO "Proud Member" logo for your use. If you are a member and don't have the updated version, please reach out here.
TIAO COMPLIMENTARY

 2021 MEMBERSHIP OFFER

When you look back at this same time last year, no one could foresee what a devastating impact the pandemic has had on our industry, on our colleagues, and our families.  Throughout this past year, we have worked together, and fought hard for the industry we believe in.  The collaboration of the tourism industry has been remarkable.

We asked for you to join us each Tuesday, so that we could share the latest information, and to hear your challenges, opportunities, and questions, so that we could provide answers.  You have offered to be on committees, you have attended workshops, and in the most difficult of times, you have shown up.  Thank you for sharing how your tourism operation has been impacted.  We have heard you, we have advocated for you, and now we are pleased to offer one more way to ease your bottom line, increase your engagement, and provide an even more inclusive message as we represent your voice to the provincial government.

Our members have been incredibly supportive of TIAO, assisting us when we were in need, always willing to be there, and it is our turn to give back.  We will be extending:

Complimentary membership to the entire tourism industry in Ontario for 2021.

We look forward to hearing from you, having more input, strengthening our industry's voices and making sure tourism is represented.

How does this work if I am an existing member of TIAO?

For our current members, we will be reaching out to them directly. They will be provided an option to choose:
Extend their existing membership by another year or
Become a Green shoots sponsor - For those members that can afford to pay their membership, we will recognize the value of their existing membership through sponsorship (Green shoots sponsor) and use this value of their membership to continue the research and vital actions to rebuild and represent the industry's voice to government in Ontario.
How does this work if I want to become a member of TIAO?
We are glad to extend this to the industry. We ask that you reach out to us directly here  and we will set up your membership.  We will also extend to you the option as we do to our existing members.
Membership within TIAO for a period of one year from date of signing.
Become a Green shoots sponsor - For those new members that can afford to pay their membership, we will recognize the value of their membership through sponsorship (Green shoots sponsor) and use this value of their membership to continue the research and vital actions to rebuild and represent the industry's voice to government in Ontario.

Why Green shoots? 
Green shoots is a term used to describe signs of economic recovery or positive data during an economic downturn. The term green shoots is a reference to plant growth and recovery and has been used during down economies to describe signs of similar growth.
Welcome to the Tourism Industry Association of Ontario.
We are your association, and we are here for you!
---
GOVERNMENT RELEASES
-----------------------------------------------------------------------------------
Ontario Releases Technology and Standards for Digital Identity
Finance 
The Ontario government is publicly launching the technology and standards that will build Ontario's digital identity ecosystem, which will empower simpler, faster and better access to more convenient and secure online services. As one of the first jurisdictions in North America to publish this information, Ontario continues to demonstrate its commitment to digital and data transparency, and is making progress on becoming a world-leading digital jurisdiction. When fully launched, Ontario's Digital ID (identification) will allow people and businesses to prove who they are both online and in person with built-in safety features that protect users' privacy and personal information. It will be a convenient and easy identification solution that is made with the security and encryption necessary for today's highly digitized world, which protects personal data while performing secure transactions and accessing online services.
Travel Advisory: REMINDER – On September 7, new measures for fully vaccinated international travellers to Canada will come into force 
Canada Border Services Agency 
As was announced on July 19, the Government of Canada will allow fully vaccinated foreign nationals meeting the conditions to enter Canada for discretionary (non-essential) purposes starting on September 7, 2021. This decision is based on the latest available data, scientific evidence and epidemiological situation both in Canada and internationally.
At each step of Canada's phased approach to easing border measures, the public health indicators and importation of cases at the border and variants of concern among incoming travelers have been monitored. For instance, as the volume of travellers has increased in recent months, the border test positivity rate has remained low. Between August 9 and 26, the positivity rate for fully vaccinated travellers randomly selected for testing at the border was 0.19% (112 positive tests out of 58,878 completed). While cases are currently increasing in Canada, the illness severity and hospitalization rates remain manageable as Canada's vaccination rates continue to rise. This data along with continued adherence to public health measures by Canadians and incoming travellers, means that Canada is better able to prevent outbreaks of infection and can now allow more incoming fully vaccinated travellers without increasing the risk to the health and safety of Canadians.
Related:
---
INDUSTRY NEWS
-----------------------------------------------------------------------------------
Tourism's curse: First hit, last to recover
Ottawa Business Journal 
First hit and last to recover. That's the diagnosis for Ottawa's tourism industry from Jantine Van Kregten, the director of communications of Ottawa Tourism. What should be the busiest time of year for the city's operations - September and October - is instead ghostly quiet. The typical conventions, meetings and tours from other countries were cancelled, leaving hotels emptier than they'd like. "When somebody books a conference for 500 people, that fills up a lot of space," she said. Larger conferences and events are booked a year or two in advance, so hotels and conference centres are already looking ahead to 2023 and 2024.  That includes the Shaw Centre - which is open for business and just won the 2020 award for the world's best convention centre. Steve Ball, president of the Ottawa Gatineau Hotel Association, said the hotel industry is still suffering despite a brief surge on Canada Day weekend when hotels saw a "healthy" amount of traffic from Toronto and Montreal.  But Ball said in the last few months overall bookings have been spotty, and for the most part people are only booking on weekends. 
Chippewas of Nawash launch cultural programs at park
Owen Sound Sun Times 
The Chippewas of Nawash Unceded First Nation has launched several new, authentic Anishinaabe cultural programs at Cape Croker Park. These unique, year-round cultural programs will help to introduce visitors to the rich and vibrant culture of the Anishinaabek people and address the current high demand for Indigenous tourism products in Ontario and Grey-Bruce, according to a news release. In addition to campers and day visitors to Cape Croker Park, school groups, from kindergarten through high school, have participated in these cultural programs. Visitors to Cape Croker Park can book cultural programs online and take part in activities with knowledgeable Anishinaabe naturalists and guides.
Ottawa Valley Tourism hopes vaccination certificate will streamline COVID screening
Renfrew Today
Ontario's own version of a vaccine passport will be mandated at the province's non-essential businesses this month. Starting September 22nd, patrons at places like movie theatres, concert venues, indoor restaurants will have to show proof of COVID-19 vaccination and one piece of ID. Manager of Ottawa Valley Tourism Association, Alastair Baird (bared) hopes the rule will streamline the current COVID-screening process for merchants.
Preparing For Launch Of Dryden Tourism App
CKDR 
A new app is coming out promoting Dryden attractions, shopping, and tourism opportunities. It's being launched by the Dryden Trailblazers Tourism Association. Michael Readman says the app allows users to collect points while visiting various locations, landmarks and businesses. "And then redeeming those points at other businesses to enjoy discounts, special sales, etc. So, that is in the finishing touches at the moment and we're excited to have it come out." The newly formed association is tasked with distributing 50% of the local hotel accommodation tax to boost tourism in the area.
Ontario's hard hit hotel industry hopes for recovery amid pandemic
CTV News 
The hotel industry was one of the hardest hit during the COVID-19 pandemic and this past spring, 80 per cent of hotel rooms in the Greater Toronto Area sat empty and 65 hotels were completely closed. As more people are vaccinated and travel restrictions are lifted, visitors are slowly returning to hotels for business and tourism purposes. "Most of the hotels that were closed in the past have re-opened," Terry Mundell, CEO of the Greater Toronto Hotel Association, said. Mundell said while the hotels have been missing out on conventions and major events, as the border re-opens to American visitors and international travel restrictions are lifted, some business travel is starting to return.
Commercial service resumes at Toronto's Billy Bishop airport following 18-month suspension
CTV News 
After an 18-month suspension of commercial flights at Toronto's Billy Bishop airport due to COVID-19, planes are once again taking to the sky. Porter Airlines, one of two carriers that operate out of the Toronto Islands airport, first suspended commercial flight operations back on March 21, 2020 but was forced to repeatedly push back its scheduled return to operations due to the evolving nature of the pandemic. "Our passengers and team members have been waiting for this day to arrive," Porter Airlines President and CEO Michael Deluce said in a news release issued Wednesday.
Enjoy the magic under the stars at the Perth Night Market
Ottawa Citizen 
Perth, a historic town known for its beauty, many heritage buildings and celebratory ambience, is about to offer residents and visitors the opportunity to enjoy a new event. On Saturday, Sept. 18, the Perth Night Market will present a starlit view of the historic town in a party atmosphere. Stores in the downtown core will stay open late, with many of them taking part in sidewalk sales, as well as offering in-store shopping. "We're closing several downtown streets, including Gore Street, for the event," says the municipality's communications co-ordinator, Crystal Reinhard. "In addition to stores and restaurants being open late into the night, there will be entertainers of all types wandering the streets." Perth Tourism is planning a variety of entertainment from musicians of different genres to magicians and DJs to light up the spirit of the special night. In addition, artisans and crafters of all kinds will display their wares at a vendors' market, and many restaurants and pubs will welcome patrons to sample varied menus and interesting beverages.
OHTO marketing campaign includes local musical duo
Haliburton Echo
Earlier this summer, the Ontario's Highlands Tourism Organization (OHTO) launched a campaign to promote local tourism and support area businesses. The campaign consisted of a video series shared to social media that featured stories on seven locals, describing their personal connections to the area.
Nick Russell and Benton Brown, Haliburton-based musicians were the focus of the series' second video.
"We were very fortunate to be selected as one of the seven locals. We spent three days with a really great crew in Haliburton, sort of filming what Benton and I do every weekend, so we did a gig, we went to the cafe, we went out to dinner, and did some interview time. They [OHTO] took it back and edited a really beautiful mini [documentary] that showcases not only our music, but just some gorgeous shots of the lakes and county of Haliburton," said Russell.
Orillia and Lake Country seeks tourism investors for 10 key opportunities
National Post 
Orillia and Lake Country has always been a hidden Ontario gem— a warm, inviting place with small-town charm and a gorgeous natural landscape that begs to be discovered and enjoyed. And while some still see it as a hidden gem, this may be a misconception; tourism statistics show it's one of the most popular vacation spots in central Ontario. Approximately six million annual visitors inject $650 million into the local economy here each year. "It's a year-round playground with incredible bike trails, ski resorts and outdoor activities," said Catherine Pearson, owner of Quayle's Brewery in the hills of Oro-Medonte, just outside Orillia. "For anyone looking to invest in tourism, there is just so much opportunity here in the region." A recent study from CBRE Group, one of the world's largest real estate and investment firms, backs up that sentiment.
Harvest Festival on Sunday, September 12, at Glengarry Pioneer Museum
The Review 
The Harvest Festival at Dunvegan's Glengarry Pioneer Museum is back this coming weekend, after a one-year absence. The museum will be hosting its Harvest Festival this Sunday, September 12 from 10 a.m. to 4 p.m., sponsored by Desjardins Ontario Credit Union and Stormont Dundas and Glengarry Tourism. The event was cancelled in 2020 due to the COVID-19 pandemic. "We are so excited at the Glengarry Pioneer Museum to announce the return of the Harvest Fall Festival," said Jennifer Black, curator of the Pioneer Museum, noting the event will build on the recent Moosic Under the Stars concert, which attracted dozens to the museum grounds last month.
Lake of the Woods/NW Angle Tourism Rebounding After Border Reopening
Lakeland PBS  
"A lot of them will fish Minnesota waters, but there's a lot of them that will slide just over the border and fish Ontario waters," said Lake of the Woods Executive Director Joe Henry. "Those darn fish over there have not seen a lure in about two years." Back on August 9, the Canadian border reopened to U.S. citizens for the first time since March of 2020. If you plan on going across the border, Henry says you need to download the "ArriveCAN" app to upload your vaccination card. You will also need to provide proof of a negative COVID-19 test that is less than 72 hours old. "We have plenty of openings if people are interested in coming up," said Henry. "Normally September and October are really busy months, not right now. It's just taken a while to ramp up."
Local resorts, tourism operators saw 'resurgence' this summer
Orillia Matters 
Kris Puhvel, the executive director of Orillia and Lake Country Tourism, says outdoor attractions, restaurants, and the accommodations sector were thriving this summer. "There was definitely a resurgence of people looking to escape after a long winter of lockdowns, and our area really has those assets that people are looking for," he said. "We have outdoor recreation, we have the resorts, the culinary, and people were looking to experience that." Puhvel says the accommodation sector was, at times, up to 70 to 80 per cent fully booked, and sometimes sold out altogether. "Overall, it was a very healthy season and we made up for some of that lost ground," he said.
Canada Border Reopening Draws Few Americans
The Wall Street Journal 
Canadians with businesses such as hotels and restaurants along the 5,500-mile land border with the U.S. had waited anxiously all summer for the lifting of Covid-19 border restrictions so the American tourists many of them count on could return. But more than three weeks after Canada began allowing fully vaccinated Americans to cross the border, only a fraction of the usual visitors have showed up, disappointing business owners and further weighing on an economy that contracted unexpectedly during the second quarter.
Paris Fair blazes trail for others holding events during pandemic
Stratford Beacon Herald 
In the months leading up to this week's fair, members of the Paris Agricultural Society sat in on numerous webinars with fellow members of the Ontario Organization of Agricultural Societies on the finer points of staging a safe fair during a pandemic. Cheryl Muir, manager of the Paris society, said this weekend that members of the provincial group made clear they would closely watch the Paris Fair to see if such an event can be executed without becoming a COVID-19 super-spreader event. Paris is among the first major fall fair in Ontario to dip its toe back in the water after a pandemic hiatus last year.
Sun has set on free beach days; PEC tourism management continues
County LIve 
The free day-use pilot program at 115 Ontario provincial parks ended on Sept. 2 – but reservations for daily vehicle permits are still required to gain guaranteed entry. Visitors to Sandbanks Provincial Park must now pay $21 and for North Beach, $18. People with season passes must also still reserve their visits, but do not pay for entry. Each month during the summer, Prince Edward County has been releasing a public survey to analyze results for future planning. For the June/July survey (August still being compiled), there were just 107 respondents, but 48 of those stated access to Sandbanks and North Beach was "much worse" and 19 choose "slightly worse" than last year. Just nine respondents said the access was "much better", and 12 "slightly better."
Tourism SkillsNet North
Destination Northern Ontario 
Did you know you can use the Tourism SkillsNet North program to help fill your rehiring needs for 2021? If you have employees you've had to lay off or let go because of the pandemic and are going to be hiring back as COVID-19 restrictions lift, now is the time to act to ensure you qualify for these special subsidies. With access to 30% of wages, up to a maximum of $3,000 per employee available for qualifying employers, the time to act is now! Any employer can only qualify for up to two positions.  To learn more please click on the link in the title.
 

September 10, 2021 RTO 9 Tourism Summit

September 15, 2021 ORHMA presents Connect With An Untapped Talent Pool: The Disability Community

September 17 - October 3, 2021 Redpath Waterfront Trail

September 17 - October 3, 2021 DineTOgether

September 21 & October 5, 2021 Webinar: Introduction to Sustainability for Tourism Businesses (GreenStep / Sustainable Tourism)

September 26, 2021 Feast On® the Farm: Simcoe County

September 27, 2021 Feast On® the Farm: Industry Day

October 26-27, 2021 Ontario Tourism Summit

November 1-3, 2021 OMCA Marketplace

November 30 - December 1, 2021 TIAC 2021 Tourism Congress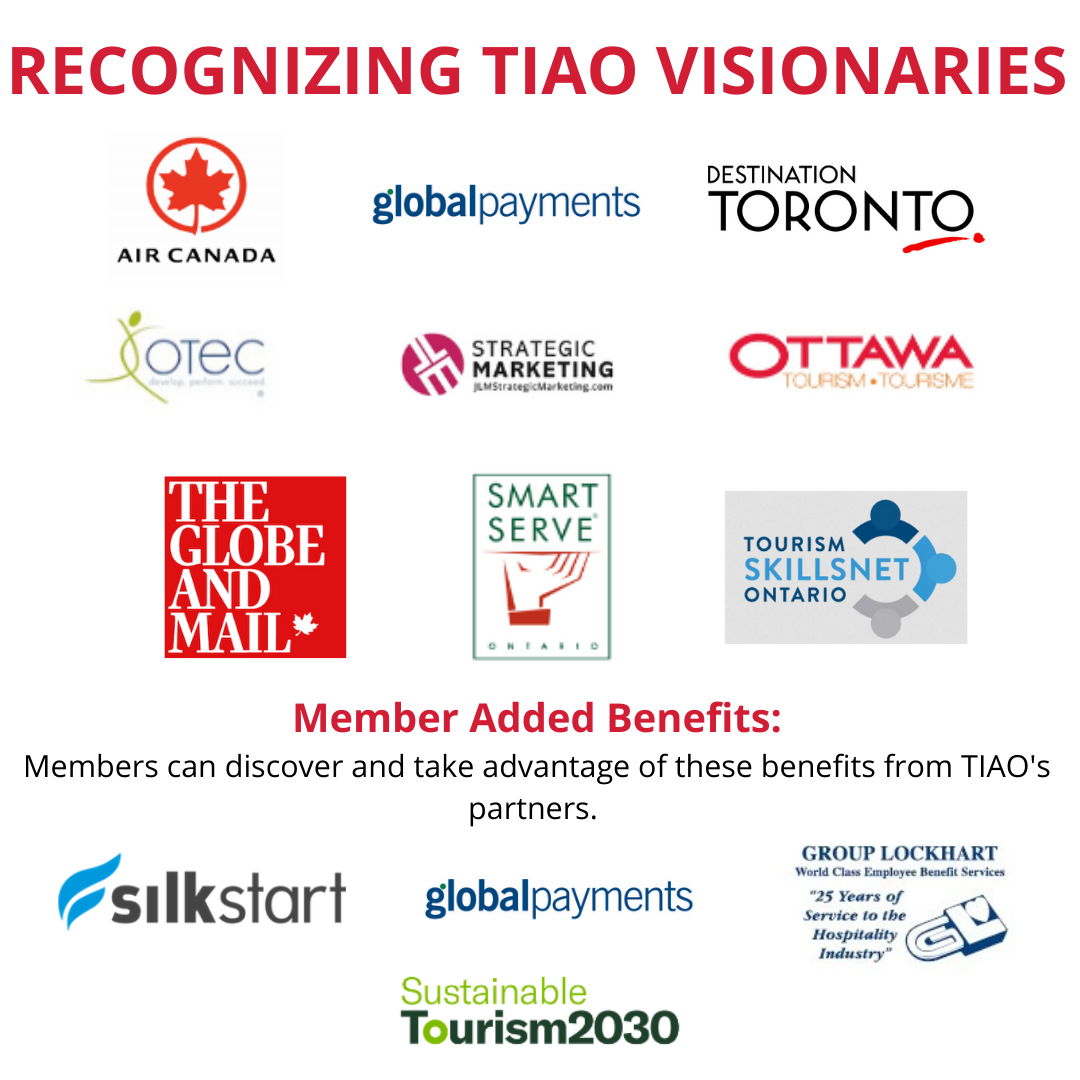 Copyright © 2021

Tourism Industry Association of Ontario

, All rights reserved.
 

This email was sent by:
Tourism Industry Association of Ontario
439 University Avenue, Suite 1400
Toronto, Ontario, M5G 1Y8

 

You have received this email because you are a member or existing contact of Tourism Industry Association of Ontario, a membership organization powered by SilkStart. update notification preferences unsubscribe from this list