Welcome to TIAO's COVID-19 portal for the very latest updates, access to grants and advocacy efforts
The COVID-19 pandemic has and continues to have a catastrophic impact on the tourism industry in Ontario.  In this section of our website you will find the latest information on TIAO's advocacy efforts on a provinical and federal level. Learn about the latest government support programs available and the latest on the reopening plans in Ontario and Canada. 
Ontario set to enter step One of the Roadmap to Reopen on Friday June 11, 2021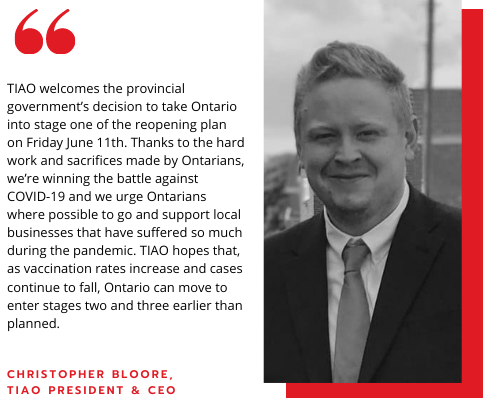 Based on the provincewide vaccination rate and continuing improvements in key public health and health system indicators, the Ontario government, in consultation with the Chief Medical Officer of Health, will move the province into Step One of its Roadmap to Reopen at 12:01 a.m. on Friday, June 11, 2021.
Step One of the Roadmap to Reopen includes but is not limited to:
Outdoor social gatherings and organized public events with up to 10 people;
Outdoor religious services, rites, or ceremonies, including wedding services and funeral services, capped at the number of people that can maintain a physical distance of two metres;
Indoor religious services, rites, or ceremonies, including wedding services and funeral services permitted at up to 15 per cent capacity of the particular room;
Non-essential retail permitted at 15 per cent capacity, with no restrictions on the goods that can be sold;
Essential and other select retail permitted at 25 per cent capacity, with no restrictions on the goods that can be sold;
Outdoor dining with up to four people per table, with exceptions for larger households;
Outdoor fitness classes, outdoor groups in personal training and outdoor individual/team sport training to be permitted with up to 10 people, among other restrictions;
Day camps for children permitted to operate in a manner consistent with the safety guidelines for COVID-19 produced by the Office of the Chief Medical Officer of Health;
Overnight camping at campgrounds and campsites, including Ontario Parks, and short-term rentals;
Concert venues, theaters and cinemas may open outdoors for the purpose of rehearsing or performing a recorded or broadcasted concert, artistic event, theatrical performance or other performance with no more than 10 performers, among other restrictions;
Outdoor horse racing tracks and motor speedways permitted to operate without spectators; and
Outdoor attractions such as zoos, landmarks, historic sites, botanical gardens with capacity limits and other restrictions.
Outdoor tours with restrictions are now permitted.
Please view the regulation for full details.
TIAO joins industry leaders to launch campaign to re-open the US border with Canada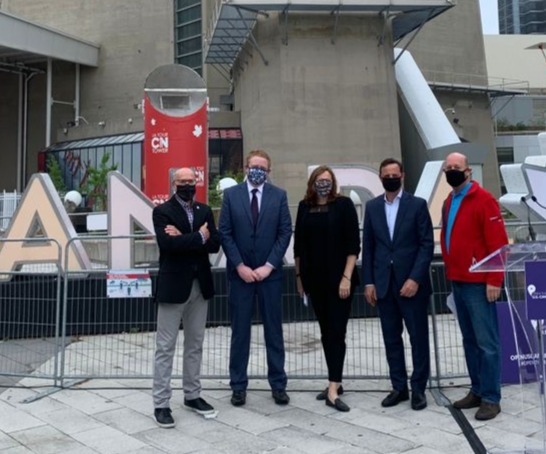 On June 8, TIAC launched their campaign to re-open the US border with Canada by calling on the Federal Government to release their plan on when restrictions will be lifted.  I was pleased to join Destination Toronto President and CEO, Scott Beck, General Manager of Ripley's Aquarium of Canada, Peter Doyle, and Executive Director of International Sales and Industry Relations for Hilton, Vito Curalli, in launching the campaign with TIAC President and CEO, Beth Potter. 
The press event held outside the CN Tower focused on the importance of American tourists to the Ontario tourism industry and the catastrophic impact COVID-19 has had on our industry. But now, with COVID cases decreasing and vaccination rates increasing, we need to start moving toward a phased and safe reopening plan based on science. 
Just last week, the federal government's Expert Advisory Panel on COVID-19 testing and screening released a report stating that there needs to be changes made to the border policy to reflect the progress we've made in vaccinations and fighting the pandemic. 
We all know the importance of American visitors to our industry, whether it's in our border towns, cities or to Northern Ontario businesses. But you can't simply turn the tourism industry on and off like a light switch. We need lead up time to hire and train staff, buy inventory and plan how we can operate efficiently during this recovery period.  Whilst the Federal Government has hinted at progress, they have not produced a detailed plan for reopening with key metrics to aid businesses. Yet at the same time, the Federal Government is planning to end key government support programs such as CEWS and CERS in the fall. You can't withdraw support for our industry whilst giving it little or notice on when the border will reopen. 
We all know that the tourism industry was the first to be hit, has been the hardest hit and is likely to be the last to recover. We've lost over 100,000 jobs and billions in economic activity. We know that operators and employees face the prospect of yet more uncertainty on customer demand and whether they will have a job this summer. That's why we need a plan now. 
You can add your voice to the call for the Federal Government to announce their plan by visiting www.openuscanborder.ca and send a letter to your local Member of Parliament. Please share this information amongst your own networks so that we can ensure the Federal Government hears our message loud and clear. 
Current Provincial Government Support Programs
The Ontario Tourism and Travel Small Business Support Grant provides one-time payments of $10,000 to $20,000 to eligible small businesses in the tourism and travel sector.
Please see eligibility criteria and start your application here
The government will accept applications until June 25, 2021 at 11:59 p.m. EDT