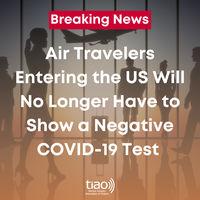 Reports are emerging that later today, the US Centers for Disease Control and Prevention will announce that it is lifting its requirement for travelers to test negative for COVID-19 before entering the US. This change will go into effect at midnight on Sunday, June 12th, 2022.
The CDC will reassess its decision in 90 days and officials can decide if they need to reinstate the testing requirement or not.
For more information and to keep up to date with US travel restrictions and requirements, please see here.
---